This week, Group B experts from Greece, Nigeria and South Korea decided to profile a few players who are considered to be a 'surprising selection'. In other words, this profiles a player who may be called up to the national team surprisingly in time for the 2010 World Cup.
Welcome to Goal.com - Know Your Rivals for the World Cup 2010!

In this special series we bring you the local knowledge of the world's leading football tournament. With our worldwide team of experts, each one based in the country in question - from Brazil to North Korea - you'll hear first-hand the latest team news, exclusive interviews, and fan opinions of your World Cup opponents.

South Korea

Ahn Jung Hwan (Age 34, Dalian Shide)
'Lord of the Rings' Ahn Jung-Hwan has come back to the national team for the first time in 21 months. He has scored three goals in two previous World Cup tournaments (2002 and 2006). He's the top scorer in Korea.
Although he showed his physical weakness in a recent friendly match against Ivory Coast due to his advanced age, he has plenty of experience and a sharp goal scoring instinct. Therefore, coach Huh Jung-Moo can use him as a bonus player.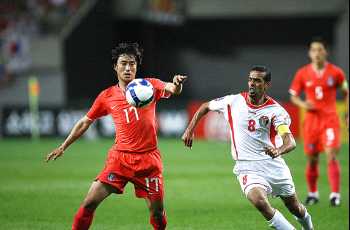 Ahn Jung Hwan In Action

Kim Jae-Sung (Age 26, Pohang Steelers)
Kim is an attacking midfielder for Pohang. He recently became a Korean international when he grabbed the chance to participate in the South Africa training camp. Frankly speaking, Kim got the chance because European leaguers could not join the national team at that time. But as he made the best from the opportunity, he became a new hope of the Korean national team.
Kim scored his first goal against Latvia in Spain. He also scored against Japan in the East Asian Cup to further display his brilliant form. When European-based players joined the national team and played against Ivory Coast, Kim took part in the match as a second half substitute and created an assist for Gwak Tae-Hui's goal.
Kim can also play as a central midfielder and winger, so coach Huh Jung-Moo can utilise Kim as part of various options if he makes it to the final roster.
Greece
Although many teams this summer have interesting stories regarding players likely to be chosen for South Africa, Greece's depth chart doesn't include such surprises. It is true there are several youngsters who will finally get the chance to to don the colours of the senior squad. Nevertheless, the decision to include these players is far from surprising. I have included two players, however, who could make the squad and could very likely feature in the starting line-up.
Kostas Mitroglou (Age 22, Olympiacos)
Nicknamed the Greek Pistolero, Kostas Mitroglou took the Greek Super League by storm this season in lieu of Olympiacos' regular starters. Quickly displaying his skill, Mitroglou has been the more consistent striker for the Piraeus side.
His international opportunities have been limited to just one call-up as of late as Mitroglou was called to the squad that faced Ukraine in the play-off round against Ukraine. Managing to earn a role as a substitute in the first leg, Mitroglou showed promise by creating space in attack when his team-mates couldn't. His regular appearances for the U-21 side, however, speak volumes about his talent as Mitroglou has earned the captain's armband for Giorgos Georgiadis' side.
Mitroglou's strength and agility on the ball, which he has showcased in Olympiacos' Champions League campaign, gives him a unique role in the Greek National Team should he get the call for South Africa.

Giourkas Seitaridis (Age 28, Panathinaikos)
A Euro 2004 winner, Gourkas Seitaridis wasn't expected to fall from grace shortly after Greece captured their golden moment. Despite looking set for a long-term future at FC Porto, Seitaridis struggled to adjust to life in Portugal, and thus opted for a move to Russia with Dinamo Moscow. Impressing with the Russian side, it was Atletico Madrid who snapped up the wing-back.
Enjoying a successful stint in the Spanish capital, the wheels fell off the wagon for Seitaridis as his contract neared its expiry date. Exiled from the club, Seitaridis showed little initiative to remain with the side as he even skipped a match he was scheduled to start. Nevertheless, Seitaridis remained a regular for the Greek national team, with his experience being an attractive attribute for coach Otto Rehhagel.
Now at Panathinaikos, Seitaridis resides at the same club boasting international team-mates Giorgos Karagounis and Kostas Katsouranis. While playing time under Nikos Nioplias remains low, Seitaridis remains in the thick of things for the Greek national team; and that could be more than enough to earn "Giourkas" a spot on the bench at the very least.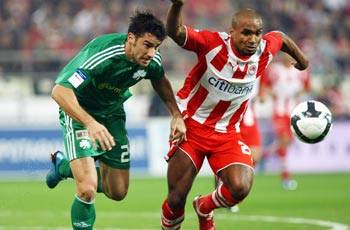 Seitaridis May Find A Spot
Nigeria

Victor Anichebe (Age 21, Everton)
The 21-year-old Everton midfielder was out of the Nigeria set-up due to an injury he sustained in February 2009. More than a year after, Anichebe has returned to his club in fine form, scoring a goal in a 2-2 draw with Birmingham. He will be a good inclusion for the Nigerian side going into the World Cup considering his height and build. The Toffeeman was in the Nigeria U-23 team that won silver at the football event of the Beijing Olympics and many will welcome his influence upon the South Africa-bound team.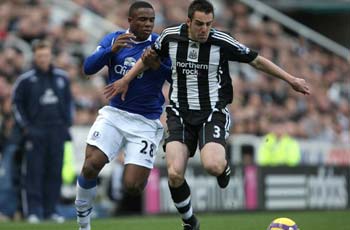 Will The Super Eagles Call Victor Anichebe?Ike Uche (Age 26, Real Zaragoza)
Zaragoza forward Ike Uche also missed out on the Super Eagles' trip to the Nations Cup due to a knee injury. He was the leading scorer in their World Cup qualifying before he was ruled out of the last game against Kenya. Uche will need to impress new coach Lars Lagerback quickly in order to earn a recall to the national team with a few months left to go before team selection is finally made.
Become a fan of Goal.com India's Facebook fan page for all the latest news and insight into everything the related to the beautiful game!