COMMENT
By Kris Voakes | Italian Football Writer
Saturday night's Turin derby would have had more than enough sub-plots even without Angelo Ogbonna's name having come up in transfer talk once more over the past week. But while Juventus look to bounce back from a second defeat inside a month and keep one eye on their midweek Champions League trip to Donetsk, neighbours Torino will be hoping to rain on their parade some more by winning the first city derby to take place at Juventus Stadium.
Key to the Granata's plans will be Ogbonna, the defender they have done remarkably well to keep at the club despite high-profile attention throughout the club's recent three-year spell in Serie B, during which time his stand-out performances even earned him a string of Italy call-ups. Such was the fear amongst Toro fans that their star centre-back would be allowed to leave, they took to sending serious threats to unpopular club president Urbano Cairo. One striscione displayed at a trip to Varese during the January transfer window in 2011 warned: "Se vende Ogbonna, prepara la tomba" (If you sell Ogbonna, prepare the coffin).
"A REPLACEMENT FOR RIO OR LUCIO?"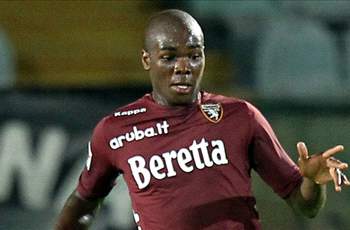 THE ENGLISH VIEW

"At only 24-years-old and with the defender likely to be available on relatively low wages, Ogbonna fits the exact player profile that Manchester United's recruitment drive is focused upon.
"The uncertainty surrounding Rio Ferdinand, who will only be offered a cut-price one-year extension to his current package, will be the major obstacle of any potential move. The door will be opened if the 33-year-old leaves the Premier League giants this summer, but for now Sir Alex Ferguson is unlikely to add to his backline."
Jonathan Birchall, Goal.com UK
THE ITALIAN VIEW

"Torino hope Ogbonna will stay until the end of the season, as they want to increase his value and then consider his transfer only when next summer comes around. But something could happen as early as January if a club offers around €18-20 million.
"Juventus could still be interested because they will have to replace Lucio and they could look to a defender such as Ogbonna, but being a left-footed player, they could decide that he is too similar to Giorgio Chiellini."
Simone Gambino, Goal.com Italy
The 24-year-old remains at the Stadio Olimpico though, at least for now. Despite a rumoured approach from neighbours Juve in the summer of 2011 being followed by interest from the likes of Inter, AC Milan and Liverpool, Cairo has ensured the five-cap Azzurri international remains in the famous burgundy shirt.
But in the past week it has materialised that there are new suitors. Manchester United representatives have been spotted at Torino's last two fixtures – the defeat away to Roma and last weekend's 2-2 home draw with Fiorentina – and at a time when the Red Devils' defence is not what it was, it is easy to see why they would see Ogbonna as an attractive proposition.
At almost six feet, three inches tall, the Toro youth product has the height needed to compete in the air with anyone, and his ability to use his physical stature well is one of his best qualities. Few defenders in Italy are as capable of outmuscling a forward in the manner of Ogbonna, while he can also boast a cool head under pressure.
Not only does he regularly carry the ball well out of defence, show impressive pace and have a very cultured left foot, but he also makes timely interceptions when necessary. So timely, in fact, that he has never been sent off in his six-year-long professional career so far, and last season he collected only three yellow cards in 39 games.
There was a spell during the 2010-11 season when the club's problems seemed to be getting the better of Ogbonna, and he was even left out on several occasions during the second-half of the campaign. But he has since bounced back and now looks to be playing at his very best again, with the club's return to Serie A having no negative impact on his approach.
He will still occasionally lose possession when mistaking himself for Andrea Pirlo, but for the most part his defensive side of the game is very impressive. But for his delayed reaction to the threat of Mounir El Hamdaoui as the Moroccan equalised for Fiorentina last Sunday, Ogbonna's contribution this term has been encouragingly consistent.
But what of his transfer value? Before his initial invitation to the Italy setup in June 2011 for the fixture against Republic of Ireland in Liege, he was expected to cost interested parties around €10 million, but his value has since rocketed. Cesare Prandelli's faith seems to have had a notably positive effect on the centre-back's game, and Cairo's response has been to hike up his asking price by as much as 100 per cent.
The recent talk suggests that Manchester United could offer as much as €19m for Ogbonna should their initial positive reports turn into a firm bid, while Juve reportedly remain interested onlookers. And if he can continue his renaissance of form to such an extent that he leads Torino to a memorable derby victory this weekend, then expect his to be one of the names most regularly uttered come transfer time.