By Robin Bairner
The months after a big competition typically provide a natural restarting point in the international cycle, in which the frequency of World Cups and European Championships every two years allows teams to reassess at relatively regular intervals.
Spain are one of the nations who will see a significant overhaul, having embarrassingly been dumped out at the group stage in Brazil, but their friendly opponents on Thursday, France, have chosen to ignore this watershed moment.
Didier Deschamps might have seen the likes of Eric Abidal and Samir Nasri announce their international retirements, while Mickael Landreau, who went to South America in the summer as third-choice goalkeeper, has hung up his gloves at all levels. But none of this trio would seriously have been considered for Euro 2016, like Everton defender Sylvain Distin who jokily announced on Twitter that he would also be quitting the international game, having won a grand total of zero caps.
Only Franck Ribery's decision to quit offers Deschamps any kind of even modest headache, and there are even signs that the coach yet has a belief that the Bayern Munich winger will return when France stages the European Championship in less than 24 months. With a fragile body, it is little wonder the attacker does not want to put himself through the additional strain of playing a glut of largely meaningless friendlies.
His role is not one that France have a shortage of talent in, however. Antoine Greizmann now has the opportunity to win a permanent spot in the side, while Remy Cabella, Loic Remy and Alexandre Lacazette all represent viable other options in one of the few areas where there is uncertainty heading into the Stade de France match.
Thursday's match does, however, mark the start of the Euro 2016 hosts' preparations for the competition – an endeavour that will see them meet the reigning champions as well as Denmark, Serbia (twice) and Portugal (twice) over the next couple of years.
Given the youthfulness of the squad Deschamps took with him to Brazil, it is perhaps little surprise there have been few meaningful changes, but the fact there have been no high-profile players to be omitted by the choice of the coach is something of a shock.
Patrice Evra's inclusion to face Spain stirred the greatest controversy domestically. The Juventus left-back will be 35 by the time the European Championship begins and there is a strong belief in France that by this stage Lucas Digne of Paris Saint-Germain will be installed instead in that role.
Deschamps has had to defend his call. "Today he is competitive, just like he was during the World Cup," the coach argued after naming his panel. "No one knows if he'll still be competitive in two years – even him. It's a position I will try other players."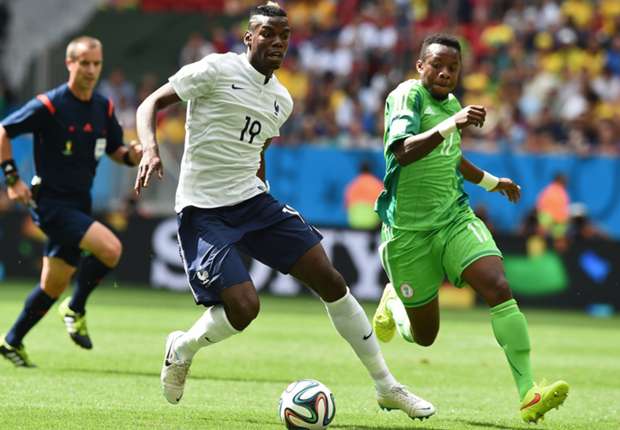 Prodigious Pogba |The Juventus midfielder was one of France's stars in Brazil
The coach, it seems, wants to use the match against Spain as a joyous homecoming after a successful summer, but while there is no doubt that there is something of a feel-good factor after les Bleus reached the quarter-finals only to be edged out 1-0 by Germany, there does seem to be a danger that they are treating the achievement with too much importance.
"I've made the choice to take 21 of the 23 players who went to the World Cup because we return to the Stade de France to play in front of our fans. I believe that everyone at the World Cup deserves to be there," Deschamps said.
Questions, too, should be reserved regarding the inclusion of 30-year-old Barcelona defender Jeremy Mathieu, who suddenly seems to have an international future now he has been deemed good enough for a long-term deal at Camp Nou following a shock summer switch from Valencia that made him one of the most expensive players of all time in the +30 age bracket.
So, France are preparing to look to the future – but not just yet.
"The youngsters have grown up during the World Cup by capitalising on the experience. When I said there will be new players I do not know when or how many. It depends on the competitiveness of the players that are in place and it is important to keep a core of a squad," the coach asserted.
With an average age of a little over 26, this remains a team built for the future and, with only Evra significantly over the age of 30, there is room for a little sentiment on such an occasion.
Follow Robin Bairner on