Vicente del Bosque
has conceded that
Spain
failed to "connect" with
Diego Costa
at World Cup 2014 but denied that there were any problems in the dressing room.
La Roja had arrived in Brazil as the reigning champions and were bidding to triumph in a fourth consecutive major international tournament, having also won back-to-back European Championships, but they suffered a shock group-stage elimination after losing their opening two games, to Netherlands and Chile.
Some pundits promptly quickly questioned the wisdom of the decision to change a winning team by bringing the Brazil-born Diego Costa into the national team set-up, while there were also reports of unrelated dressing-room disharmony.
Del Bosque, though, insists that while Costa was simply not fit enough to lead the line, he could not fault neither the Chelsea striker's attitude nor that of any other member of his squad.
"We didn't operate well as a group," he told
El Pais
. "The most striking thing is that we trained well and the attitude of the players was magnificent, even in the four days leading up to the Australia match [Spain's final group game].
"The players still had a great attitude, which wasn't easy. We trained well and they were very involved. There weren't any problems.
"If you want to get into details, you could think that Diego Costa wasn't 100 per cent ... but I don't want to place the focus on anything in particular; that wouldn't be fair.
"I don't want to make excuses either but I think we didn't connect with him; we didn't get accustomed to him as we should have done.
"But he clearly didn't arrive fully fit. Diego is a great kid and very nice who fitted in perfectly.
"Some of the criticism has been hurtful. A journalist described it as wretched. In sport, there are no defeats with a wretched attitude. It was a disaster, we played badly, but we were not wretched.
"We have a wonderful group of players. Occasionally someone would have a long face but that's inevitable, everyone wants to play."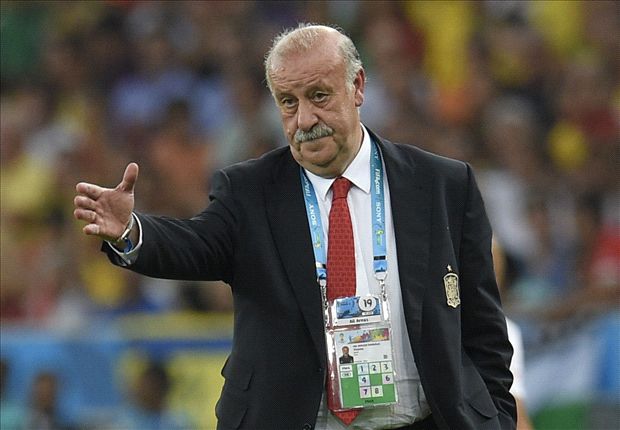 No regrets | The coach described the campaign as a "disaster" but says he wouldn't change much
Del Bosque also claimed that even if he were given a second chance, he wouldn't have done anything differently in terms of team selection or tactics.
"I have gone all the way back to the beginning, I've looked at the squad and I don't think I strayed far from what the majority of people would have done," the former Real Madrid boss stated.
"The starting line-up wasn't much different to one chosen by the readers of a newspaper the day before [the first match], it was the same. So we didn't do anything particularly strange.
"It didn't go well, that's true. But, as I've said before, in sport these things happen.
"When the tournament ended I tried to be humble and prudent. Furthermore, everyone was calling for me to resign; I couldn't distance myself from that.
"I don't see it as something worthy of drama. It's just about assessing ability, industry and enthusiasm. I don't know if I have ability, but I have no doubts about my industry and enthusiasm."