By Mark Doyle
The faces change at Sevilla, but the story remains the same. Every time the Rojiblancos cultivate a world-class talent, it's only a matter of time before they are forced to sell to the highest bidder.
Consequently, it came as no surprise when Ivan Rakitic was allowed to leave for Barcelona this summer on the back of a stellar season at the Ramon Sanchez Pizjuan.
Club president Jose Castro insisted that Sevilla did not have to sell their star player, but the Blaugrana ultimately made him an offer he couldn't refuse. "The sale of Rakitic was very profitable because it was for an amount closer to €25 million than the €20m quoted and it was for a player who only had one season left on his contract," the Rojiblancos supremo explained to reporters last month.
Of course, Sevilla have long since established themselves as a producer of top talent, with Sergio Ramos, Jose Antonio Reyes and Jesus Navas all having come through the club's cantera in recent seasons. Furthermore, sporting director Monchi has established himself as one of the canniest operators in the transfer market by making colossal profits on low-cost signings such as Dani Alves, Julio Baptista and Seydou Keita.
Hardly surprising, then, that coach Unai Emery could see the writing on the wall long before the ink had dried on Rakitic's contract with Barcelona.
"The best thing from a sporting sense is that Ivan stay with us, but I understand that for various reasons he will go," he told
Canal+
Liga in June. "And we have to be prepared for it. If he finally leaves, we have to work hard to get another Rakitic."
No arguments, there. Despite initially struggling to settle in Sevilla following his move from Schalke in 2011, Rakitic flourished after being moved into a more advanced midfield role following the departure of Fredi Kanoute to China two years ago.
After failing to net a single Liga goal during the 2011-12 campaign, the Swiss-born set-piece specialist netted 12 times in all competitions the following season. Last season, Rakitic ascended to another level, scoring a total of 15 goals as he propelled Sevilla to Europa League glory and a fifth-place finish in the Primera Division.
Croatia legend Robert Prosinecki is certainly in no doubt that this is a player more than capable of making a huge impression at Barcelona.
"Ivan had a brilliant season at Sevilla last year," the former Real Madrid and Barcelona ace told
Goal
. "Expect nothing less than that from him at Barcelona.
"He will have no problem adapting to playing with the best players in the world, including Luis 'cannibal' Suarez!"
But while the future appears bright for Rakitic, what of Sevilla? Ahead of Tuesday's Uefa Super Cup clash with Real Madrid, the Rojiblancos have yet to settle upon a successor. However, their search does, at least, appear to be nearing its end.
After previously being linked with former Olympique de Marseille attacker Mathieu Valbuena - who has since joined Dynamo Moscow - Dinamo Zagreb starlet Marcelo Brozovic and Porto midfielder Hector Herrera, Sevilla are now reportedly closing in on Ever Banega.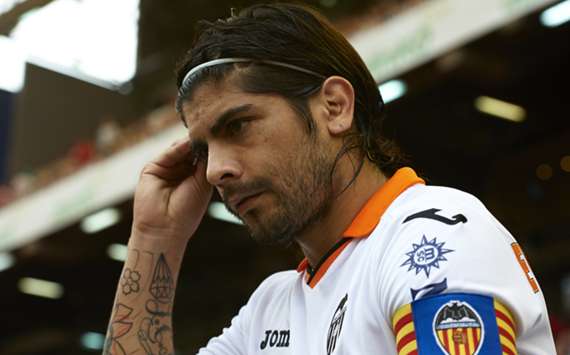 More trouble than he's worth? | Banega's time in Spain has never been anything less than eventful
The Argentine is hardly a like-for-like replacement for Rakitic. Whereas the shy Croat struggled to express himself during his fledgling career, Banega struggled to control himself. Indeed, the Valencia man is currently training away from the rest of his team-mates, with the club seemingly having given up on trying to tame a talented but troublesome individual.
Banega's time in Spain has been blighted by rumours of issues with alcohol and a succession of bizarre off-field incidents. Just days after joining from Boca Juniors for €18 million, he was embroiled in an internet sex scandal, while he has since endured a lot of car trouble.
In February 2012, he fractured his ankle and broke two bones in his leg after running over his own foot after leaving the handbrake off on his car. A few months later, his Ferrari caught fire because of a circuiting problem.
There are those that would argue that it is Banega who is not wired right, but there is no denying his ability, however unfulfilled. He has, after all, been capped 24 times by his country and Emery is well aware of what he can do, too, having worked with the midfielder for three seasons (Banega spent his first season in Spain on loan to Atletico Madrid).
So, Emery knows Banega well. Maybe he even understands him, having had his own
alcohol-related problems
.
Before Rakitic left the Ramon Sanchez Pizjuan this summer, the Sevilla boss praised the Croat's character.
"He was an example both on and off the field," Emery wrote on his personal website in June.
The same could clearly not be said of Banega. He is undeniably a rough diamond. But one that Sevilla could yet turn into another gem.
Follow Mark Doyle on