The Barcelona attacker will ensure Waleed Kashash receives treatment for the next six years after being informed of the Moroccan youngster's growth hormone deficiency
A 12-year-old diagnosed with the same condition previously suffered by
Lionel Messi
will be treated for by the
Barcelona
attacker after the 24-year-old vowed to pay for the child's medical bills.
Waleed Kashash, who was diagnosed with growth hormone deficiency (GHD), had dreamt of beating the disorder to make the grade as a footballer, but the cost of his treatment threatened to destroy his hopes.
However, a woman named Soad al-Affani decided to notify Messi of the youngsters' illness, to which the Argentine replied by stating that he would cover his costs of 3000 dirham (
€
208) every 15 days until he becomes 18.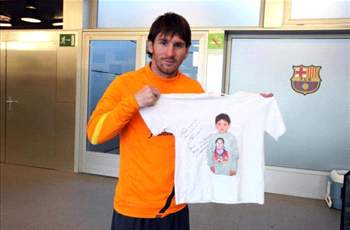 Messi then took a
photo
of himself holding Waleed's T-shirt and wrote a message for him to be strong and with all of his love.
GHD is a rare condition that affects approximately one in 3800 child births, while in adulthood, symptoms are felt in roughly 10 per million.