EXCLUSIVE
By Ayush Srivastava
Blackburn Rovers Global Advisor Shebby Singh came down heavily on groups that have recently stated their intention to buy the club from the Venky's and questioned the motives of these would-be bidders.
He told Goal.com, "No, I mean there is always a lot of talk when things are not going very well. Every Tom, Dick and Harry thinks they can own the club, but don't forget that my bosses (Venky's) have been only there for around 2 years. Where were these people when the club was for sale for many years? Hence sometimes you have to take it with a pinch of salt."
"There are people over there who would not be able to run a bar, and they think they can run a football club so I wouldn't pay any attention or waste my time on them," he further added.
The Blackburn Rovers Global Advisor also stated confidently that the owners and he himself had identified the problem areas at the club, and corrective measures would be taken before the start of the next season. He mentioned, "We find ourselves in a situation that we are fighting to stay in the Championship and I would not like to say anything to disrupt that, but you know we have identified the reasons and identified the remedy to ensure things go smoothly in the future. Football clubs have its challenges and these challenges can appear anywhere."
"I would say, to be very frank and almost brutal, there needs to be a cleansing of sorts at the club. I am not at a liberty to say so, but over a period of time you will understand," Shebby Singh added, when quizzed if it would involve a re-structuring of the board-room and other staff.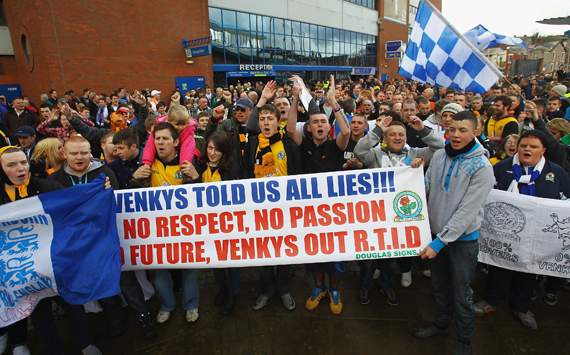 Singh stressed that he has a good relationship with the fans...
Singh also broached on the subject of the fans, who have at times, questioned the motives of the owners during the season. The Blackburn Rovers Global Advisor highlighted, "The fans are very important to us and we hope to attract more fans. I have built a good relationship with the fans over there, and they understand the job needs everyone's support and have been very supportive."
The Malaysian then spoke of the plans of the club in India, and Asia at large. He stated, "The branding, marketing and promotion of Blackburn continues in India and Asia. We are setting-up various programs over a period of time. This year, Blackburn Rovers hosted 6 young Indian players for a training stint."
"We are looking to continue our junior league in India and host more players. We are also working on coach education, as we have got good coaches and a good educator in David Lowe. We might send him here to coach the coaches. More programs are in the pipeline but it takes time. They are well on track," he continued.
The 52 year old also gave his insight on the difference in level of football in Asia as compared to Europe. He commented, "The biggest difference is infrastructure, and clubs in England are very old, they have been there for almost forever. They have their training ground and stadiums. Infrastructure is the biggest problem in Asia. For example, in Malaysia, it is state based teams and until we change it to club based, we are always going to struggle."
Having had an extended stay in India, Singh has taken the opportunity to brush up on Indian football. He has been pleasantly surprised by the level of football in the country and revealed, "It has been interesting, as I have watched several I-League games on television. I see a lot of the games have good technical level and you also have to give credit to the boys as they are playing at 40 degree Celsius heat."
However though Balaji Rao, Director at the Venky's, had stated his intention to start an I-League club, Singh revealed that the decision to own a team in India is still being mulled over.
"Mr. Balaji has voiced his thoughts on the subject and we are putting together a working paper because we have got to make a proper feasibility study of it, as if you want an I-League team, you need to have a long term plan. We are working on it and formulizing the working paper," he concluded.
How do you stay up with football when on the move? With http://m.goal.com –your best source for mobile coverage of the beautiful game.