COMMENT
By Ewan Roberts
It is notoriously difficult for footballers to shake off a bad reputation, from going down too easily to tackling too hard. In the case of
David Luiz
, his particular stigma stemmed from commentator
Gary Neville
's harsh put-down – following an erratic display against
Liverpool
– that he played as though he were controlled by a 10-year-old with a PlayStation controller.
The comment stayed with Luiz and, to some degree, it felt rather fitting. The 25-year-old, with his wild, curly mop of hair and Sideshow Bob likeness, had a tendency to get caught horribly out of position, to step up at inexplicable times, to attempt improbable passes and risky runs, and to let the Samba flair always bubbling under the surface take a hold of him.
SELECAO STEAMROLLER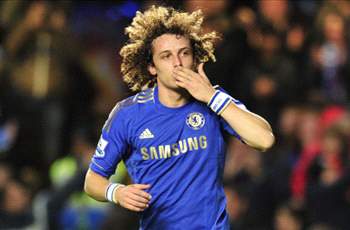 30'

Rifles Chelsea into the lead from long range

FROM OUR LIVE TEXT COMMENTARY

GOAL!!! What a goal!!! David Luiz gets the ball and hits an absolute thunderbolt from around 30 yards out into the top corner! Incredible! 1-0 Chelsea!
PLAYER RATING





Always looked forward when on the ball, probing Fulham with his passing, and capped his 100th Chelsea appearance with a fine goal, firing an unstoppable shot past Schwarzer from long range. A complete performance.
That
Selecao
style burst into life on Wednesday night when Luiz thumped a Brazilian bullet of a shot past Fulham goalkeeper Mark Schwarzer and into the top corner, a strike to rival those of Eder, Rivelino, Roberto Carlos et al. The effort, like a knuckleball pitch in baseball, wobbled and curled in the air. Yet, however unpredictable the flight of the ball was, it was only ever destined for the top corner.
The strike seemed so typical of Luiz: extravagant, explosive and brilliant. The former Benfica man has become such a force of nature, impacting matches at both ends, rarely far from rebuke and praise, controversy and headlines.
His goal came somewhat against the run of play, with Martin Jol's side having bossed the opening half hour, but it set up a convincing win for the Blues and marked something of a turnaround for the Brazilian.
On Wednesday night he made his 100th appearance for Chelsea on the same ground where, just over two years ago, he had made his debut in English football. Back in February 2011, the feeling as he exited the Craven Cottage pitch was one of relief, not elation. In stoppage time Luiz had clumsily crashed into Clint Dempsey, conceding a late penalty with the scores tied.
The American's tame spot-kick was saved by Petr Cech and Luiz's error – the first of many – went unpunished, but the match typified so much of the Brazilian's character. His performance until the injury-time foul had dazzled, with bursts forward matched with an intelligent reading of the game. He was a centre-back not often seen on English shores, one that made goals as well as stopped them.
But that led to criticism, with his forays forward frequently costing his side, while his quirky abandon on the pitch and practical jokes off it suggested Luiz was too eccentric, too irreverent, too much of a comedy act.
His form waned, as did his favour among the Chelsea faithful, until he was forced to showcase just how good a defender he really was during the Blues' successful Champions League campaign last season.
Obscured by Ramires' dinked finish minutes after John Terry had been sent off at Camp Nou, and hidden behind Didier Drogba's European Cup-winning penalty in Munich, was an outstanding collective defensive display that seemed to transcend individuals. Yet Luiz, against Benfica and Napoli especially, shone. The cavalier attitude was non-existent, the tendency to switch off unapparent, and instead he gave commanding and mature performances.
The remnants of that Champions League run, and the mark they left on Luiz, have been highlighted plentifully this season. The Brazilian is a smarter defender, less headstrong, and is learning to marry the attacking instincts that make him such a unique and dynamic threat with the defensive solidity that is expected of him.
He has attempted fewer tackles per match this season but his success rate has leapt up from 82% to 90% - he is more selective now, not diving after every loose ball – while he has also lost possession of the ball less frequently, every 102 minutes this season compared to 87 last year. Chelsea have conceded 0.75 goals per game with him in the side, and recorded 11 clean sheets, while last year they recorded just five clean sheets when the Brazilian started and let in 1.06 goals per game.
But that caution has not tapered his adventurousness. He remains a creative presence, notching two assists this year and creating 16 further chances (he created just 10 last year), while he has also hit the target more often – notably with his thunderbolt against Fulham.
He has also become more physical and increasingly street-wise, bending the rule book almost to the point of breaking it. Sunderland striker Connor Wickham will attest to Luiz's less playful side, sporting a bloody nose after a coming together with the defender, while Brentford's Jake Reeves was left practically comatose by a Brazilian bodycheck.
Luiz is showing exactly why Chelsea parted with £25 million to sign him, and looks set to be a big part of their future for many years to come. What will frighten opponents is that the creativity, invention and attacking intent that permeates his game is no longer a double-edged sword; the "PlayStation" footballer has evolved.
Follow Ewan Roberts on