COMMENT
By Liam Twomey
If, as expected,
Roberto Mancini
and his
Manchester City
players re-live their Ajax humiliation on DVD in the coming days as they sift through the wreckage of what now appears another doomed Champions League campaign, there will be many moments for sombre reflection.
Of the Premier League champions' expensively assembled squad, only Joe Hart can argue he has done his growing reputation justice in City's first three group matches. Indeed, were it not for the England No.1's heroics, progress to the knockout stages would already be a mathematical impossibility, rather than simply teetering on the brink of being so.
MONTH OF MISHAPS
KOMPANY'S POOR PERFORMANCES IN OCTOBER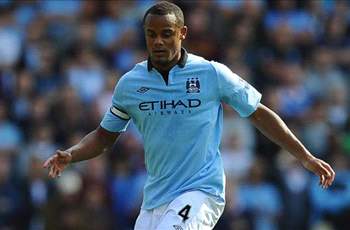 PLAYER RATING VS AJAX
OCTOBER 24





Has looked occasionally unsteady at times this season, and tonight was another poor show from the skipper. Couldn't keep up with the lightning feet of Eriksen & Co. and could only look on in despair as all fell apart around him in the second period.
PLAYER RATING VS WEST BROM
OCTOBER 20




Began the afternoon in assured mood, but his confidence gave way to complacency 23 minutes in, gifting Dorrans the ball on the halfway line and committing Milner to a foot race with Long he could never hope to win, and which ultimately ended in the Englishman's dismissal.
PLAYER RATING VS DORTMUND
OCTOBER 3




Still lagging a little behind his totemic form of last season. The Belgian seems more sluggish than usual of late and this brought him a booking as he could only barge the pacy Reus over to stop him getting past. Will miss the Ajax game as a result.
The speed and spectacle of City's European demise has been remarkable, and the blame for it must be collective. However, no one has embodied the club's struggles – at home or abroad – this season more than their captain, Vincent Kompany.
Last term, as he led City to their first league title since 1968, the Belgian was indisputably his team's talisman as well as their leader.
He did not score the decisive goal in the final minute of the season. That honour, famously, belongs to Sergio Aguero. Yet he was the rock at the heart of the best defence in the league, and the key symbol of the defiance in the face of Manchester United's relentless pursuit which ultimately made the difference for Mancini's men.
The new season, however, has brought fresh challenges – challenges City have largely risen to at home but failed miserably abroad, and Kompany has toiled along with his team.
Despite managing to keep United at their side and Chelsea in their sights at the top of the Premier League, Mancini's men have rarely convinced. Victories have invariably been achieved through individual quality rather than team effort, and a previously formidable defence has kept just one clean sheet all season – when Kompany was absent at home to Sunderland.
In his quest to re-find his form and consistency, however, the Belgian has hardly been helped by his manager.
Mancini's almost constant rotation of Joleon Lescott with summer signing Matija Nastasic in the heart of defence alongside his captain has served only to disrupt what was one of the most formidable partnerships in Europe, as well as unnecessarily expose the young Serb at a time when he is still adjusting to the Premier League.
The Italian's frequent dalliances with a back three, sometimes mid-match, also appear to have taken Kompany far outside his comfort zone. Often ending up with Gael Clichy, hardly the most physically imposing of full-backs, alongside him and one other in the defence, he has on numerous occasions cut a confused and strangely vulnerable figure on the pitch.
But the Belgian has also made plenty of bad decisions of his own – not least the moment of madness which saw him try to beat two men on the halfway line against West Brom on Saturday, lose the ball and commit the covering James Milner to a foot-race with Shane Long which was only ever going to result in either a goal or a red card.
On Tuesday, confronted by a journalist questioning his below-par performances, Kompany bristled. "I am on top of my form and feel great," he replied curtly. "I can't say I won't make any more mistakes in my career because I will, but I am happy with the way I am playing."
In tone and context it most closely resembled Sir Alex Ferguson's indignant assertion that his United side were "not struggling" in the Champions League prior to their elimination at the hands of FC Basel last December. In both cases, the punishment for such hubris was swift and humiliating.
Against Ajax, City's defence looked disorganised and uncertain, regardless of the formation which housed it. Kompany could do nothing to change the prevailing mood or turn the tide of momentum after Niklas Moisander headed the hosts in front, and the ease with which Christian Eriksen ghosted past him to score the decisive third was positively alarming.
After one point from three matches, the Champions League is all but gone. Kompany must quickly rally his team-mates – and himself – if poor form is not to wreck City's hopes on all fronts.
Follow Liam Twomey on