Bengaluru 5s and Kolkata 5s played out a 1-1 draw as Gigg's finally got one over Salgado as Mumbai beat Kochi 6-4...
The fifth day of action of Premier Futsal saw Paul Scholes' Bengaluru 5s take on Hernan Crespo's Kolkata 5s in the first game, before Ryan Giggs' Mumbai 5s went up against Michel Salgado's Kochi 5s.
Scholes' side extended their winless streak to three games as they were held to a 1-1 draw by Kolkata.
One of the most impresive futsallers in the tournament, Russian international Pula made no mistake in converting a penalty in the first quarter as he gave Kolkata the lead.
Manchester United legend Paul Scholes, the man the Goa crowd clad in red were there to cheer, put up a neat passing show, but without any real threat to the Kolkatan goal guarded by Cidao as the first half went by.
In the second half, Indian futsaller Jonathan Piers equalized for the Bengaluru 5s, making it three goals for him in three outings in what has been a fairly fruitful tournament for him.
As the scoreline was all tied up and the game showed no signs of any more goals, Kolkata 5s' goalkeeper Cidao took matters into his own hand, starting attacks every now and then. However, nothing of note came from them, as Crespo's side were unable to retrieve the lead they lost and drew the game 1-1.
Before the start of the second game, Brazilian legend Cafu, the replacement for Goa 5s' Ronaldinho, was unveiled to the crowd to huge cheers.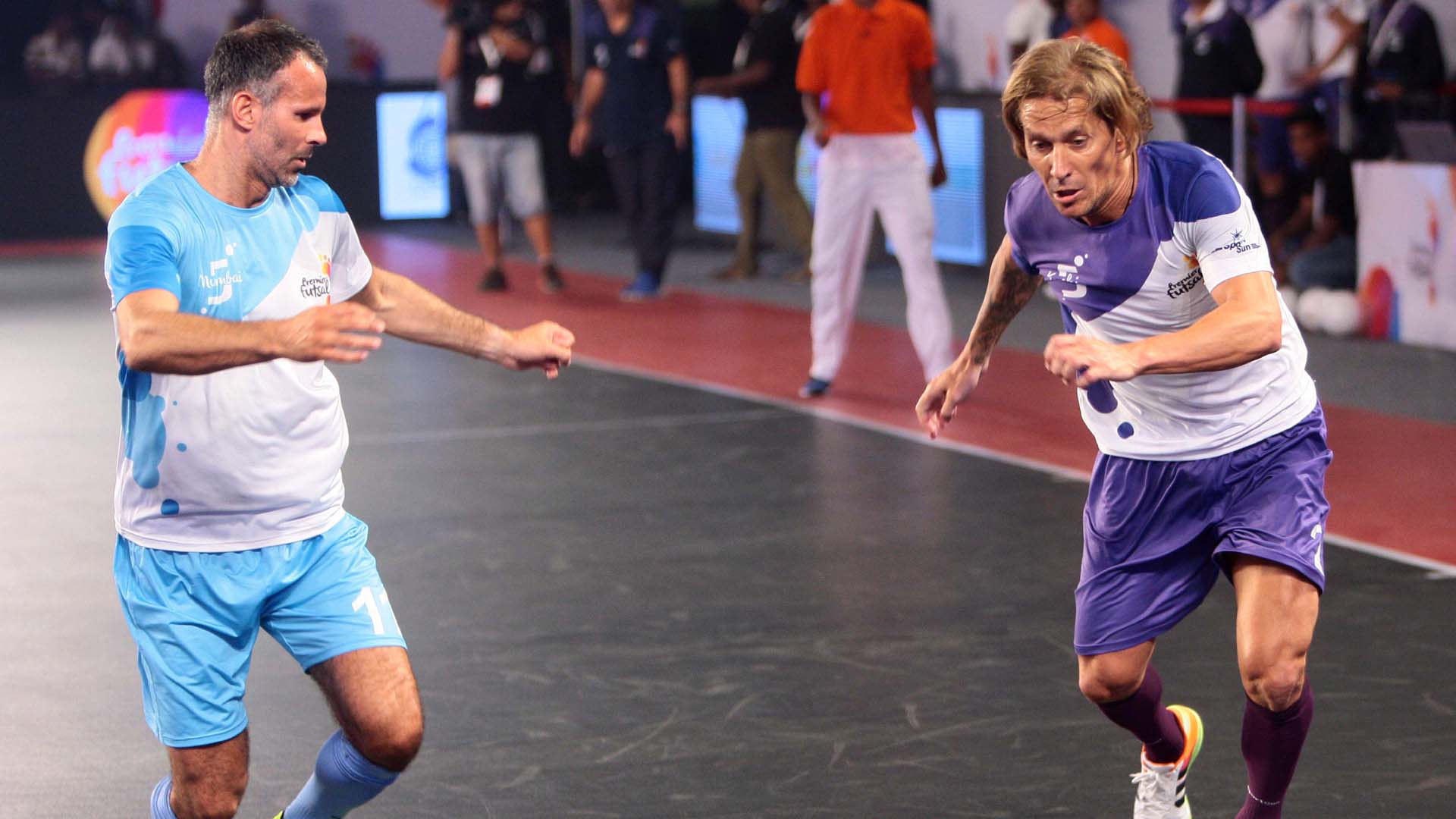 Giggs and Salgado resumed their banter from the other day as the game went on at a frantic pace.
The men-in-form for either side scored in the first quarter - Moraes giving Kochi the lead before Foglia brought Mumbai back level.
Soon, Moraes played a hand as Kochi retook the lead, thanks to Changuinha who scored off Moraes' assist. Mumbai came back on level terms thanks to Kevin Ramirez.
And for the third time in the game, Kochi took the lead before Mumbai clawed back once again through Foglia. However, Mumbai rode the momentum and went two up as goals from Chanpreet and Angellot made it 5-3 in their favor, leaving Kochi speechless.
Changuinha, the man of the match against Chennai 5s on Sunday, pulled one back for Salgado's side in the last quarter. However, Mannikoth all but ended Kochi's hopes of a comeback as he scored from a counter as Moraes attempt was saved by Luis Amado, making it a 6-4 win for Mumbai.