Having given a detailed brief on what was needed to be done, for the upliftment of the men's game in India; India's technical director Rob Baan next delved on the issues surrounding women's football in the country.
The Dutchman laments the lack of attention given to the development of football in the girls section, and lauds them for their achievements, even though they have to deal with such apathy.
Giving a brief over-sight of the current condition of football in the ladies half, the All India Football Federation (AIFF) Technical Director speaks of the India Women's Football Championship, which was formed in 1991, and currently has 25 teams registered for it.
Apart from India Women's Football Championship, there are similar national junior championships like the Junior Girls National Championship (for U19s) and the Under-17 Girls National Championship.
However he regrets the lack of other tournaments in India, a necessary step towards the popularity of football among women. Currently he points out, there are two regional leagues – Calcutta Women's Football League and the Mumbai Women's Football League and other regions majorly depend on the national-level competitions at different age groups.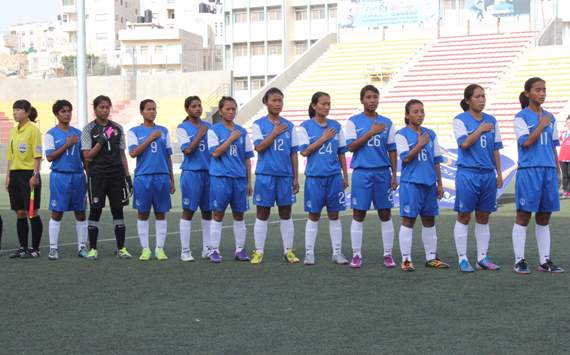 The girls need more playing time...
He also points out that generally, due to lack of playing time for girls; the most continued stint in training that they receive is during camps in the lead-up to tournaments. These camps generally last for a month and help get players to an optimum level of fitness.
Baan then has a look at the various challenges facing women's football, and points out how additional sponsorship is needed for promotion of the game, since as of now the AIFF is spending 15% of the grant provided by FIFA for the development of women's grass root football – however with no other resource, these funds alone are not sufficient to ensure that local leagues and youth development activities are organized across the country.
The Dutchman also opines that the special quota for women footballers undertaking government jobs needs to be revised to encourage the women to undertake the sport professionally, so that they have a post-retirement future and security, which would help encourage women to take up the game in a professional manner.
With the lack of finances, attracting good coaches has also been a problem, and that has to be dealt with, if girl's football is to be given a lift in the future, while Baan also feels that social stigma and cultural issues have also played their part in holding back the game in India.
He then lists down several short and long term plans, which would help develop the game, and help them reach their potential.
Baan says there has to be a residential elite academy, where the cream of India's talent could be given the right kind of training, and be groomed into a team which could get the country accolades in International tournaments.
He also states that like their male counterparts, additional work opportunities need to be reserved for women football professionals. This includes building avenues within football, by encouraging women coaches, referees and administrators and outside of it, through tie ups with Public Sector Industries that have similar schemes for women in other sports.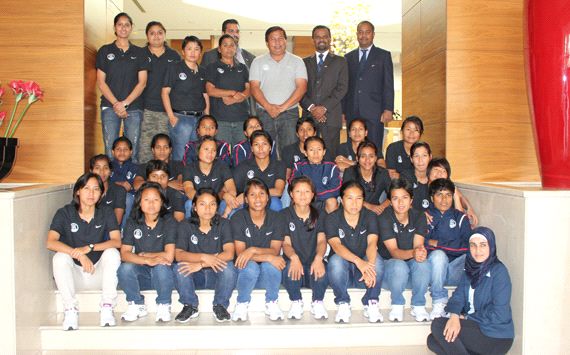 Their achievements need to be advertised in the public domain...
The Dutchman also feels that it is important to get the girl's achievements in the public domain, as even after notching up several tournament victories in recent times, they are not well known. This is a big deterrent to the growth of the sport, with no idols to look up to and no success stories to emulate, young footballers lack inspirational figures. The AIFF through its media arm will ensure that there is more attention given to future successes and will bring focus on the top performers in future competitions.
Baan also hopes that more corporate invest in the game, through their corporate social responsibility (CSR) schemes, to help the game blossom in India.
In the long-term though, the AIFF Technical Director intends to have a better coaching program, with the instructors going through rigorous training. According to him, the shortage of qualified coaches has plagued the game (men's as well as women's) and the development at the youth level is hampered due to improper coaching. Coaches training programs need to be implemented at the national level – where coaches should undergo training from international/world class professionals. This knowledge should be further disseminated to the players at the national and district-level academies.
He also feels that the AIFF needs to help formalize the women's professional league and mandate all professional clubs (from the I-League (first division – to start with)) to follow the European club culture and form women's team along with the men's team – with support from the state associations and AIFF.
This will help build a strong base to start a professional league in women's football at a national level. A mandate to reserve 5-10% budget for women's football across the I-League clubs may serve as a long term solution to ensure that the clubs keep investing in women's football.
And most important of all, competitions should be held at all age levels, and regularly. Baan mentions that the state associations and district sports offices should be responsible for conducting inter school, and inter district football competitions for women. A proper sports curriculum should be prepared and followed at the district level (under state association's supervision) – and a proper channel of selecting talented kids through inter-district and inter-zonal competitions should be in place.
Conducting Intra-state Championships for U-16s, U-19 and Senior Women's by state associations with the help of AIFF shall formalize the talent identification process.
How do you stay up with football when on the move? With http://m.goal.com –your best source for mobile coverage of the beautiful game.