IMG-Reliance, the commercial and marketing partners of the All India Football Federation (AIFF), are to start an IPL-style football tournament come January 2014. With the I-League clubs, under the banner of I-League Professional Football Clubs Association (IPFCA), choosing not to release their players or to take any of the players associated with the tournament on loan, there has been a deadlock.
Amongst all the brouhaha and hoopla, Goal caught up with India legend Bhaichung Bhutia to get his thoughts on the pros and cons of the new tournament and its effects on the existing competition structure, especially the I-League.
Goal: With all the buzz surrounding the new IPL-style football league to be launched by IMG-Reliance, what are your thoughts on the same?
'It's a tournament which we don't know what it's going to be like'
BB: We should be very, very clear that it's not a league. Everyone is saying that it's a league and it is confusing the entire football world. It's a new tournament which we don't know what it's going to be like. It could be a knockout tournament but it will be hyped because IMG-Reliance is doing and the AIFF is supporting it. It's a very short, new, two and a half month tournament. It's fair enough for a new tournament to come in. It's like a Santosh Trophy in a shorter version. Before the players used to play for their own state in the Santosh Trophy, like I played once for Sikkim.
So with IMG-Reliance doing it, there is more money involved and more glamour attached to it and players going there. Hence it is making big news. For the players, we are completely happy with the new format of the tournament coming in.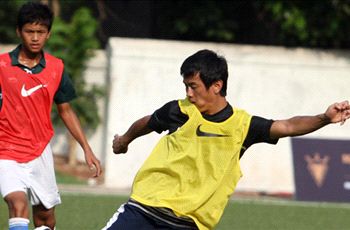 Bhutia | ready to wear his boots?
I strongly feel that the I-League must exist and this new short two and a half month tournament should come in. If you look into Indian football for the last 15 years from the time I started playing till today, we haven't made any big progress in terms of national ranking. In between somehow after 26 years we managed to qualify for the Asian Cup. We are nowhere near reaching the World Cup, nowhere near reaching the top 100 ranking. So if this tournament comes in, brings in new stars and creates new football stars and new football household names, gives players financially more revenue and also the I-League clubs benefit directly or indirectly through finance or anything else, I think we must welcome it. If you look at the I-League, Indian football hasn't gone anywhere. We have not gone to top 100 as well. In my 16 years career with the national team, the biggest achievement was to qualify for the Asian Cup which is great. But nothing apart from that and there is nothing happening.
So something new can always be tried. We are not saying that IMG-Reliance shall come and change Indian football tomorrow or completely. But there is nothing wrong in trying and letting it come. Whatever scenario we have in football right now, we haven't not gone anywhere in terms of ranking. So I think we must welcome this tournament keeping in mind that the I-League should also survive and the clubs and players must also benefit.
Goal: One of the benefits of the new tournament coming in is that IMG-Reliance are keen to refurbish the existing football infrastructure in the country?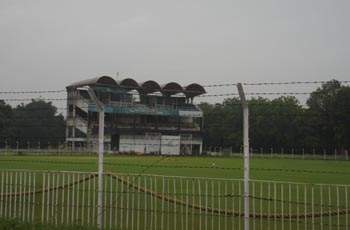 Stadiums | will we see new ones?
BB: Right now all the stadiums are governed by state government. Not many stadiums are under football associations. Here we have got a company in Reliance who have got huge amount of money, are investing in the game and willing to take renovate them completely to make it a top Asian level football stadium. So obviously they are having challenges in taking over the stadiums from the state governments which they are not getting it. But I think if they get it, the infrastructure is going to come up. There will be huge investments in terms of infrastructure and it will also be good to see new franchisees, teams coming up. Maybe not at the start but in future, they will be investing in the infrastructure and youth development. We are not asking them to do infrastructure and youth development from day one but down the line, they will have to. I think it will happen.
Everyone in football is involved including the club owners, the All India Football Federation, the players and the state associations. What are we crying for? We are saying we need more investment, sponsors and money coming into the game. So there are new investors now who will own these teams and so there are new people investing into the game in terms of owning a team. It should be a welcome thing. Today look at I-League, I own a football club. How many football clubs have got a title sponsor? Very few. Today Churchill Brothers is the winner of the I-League and they go without a sponsor – which is the saddest thing. They have no title or associate sponsor. Look at Dempo SC, they have won five league titles, they have no sponsor but it is the company that is supporting it. Same for Salgaocars. Look at East Bengal and Mohun Bagan, owned by Vijay Mallya. Now with chit funds going, the other associate sponsors are also gone. Because of Mr. Mallya, money would come in but they had chit funds like Sharda and some more investing into the teams. Now with that gone as well, they have no associate sponsor. Only Shillong Lajong have got slight money with Aircel. We have also been lucky with a few sponsors. Which team has a sponsor? Look at Mumbai FC team, no sponsor.
'I-League should survive and new tournament should be welcome'
I don't know why if somebody with money is coming and investing into the game, why it should not be welcome. I think yes, the I-League should survive and the new tournament should also be welcome. If the new tournament comes in, it could generate revenue for the I-League. They could be spending less money on the players now. So indirectly or directly, they do benefit.
Goal: Speaking of the I-League, what is your opinion of the new franchisees, namely JSW and Mumbai Tigers, coming in starting next season? What do you think of this initiative of the Indian FA?
BB: It's a welcome move for the new corporates to come in. First thing is that new people have been coming in to invest into the sport. There are criterias such as to build infrastructure and the AIFF is also in need of revenue. So the new teams are paying a fee to own the club. So it is a great move and I'm sure these clubs will need some time and guidance.
So for Reliance, I am still happy for them to do a tournament rather than them owning a few more teams in the I-League. But then the smaller teams would have had no chance at all. So right now with Reliance, all this happening, lot of players can go and play there (I-League) and will not be as expensive as what the clubs have been paying. For the players, they are not just looking to play in the league from a financial point of view. They will look into the infrastructure, they look into a club where they will be more comfortable playing. Since IMG-Reliance pays their salaries, finance is not going to be the only criterion. So a lot of clubs will benefit. For example, Lajong – a north eastern player would want to play for them as he is already getting paid from the IMG-Reliance tournament. The player could go in for a lesser fee. Because Lajong today and Rangdajied United will not be able to compete with the bigger clubs.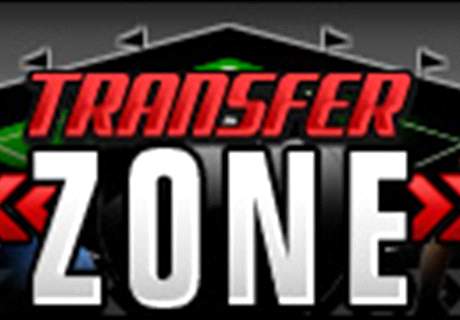 Tranfers | how will they be done?
Goal: With regards to the transfer rules, how can they be changed? For example, if I'm a player of Dempo and go on loan to IMG-Reliance's new tournament, how do I come back to the parent club or if I'm a player playing for IMG-Reliance's tournament and am loaned to an I-League club, how can I ply my trade in the league again post-March?
BB: Within India, the AIFF has the right to change the rules if it is for the improvement of the game. Now if the clubs are talking in terms of loan, why are the clubs releasing players for Santosh Trophy? What is that tournament? Where in anywhere in the world is the tournament named Santosh Trophy along with the league present? How many times have the players played for their state teams. Tomba Singh played for Manipur, I played for Sikkim, Renedy Singh played for Manipur. When I played in Malaysia, there were six foreigners that were allowed to play. The next year, the rule was changed completely and no foreigners were allowed to play. In lot of the countries, there is the players' salary cap. Singapore had this a few years back of the national team players' salary being from this to this. Even till today they follow and so does Australia. So the loan thing can always happen.
Here in India, I always complained that why do we need to have an inter-state transfer and not club-to-club transfer. Nowhere in the world there is an inter-state transfer. So the rules in India are outdated. So the loan period, if tomorrow, the AIFF changes it, that's not a problem. It's up to the federation to take a call on that. How can you have Pailan Arrows in I-League then? If everybody follows the rulebook, where anywhere in a professional league you have an U-23 squad playing with no relegation. So things are possible as the AIFF also has thought of the benefit of Indian football. So that's why you have Pailan Arrows who are a developmental side and then the AIFF have the right to include them. In one way, I do feel that the new tournament is coming at a wrong time because it is coming in between the I-League. So calendar could be revised to change it.
Bhaichung Bhutia is in favour for the I-League to end in December

Goal: There have been suggestions that the calendar could be changed so that the I-League ends by December.
BB: That will be best in that case as you don't disturb anyone. The I-League gets over and then the new tournament starts. What happens right now there is a slight problem for the clubs, which I completely understand, is that the tournament is in the middle of the I-League. So it becomes little bit unfair to the clubs because a lot of the clubs will be fighting for title, some are fighting for relegation. So in the first year, we have to consider it and let it happen. But from the next year onward, the season must change so that the I-League should get over by December and the new tournament should happen from January to March. So in April and May, you can shut down because in those two months, nobody can play anyways. It's 46 degree temperature.