The importance of youth development in India has been spoken over and over again. Lack of tournaments, competitive league structure, infrastructure and several more issues plague the system. However there is ample talent in the country which India coach Wim Koevermans testifies to but was quick to add that there is no process in place to nurture them.
"There is a lot of talent in India but you have to train and nurture them. Tournaments are important but tournaments are normally a small part of the year. So you do it within a week or two or maybe three weeks. But that's not enough. What we need first of all is good leagues in the places where they live. So these boys should play every weekend in a nice competitive game throughout the season. And they have one or two or three training sessions a week. Then you will improve your talent very much so," Koevermans told Goal.
He highlighted the importance of coach education as they would then know how to look about a kid in the best possible manner and the football associations at the national and state level must provide the environment to do so.
"Tournaments are not enough. You need to have practice every week with a game. That's why coach education is so important but the coaches also need to make sure that it happens. You can organize matches every week if you want but it should be state associations together with the AIFF (All India Football Federation) to organize a very good competition structure in every age group for boys and girls. The more you play the better player you become. It's simple," he suggested.
BMSC.T Manipur won Nike's Manchester United Premier Cup India 2013 at the Duler Stadium after defeating Mumbai FC in the finals with a score-line that read 5-4. Nike's MUPC Champions 2013 will represent India in the South East Asia regional finals in Malaysia this June. Koevermans conducted a training session for the winning side the following day.
It was interesting to note that despite every I-League teams claiming to have an U-14 side which trains throughout the season, only Mumbai FC and Air India made it into the final four. Koevermans refused to speak on the matter but instead focused on talented kids being present in every part of the country.
"Football in the north east is developing really quickly. I have travelled the country and there is talent everywhere. There must be with 1.2 billion population and they are there. If you don't nurture them, don't properly train them, if you don't give them enough time to play then those talents will not develop as quick as other countries do," he reasoned.
The Dutchman stressed that it was high time that India gets its competition and league structure right and for that it is essential to use Robert Baan's, India's technical director, Lakshya 2022 be used as a textbook.
"We are running behind as our structure of competitions, league structures, our coach education is running behind. So the master plan of Mr. Rob Baan, the technical director is hugely important for the future of Indian football. We start now and in 10-to-15 years, you will definitely see the benefits of that in any competition level," he mentioned.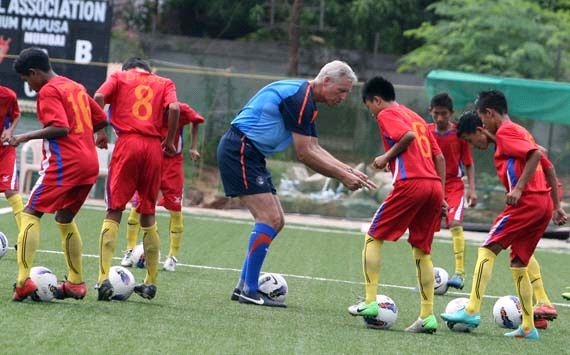 The competitions structure must change
"The second division I-League should be changed because it's only a couple of weeks in a year. That's also not good. The U-20 (I-League) is also a couple of weeks in a year which should also be throughout the season," he added.
The former youth coach of Netherlands believes that actions certainly speak louder than words and that the development process needs to be up and running else we shall continue to rot while the rest of the worlds makes huge strides.
"So we can do much more to develop our talents. That is what is really necessary. Everybody agrees on it but you know this is Nike and their logo says 'Just do it'. So we should stop talking and start acting. Otherwise these kids…I feel sorry for the boys and girls that don't get the opportunity to develop their talents in the best possible way. We are the people in India who are responsible for that. So all of you who are watching, just act. Just do it and don't sit on it and talk about the plans," he signed off.
How do you stay up with football when on the move? With http://m.goal.com –your best source for mobile coverage of the beautiful game.