Club Atlético Boca Juniors, one of the premier football clubs in the world, today launched their first ever Football School (BJFSI) in Bangalore, India. The first Summer Camp will be held on June 10-14 in Bangalore at Ascendas ITPB Ground for the aspiring footballers aged from 4 to 18. Trainings for ongoing Football School will commence from 1st July'13 at various centres in Bangalore.
Boca Juniors, home to legendary football stars like Diego Maradona, Gabriel Batistuta, and more recently Carlos Tevez and Juan Roman Riquelme, will be the first Latin American football club to launch a football school in India.

One of the most successful club in the world plans to take the BJFSI around the country with the first school being launched in Bangalore. BJFSI will run the football school on an ongoing basis round the year and provide progressive training to the students through weekly classes following Boca Juniors methodology. All these classes would be administered by coaches from Boca Juniors Club – Argentina. Additionally, there will be periodic football camps, customized school camps and corporate training & events.
Boca Juniors Chairman, Daniel Angelici was excited to bring the Argentinean style of football to India. He commented, "We are thrilled to bring the Boca Juniors Football School to India. Football is growing in popularity in India year by year and we strongly believe we can play a role in developing the sport. As a country, India not only has a wealth of young talented children who are extremely passionate about football, but a genuine desire to learn and apply new skills and knowledge."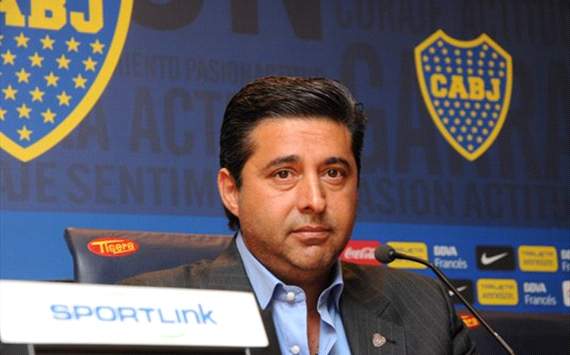 Daniel Angelici
"This is great for the country and for the game. Our style of football is completely different to the rest of the world and we hope to pass this on to the young generation here. It needs to be positive, inclusive, structured and above all create a fun in safe learning environment in order to nurture young talent and help players exceed their potential," he explained further.
The football playing style in Latin America is distinctly different from the playing style in Europe. The style is more open and attacking, has flair and more entertaining to watch. The coaches in BJFSI will instill the same playing style to the students from an early age.
General coordinator of youth football and former Boca player Jorge Raffo strongly believes that it is important to teach and develop kids from an early age. He commented, "We strive to teach children the fluent and attacking style of South American Football from
an early age. Our training model emulates the triumphant and world famous philosophy of Argentinean football, with a holistic and unique balance of physical, educational and mental development. Children not only learn the physical skills and qualities necessary to develop on the pitch, but also learn the other skills such as team work, discipline, perseverance, professionalism and passion to name a few."
How do you stay up with football when on the move? With http://m.goal.com –your best source for mobile coverage of the beautiful game.