After a comprehensive look at the youth development, coaching and refereeing programs, Goal.com now has a look at what Rob Baan's Lakshya 2022, has in mind for the heart-beat of football in a country – its club football.
The Dutchman stresses that in any country, football clubs play a significant role in development of football. Clubs make football competitive at various levels from community, town to national level and help in development of amateur & professional players.
Thus, it is important that the All India Football Federation (AIFF), helps them grow in the right direction and at the right pace.
Baan goes on to add that in theory, clubs gain a lot from playing in the top league, both tangible (additional revenue streams, infrastructure development) & intangible (fans following, branding) benefits. But unfortunately I-League has not been able to unlock these benefits for Indian clubs.
He goes on to add why this is the case. He feels that the lack of infrastructure, the localization of clubs to certain areas, lack of a fan base, marketing and lack of financial incentives for the clubs, being the reasons why investors find the league unattractive.
Hence, the AIFF Technical Director has a look at all these issues, and how they could overcome it.
To unlock the benefits for clubs, the All India Football Federation (AIFF) is formulating a Super I-League which is essentially a super structure on existing I-League based on IPL model, which would help attract investments and make the league more competitive.
But to make this initiative successful, clubs also have to contribute by focusing their efforts on the right developmental areas. The AIFF has formulated important guidelines/best practices in this direction.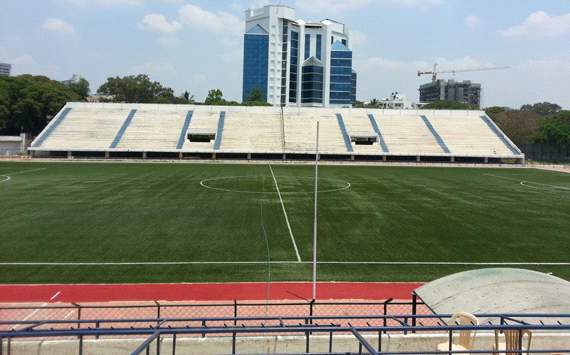 Baan has a long-term vision, to fill-up empty stadiums...
Firstly, the club should have the right structure as mentioned in the National Curriculum, to get registered with the AIFF.
Also Professional League License Rules mention mandatory guidelines for professional clubs willing to play in professional leagues. Every club should adhere to these guidelines before playing in any of the professional leagues.
They should also have a specific club mission. Every club should have a mission to work for, which should be formulated keeping in mind both society & football. They should also give equal emphasis to their 'social development plan'.
The league teams are also expected to help share the national team's vision for success, and in doing so, clubs should stick to their culture, developing and strengthening it. He gives an example of Barcelona, to further drive home the point.
Baan also emphasizes that the soul of the club is its philosophy, which is often defined by history. He points out that typical "football countries" like Brazil, Argentina, England, Germany, Holland etc. clubs not only have different background but also different philosophy.
He goes on to express how a different background could be anything from a socio-economic belief of the club, its political or religious views as well as style of play. The structure and ownership style could also lead to different kinds of supporters.
The Dutchman then adds all the dots to link the club's culture, philosophy and above all mission of the side, to design its strategic plan.
However he goes on to caution that these strategic efforts should also be aligned with overall development of football within India. To streamline and harness the efforts of the clubs in the right direction, AIFF has formulated a new National Curriculum (NC) and it must play an important part in the strategic planning of the clubs.
He further states that another important aspect of successfully running a club is Club Organization. Every department, committee and individual across the hierarchy of club organization plays an important part in success of the Club.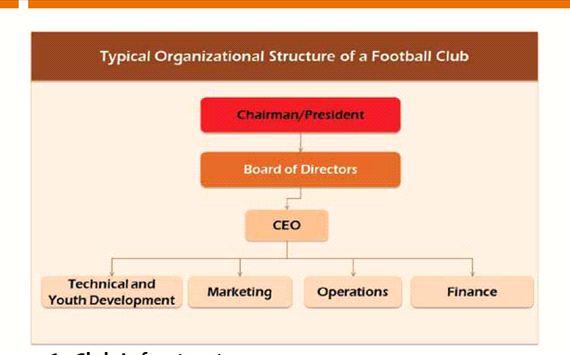 This is how an ideal club's structure should look like...
A sample model of a clubs organizational structure is shown above.
Baan then goes on to address the vital point regarding the lack of infrastructure at the league level, and how it must improve, for clubs to meet AFC criterion.
The Dutchman also added that the AIFF would now be looking to adhere to the AFC rules strictly, and that clubs which don't fulfill these regulations, could end up in big trouble.
For professional clubs willing to participate in the I-League, the AIFF will define standards to get a license to play in the I-League.
These standards will have a look at the stadiums these clubs play in, whether that have proper seating capacity, floodlights, playing field, parking facilities etc.
Teams should also have a good training field, equipment & gear, dressing rooms, medical rooms, player accommodation, physiotherapist room, while additional facilities like swimming pool for recovery, sauna, bath rooms, would be an added bonus.
Knowing that such infrastructure cannot come-up without government's support, Baan assures the teams that The AIFF together with clubs and their business partners will come up with a comprehensive plan to develop new & improve existing facilities.
Finally, the Dutchman has a look at the life-blood of football clubs – fans.
The AIFF Technical Director points out that fans are indispensable for the growth of any club. More number of fans will help a club in a number of ways e.g. revenue, local support and motivation and will result in better performance and vice-versa - better performance will lead to an increase in the fan base.
Baan observes that for a club to grow, fans will be of great importance. Hence the AIFF along with the clubs will involve official fan-clubs in formulating the strategy and vision of the club. Official registered fans will have a greater say in matters relating to the club. A delegation representing the fan-club will have regular meetings with the board or the management.
In such a way, the Dutchman hopes to revolutionize how football clubs currently function in India.
Do you agree with the range of initiatives Rob Baan has planned? Have your say by commenting below…
How do you stay up with football when on the move? With http://m.goal.com –your best source for mobile coverage of the beautiful game.