Over the last few weeks, Goal.com has summarized various facets of youth development and coaching structure than Rob Baan hopes to implement with his Lakshya 2022.
Today we further our coverage and complete the holy trinity, by having a look at the men who hold all the power – the referees.
The Dutchman hopes to create a pathway for both men and women referees which will enable talented individuals to reach a professional level within 5 years.
In order to ensure successful nation-wide implementation of referee development plans chalked out by the All India Football Federation (AIFF), Baan stresses that it is imperative that an ideal administrative structure for referees is set up in each state.
Of particular significance is the segregation of the "policy making" and "implementation" arms within the refereeing domain. This is currently not the case where often the 'Head of Referees' is also the Chairman of the Refereeing Committee. This inherently produces many instances of conflict of interests. The ideal recommended minimal structure required in each state is as per below –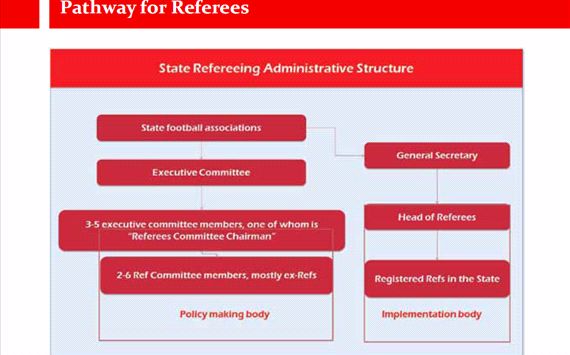 The AIFF Technical Director goes on to point out that if the youth development and coaching programs go to plan, it will become imperative for the quality of the referees to improve, hence their education must go hand-in-hand with the coaches, to ensure a consistent quality.
Baan then again compares the structure in India and Japan, with the Japanese having 2,50,000 referees, compared to a paltry 2000 in India, which is just not enough, for a country with such a huge population.
Hence a Referee Development Plan needs to be formulated, with the AIFF paying special attention to evaluation and training of instructors, training of fitness instructors for referees, establishment of strict fitness tests, appointment of full time instructors and referees.
The Dutchman also hopes to implement several other measures, which would help improve the level of officiating in games.
Firstly, the AIFF will strive to have in each State, courses for basic, elite and amateur levels. The AIFF also plans to provide financial support to States for training lower level referees. The model will be compulsory to adopt in all states and will mention the number of referee courses which have to be organized by the States on a yearly basis.
Baan also hopes that a strategic collaboration with the AFC and FIFA would help in this regard.
To improve both, the quantity and quality of referees, it will also be important that the officiating programs are propogated by state education departments and schools as well as via lectures, supported by video films, brochures, quizzes etc.
To create a pathway for young promising referees the AIFF will start an Elite Referee Academy in 2013, as per the book anyways!
Talented young referees will firstly be educated in so called 'weekend academies'. During 26 weekends per year students will be prepared for a semi-professional referee level.
The AIFF Technical Director also advises the footballing authorities to introduce women to the refereeing system.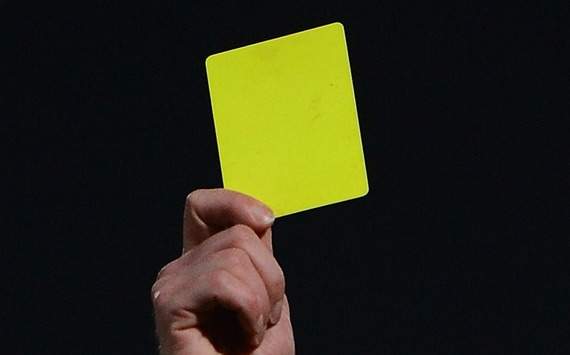 Referees who can maintain discipline, need to be moulded...
The system to promote to the next level for referees will be open and transparent. It will be based on monthly reports of the performance of the referees, results on the course, physical fitness and psychological aptitude.
Like for coaches, each year the referee department will together with the State Associations appoint 1 or 2 referees who will be granted a scholarship to go abroad and have a 3 week instruction period with the referee department of a foreign country. Countries that produce top referees will be regularly visited. These 3 referees have to report back to the referee department of the AIFF about their experiences and share their learnings with other referees.
Apart from this, regular clinics will be held by the AIFF, where latest changes in the rules of the game, lessons from top referees, discussions, physical advises, psychological tests, mental attitude, etc, will be discussed.
Like in the case of players, Baan feels it is very important to have 'referee icons'. Potential referees need to have examples who are acting on international level and attract positive publicity, according to the Dutchman.
By 2016, the AIFF will strive to have 7 top level referees who will be signed by them as full-time referees, out of which a minimum of 4 should be selected by the AFC and FIFA to officiate in qualification matches and international tournaments.
After 2016, the AIFF aims to have its own qualified pro referee instructors and the permission from AFC and FIFA to organize its own pro referee course for maximum 8 to 10 participants on an annual basis.
How do you stay up with football when on the move? With http://m.goal.com –your best source for mobile coverage of the beautiful game.