In our last few articles related to Goal.com's summary of Rob Baan's Lakshya 2022 series, we had taken a look at what the Dutchman suggested was needed to improve the infrastructure at the youth level.
However for Indian footballers to truly prosper, proper coaches must be present at the grassroots level, to help kids correct their basics at the very start.
And Baan recognizes that as well, as he stresses on how important it is to have coaches available, who are educated on how to teach players at every level. He goes on to point out that it is important that such trainers understand the difference between boys and girls playing football. Similarly, they should know the difference in coaching methods that need to be adopted while coaching different age groups. They should be aware of the difference in motivation, emotion and passion in different groups of players.
With the understanding that there can be no good players without good coaches, the All India Football Federation (AIFF) Technical Director, hopes to restructure the existing coaching program and focus on the development of specific youth coaches as well as on the development of coaches for elite players.
| | | | | |
| --- | --- | --- | --- | --- |
| Pro-License | License- A | License-B | License-C | License-D |
| 4 | 48 | 176 | 1012 | 479 |
There is a dearth of qualified coaches in India
As seen from the table above, the number of well trained coaches available is a big scarcity. Hence Baan hopes to implement a plan that shall see the AIFF introduce a new license called 'Youth Development License' C and in the near future, will also introduce a corresponding 'B License' which can also be used later as a senior license after passing 1 or 2 modules focused on coaching senior teams.
He hopes to also launch three levels of badges for goalkeepers, named level 2, level 1 and advanced, for amateur, senior amateur and professional levels respectively.
Baan further adds an incentive of a scholarship of upto Rs. 2-3 Lakhs, to help promising candidates work with famous clubs and coaches in other countries. On returning, they will be required to write a report from which the AIFF could use the relevant information or suggestions for the further development of its coaches and curriculum.
Also in a bid to keep the coaches up-to-date with various new techniques, the Dutchman proposes that state associations and the AIFF, organize several coaching clinics and seminars every year. Speakers and demonstrators of AFC and FIFA could discuss and present the latest developments in coaching methodologies, learning techniques and evolving styles of play etc. These clinics and seminars will be aimed at constantly updating the knowledge of our Indian coaches as well as to propagate a consistent Indian Style of Play at all levels.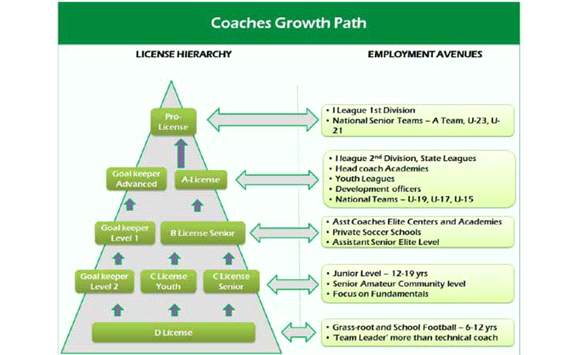 The structure the AIFF Technical Director hopes to have is depicted above.
Hence to summarize the entire chapter, Baan hopes to comprehensively re-structure the coach education program in India. By doing so, more instructors would be encouraged to take up D, C and B license courses, with sufficient slots being offered in every state.
The Dutchman also hopes to nominate 3 coaches for the above mentioned scholarship ever year, apart from re-fresher courses for qualified coaches, and annual coaching conferences.
The AIFF Technical Director also stresses that it might be a good idea to link up with the Dutch or Australian FA, in order to achieve all these aims.
How do you stay up with football when on the move? With http://m.goal.com –your best source for mobile coverage of the beautiful game.