Ayush Srivastava




Feature

|

India




Follow on
United Sikkim were the football club in news over the past couple of weeks. No, it was not for actually winning a game of football against Air India, after going winless for months, but because of the fact that Bollywood actor, or as is the term often used, 'superstar', Ranbir Kapoor, had decided to become the brand ambassador of the Snow Lions.
What followed were several articles on how the association of a film star would change the fortunes of Indian football, and especially the club. Probably just like how previous ambassadors like Neha Dhupia, John Abraham and Rahul Bose did!
Oh, you wondering why and when did the above three film personalities join the United Sikkim ranks? Well it was only last year, that similar hype had followed the announcement of Neha Dhupia as the club's brand ambassador. The media was also made aware of how 'closely' John Abraham and Rahul Bose followed the club, as supporters.
Well one can't blame you for not remembering, as none of the trio have been really seen actively promoting the United Sikkim brand, or spotted at matches of the club.
Or let's consider the scenario of the man who just needs to tear off his shirt and flex his muscles for his films to do a business of Rs. 100 crores.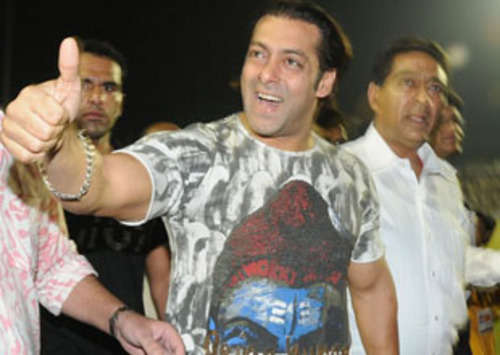 The AIFF made no use of Salman Khan, in his stint as their brand ambassador...
Not so long ago, Salman Khan was the face of the All India Football Federation (AIFF). In 2009 he had attended the Nehru Cup final in Delhi, and grand plans were announced of using the star's image to enhance the game's following in the country.
Salman Khan too vowed to help improve the popularity and infrastructure of the game in India. However, partly due to the AIFF never coming around to agreeing on a plan on how to use his image for improving football in India, Salman never really made any impact on football in India. Infact a proper contract was also never signed with the star.
So what should we expect from Ranbir Kapoor then, once the current hoopla around his being the new face of United Sikkim dies down?
The 'Barfi' star, who apparently is also Barcelona's brand ambassador in India, might tweet a picture of himself in a jersey of the Snow Lions once in a while, and maybe, just maybe, attend a game once during the season, to show his 'undying' support to the North-East based side.
But would such token appearances really help United Sikkim or Indian football in the long run?
If previous history is an indicator, then definitely not.
A film star getting involved as a token gesture will never really help Indian football, because their presence only bring a momentary surge in excitement among fans of such celebrities, easily forgotten by the next big news or film release of such a star.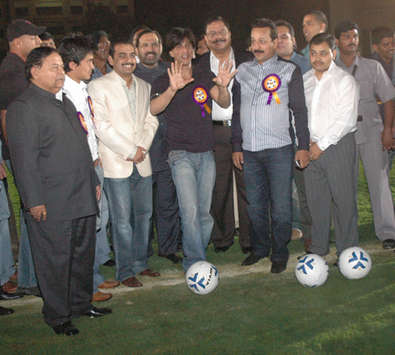 When shall Shah Rukh Khan walk the talk?...
And infact if their presence brings crowds to a stadium, will it really be for football, or to get a glimpse of their favourite movie hero? Will they come to an arena, when the superstar doesn't visit for the next round of games?
If these celebrities are really concerned about the game, then they should try investing in the game, to have a long-term effect.
Shah Rukh Khan has spoken several times of what an avid football fan he is, and how he would look to promote the game 'at any cost'.
However in recent times, he has been seen hosting a big bash for the Indian Premier League (IPL), in which he owns a team after paying mega-bucks, in a football stadium, and hosting a show for young cricketers on television.
But when it came to actually proving his 'love' for football, he baulked at paying a price for a stake in Dempo SC, hoping to pick up a stake, based on his popularity alone.
So while Abhishek Bachchan might think it would be 'cool' to have a team in the 2022 World Cup and Ranbir Kapoor might lament over a lack of a basic stadium in Mumbai, the fact remains that their involvement in the game has been nothing more than a public relations exercise.
With little glamour involved in Indian football, these stars are likely to continue making appearances in a cricket stadium, where they gain more fan mileage, than a football match.
And unless these celebrities offer to put their time and money into the game, Indian football is also better off without them.
Do you think these celebrities help improve the profile of the game? Have your say below...
How do you stay up with football when on the move? With http://m.goal.com –your best source for mobile coverage of the beautiful game.