With corporate clubs being offered a 3 year no relegation clause, in a bid to attract them into buying an I-League team, and existing clubs also asking for a 4 year exemption from the drop, the future of I-League's division two is already in doubt.
With clubs being refused entry into division 2, if they do not fulfill certain AFC set criterion, and Air India and ONGC getting the boot for not establishing themselves as separate legal entities, one would have hoped that the All India Football Federation (AIFF) would itself set an example for the second tier clubs, regarding professionalism.
But unfortunately, it is too much to expect such a thing from the national football authority, as the shambolic facilities and stadiums, that have been the norm over the past few years in division two, have only worsened this year.
The stadium where the Group B matches are held, the Nehru Stadium in Indore, is the same where a cricket match between India and Sri Lanka in 1997 was called off, due to it being a very dicey wicket.

A bad pitch hasn't put off the AIFF from hosting matches though, as teams continue to play on every alternate day, on a rapidly deteriorating turf, made even worse by rains during the last weekend.
A club official, on the condition of anonymity stated, "To be honest it is nothing new, it is almost expected. The condition of the pitch is terrible and there was heavy downpour on Saturday, which made the ground even worse on the following day."
"I mean where else will you have seven games every other day? For example, Green Valley has all its games in a row, with logic being that they shall have rest in the second week. Josco has a similar schedule," he added.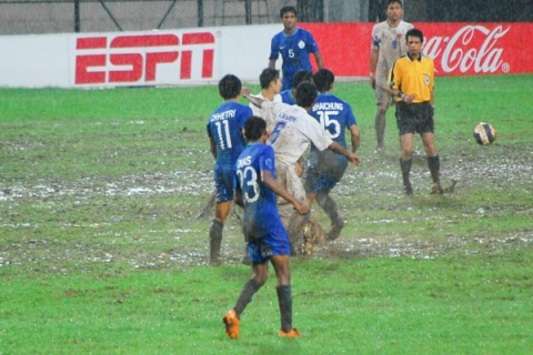 If the national team plays on such a ground, what hope does the second division have?...
"The whole agenda is that from 47 odd teams that applied, 26 teams were shortlisted. They have a lax attitude that if you dont want to play, the AIFF saves expenses. Atleast the ground on Emerald Heights, that we have had some recent games in, is slightly better, but a more suitable ground is also there, in a college right next to it, which could have been utilized."
Sanjoy Sen, coach of the Mohammedan Sporting confirms, "The stadium is uneven and hard, though the other ground (Emerald Heights) is slightly better. We have to play 8 matches in 17 games, which is not ideal, as it could lead to serious injuries to players. "
"There is no scope for training and AIFF should think how they want to host the second division. Also there is the issue of the crowd being close to the pitch, which is a distraction," he continued.
Sen opined, "For hotels and all, we are quite comfortable, as we can arrange for them ourselves, but for grounds we cannot do anything."
Royal Wahingdoh's General Manager, Anoop DeMelo Abraham reveals the chaos during matches, caused by the basic lack of any sort of a fence, between the spectators and the technical area.
He explained, "There are organizational issues like spectators sitting right next to the touchline. Now all you need to do, is create a temporary fence and hire volunteers to keep people away. The present scenario is undesirable, as sometimes people walk right past the technical area!"
"They talk about licensing and other things that are needed from the clubs, and we do not complain about such documentation, but then they too could have done something about this. But such basic conditions are also not fulfilled," he continued.
The Shillong based club's official also unveiled the modest budget handed out to these clubs, to look after daily expenses.
He mentioned, "The amount that has been provided, is Rupees 750 per person, which includes food and lodging. For a professional footballer, the minimum dietary requirements lead to an expenditure of Rupees 300, so that leaves Rupees 400 for accommodation."
"Now we are managing for ourselves, but many other clubs have to live in lodge like conditions and go to eat thalis in restaurants."
A similar story is unfolding in Singrauli, as the division 2 continues to remain more of an inconvenience to the AIFF, than a place where budding talent could be given a chance to find their feet in professional football.
How do you stay up with football when on the move? With http://m.goal.com –your best source for mobile coverage of the beautiful game.