Having given a glimpse of Rob Baan's youth development vision in Goal.com's previous article on the topic, we now continue on the theme, and look at how to mould the talent that has been identified, into top class players.
In a bid to fine-tune the present system where there is no place for youngsters to show their talen, Baan recommends the introduction of National, State and District Championships across various age groups from 10 to 19 years, which will benefit the players and the National Teams by providing a well-structured career development path.
He hopes it will help to select the very best players for the regional academies and later for the National Elite Academy. In doing so, he hopes to copy an example set by the Football Federation Australia (FFA), which set-up a youth league, which smoothened the jump from age-group level football, to the top professional leagues.
However acknowledging the size of India, Baan hopes to utilize an alternative pattern, such that all districts and states organize a 6 to 8-day festival every year. This will give the under 14, under 16 and under 18 year old players a platform to participate several times a season to play against the best.
Hence, by doing so, the Dutchman hopes to get the best players to play against each other. He also wishes the I-League clubs to have a youth academy from the age group of 8 to 19. Now that is quite a task!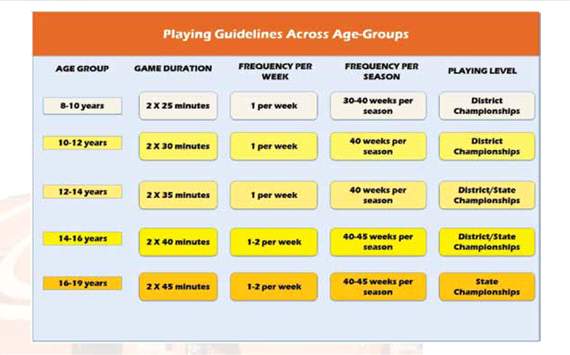 How much should each player ideally play?...
The 68 year old also sets a weekly playing regimen for youngsters at various age-groups, as illustrated above.
In a bid to get kids involved in the game in cities and hone their skills in a better way, Baan promotes the use of 'Street Soccer', which requires small spaces to play, with a proper ground often being difficult to find.
He also hopes to streamline and regularize Soccer Clinics, School football programs and ensure that the investment by foreign clubs in India, is for the right reasons.
The Dutchman also notices that the lack of football academies is an issue across Asia, and something that is holding back the region as a whole, from fulfilling its potential.
Hence he looks at the issue of Regional Youth Academies and National Elite Centre. These Elite centres will comprise of the very best young talents of the country, who would be selected through a rigorous and transparent process. They will be treated as (future) international players and get world-class football coaching, schooling, competitions, foreign exposure trips, etc.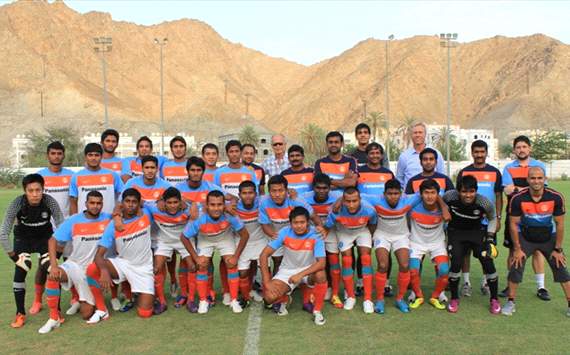 Academies would help improve the talent pool...
Hoping to have regional academies in every region where football is popular, Baan also advises not encouraging private academies, which take talent away from club football. In a bid to streamline them, and see to it that they follow a certain criteria, he proposes the assurance of an AIFF Certification for such institutes, after thorough examination of their facilities.
In the end, he focuses on the core issue, a pathway into the national team, through the youth level sides.
Setting down the guidelines on how to select national squads from U-14 onward, the Dutchman states, "Club competitions as well as school competitions will deliver reports from which the National Coaching Staff will recruit players who are then invited to the National Talent Identification camps. Finally a group of 32 players will be staying for several days in the National Training Centre and will train and play according to a training schedule established by the coaching staff."
"The National team coach will select the final group of players who would play qualification matches for the AFC and/or FIFA youth tournaments. All players will be registered in a centralized database and will be regularly examined in their progress," he further adds.
Baan also hints at the creation of a 'B' national team, to get promising players ready for the national side.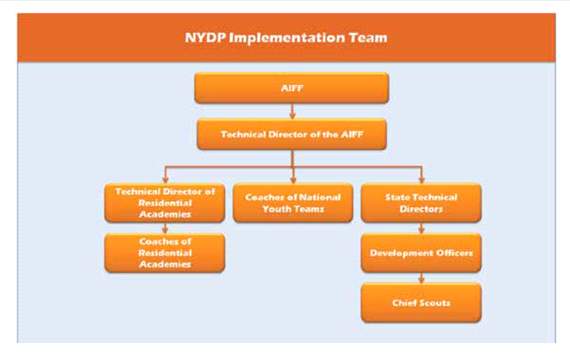 Who shall execute the plan?...
So who shall be responsible for the above guidelines being implemented. As seen from the graph above, the 68 year old hopes to establish a streamlined system, where everybody knows their responsibilities, to the letter.
Hence in our last two articles, we have managed to give you a detailed analysis of Rob Baan's youth development plans, which form the core of his 'Lakshya'. His vision is certainly laudable, but it remains to be seen, if the All India Football Federation (AIFF) and the other representatives of Indian football, have the drive and resources to implement it.
How do you stay up with football when on the move? With http://m.goal.com –your best source for mobile coverage of the beautiful game.