Ayush Srivastava




Feature

|

India




Follow on
While it might take a long time to forget the debacle that was India's elimination by the hands of Myanmar in the AFC Challenge Cup qualifiers, perhaps enough has been written about it, to discontinue the topic.
The fact now is that barring a miracle, India's only tournament commitment for the next two years is the SAFF Championship, later this year. However instead of any more finger-pointing, steps need to be taken to ensure that this situation that the country finds itself in, actually proves to be the lowest point in what has been a never-ending decline of Indian football, and some initiatives in the positive direction are taken.
Though it is certainly not ideal for a team like India, which is looking to rise up the rankings, to go this long without any tournament of note, it gives Wim Koevermans and co. a chance to make up for past follies, and possibly align themselves more in-line with technical director, Rob Baan's Lakshya 2022 program.
While at the present moment a Lakshya 2022 might certainly look unlikely to come true, it does not mean that the Indian team and its organizers stand with their hands on their hips, and go through the motions before setting new targets.
With no big tournament or its related pressure on the national team in the coming couple of years, it is a golden opportunity to blood new youngsters with a more brighter future than the present lot. It is a chance to give them the experience that they would need, in future campaigns for continental tournaments.
Even though such a decision might not go down well with the present lot of players, who whatever be their technical inefficiencies and even with indifferent results, cannot be blamed of lacking the desire to play for the country. However with neither any major Asian competition, forget global ties, to fight for, continuing with this group will be an impediment to ensuring that the next bunch of players coming through the system, compete at or try to get into major competitions.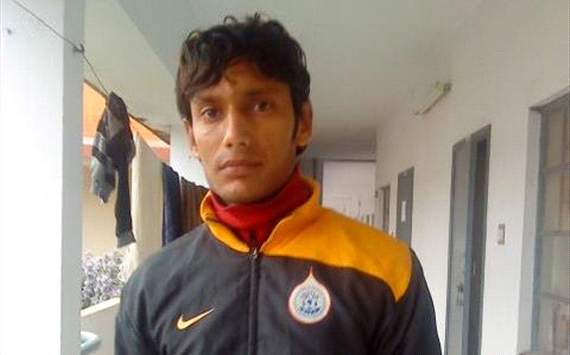 Time to play the younger lot like Shouvik Ghosh
The SAFF Championship is not really a pressing priority for India, with the Blue Tigers having been a flat-track bully at this level for long enough. Infact blooding youngsters shouldn't affect India's performance in the competition at-all, as seen in 2009, when Sukhwinder Singh's U-23 boys won the competition.
With several of the present squad coming from that batch of players, the tournament definitely helped them get good international exposure.
Hence it is time to give the next lot a similar opportunity, and take forward the idea of Pailan Arrows, which was created to give young Indian players a chance, to the national team, so that when the bunch gears up for the 2019 Asian Cup qualification process, they will be in their prime and have enough experience to deal with the situation.
Because let's face it, what are the chances of Gouramangi Moirangthem, Clifford Miranda or even Sunil Chhetri being on the scene at that stage? Infact if that is the case, then it would be a very worrying situation for Indian football, with all due respect to the contributions of the above mentioned trio to the game in India.
Even Rob Baan at the FICCI Convention had stressed on how Indian youngsters need to be blooded in at tournament level, so that they can grow into complete footballers.
Infact if Wim Koevermans is serious about changing India's style of play, it would be easier for him to mould youngsters into his 'pass-and-move' culture, compared to seasoned veterans, who have played a different kind of game for far too long nor have the capability to do so as has been evidenced.
Of course, such an experiment would mean that the Indian football faithful will have to stay patient, as often the results might be inconsistent, as can be expected on a learning curve.
But isn't the long suffering Blue Tigers' fan-base already used to such travails? Even with the established bunch, losing to Singapore, Palestine and Myanmar? So atleast they will have the consolation of knowing that the defeat is a part of a long-term project, that if not guaranteeing a World Cup appearance in 2022, might yet see India establish itself at the Asian levels.
And on the bright side for Wim Koevermans, it would give him a valid reason to continue playing Raju Gaikwad!
How do you stay up with football when on the move? With http://m.goal.com –your best source for mobile coverage of the beautiful game.