Myanmar pipped India to the top spot in Group A of the 2014 AFC Challenge Cup qualifiers, while Bangladesh is already better than the Men in Blue among the best second-placed teams.
This means that India will have to await the results from the rest of the groups, which will seal their fate of qualification to the tournament leading towards the 2015 Asian Cup.
After the disappointing outcome,
Goal.com
asked on its social media platform as to whether Wim Koevermans should be blamed for the debacle in Myanmar?
The following were some of the replies:
Prajesh Gupta @prajeshgupta29
@Goal_India India have a better playing style due to Wim. One loss doesn't mean he should be fired. If anyone should be blamed its d players
FooTballLover ♥ @khiladi_DeEp
@Goal_India no wim should leave..cz players like nabi and arata can get place in any team of world n he called them aftr 80min..bad coach
Aniruddha nag @ani_gunner
@Goal_India i jst dnt knw!! he got totally wrong in team selections...
Suresh @steveatcfs
@Goal_India give him time for Christ's sake ! Stop jumping the gun.
Meanwhile,
Debashish Dasgupta
believes that foreign coaches should get a similar kind of treatment that several Indian coaches have received in the past.
"Savio Madeira and Armando Colaco were not given enough time to even stamp their authority on the team and removed without second thought. Why isn't Koevermans being afforded the same treatment. We still revere foreigners over Indians. Whoever said that we are free from foreign rule was obviously wrong....It's time the Indian federation grow a pair and take strong steps," he said.
Was Armando Colaco better than Koevermans?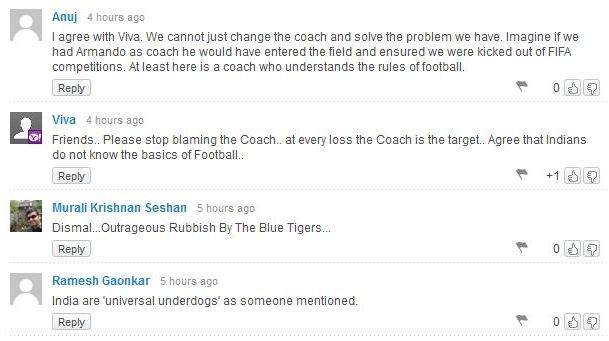 "Why blame the coach now," exclaimed
Abhik Mandal
, "We had changed our coach so many times. What's wrong in his tactics when our players can't play, when they don't show the character on the field. The fault is with our system, people blaming the coach for excluding [Syed] Nabi, then why his replacement Francis Fernandes couldn't deliver.."
"Does India need to invest so much on a foreign coach?,"
Sanjiv Paul
went on to ask. "I am sure India would have performed better under Sanjoy Sen/Armando Colaco/[Arthur] Papas, etc. Look at the line up and ask any football lover around if it is the best 11 on the field. Players like [CK] Vineeth, Lalkamal [Bhowmick], etc. were taken only to be show pieces.
"Wim's arrogance did him in. Sunil Chettri can do nothing alone as a striker. Even if you have one lone striker, you need one attacking central midfielder to support him. Raju [Gaikwad] & Mangi (Gouramangi Moirangthem) & also Gurjinder [Singh] are way too slow. I remember, how Anwar Ali too was slow and sluggish and still kept on playing squad even after so much of protests from the fans."
| | |
| --- | --- |
| | After the Indian team snatched a 4-0 victory against Guam, India's Dutch coach was happy with the performance, but also stressed that there were still areas left to improve upon.. |
A fan, who calls himself
"Indian"
has a different opinion, "Even though our rankings would improve to around 145, but what's the matter of Rankings if we can't qualify for AFC Challenge cup, forget about winning it???
"I mean nobody asks what's was the ranking of the country which wins the World Cup or Euro's because what matters is winning tournaments.
"The objective here was not to improve the rankings because rankings keep on changing at a high pace but the objective here was to qualify for the Challenge Cup 2014 which in all honesty wasn't a big task. We haven't lost to DPR Korea or some other team of similar types but we have lost to Myanmar. Lakshya 2022 should be renamed to "Qualifying for AFC CHALLENGE CUP" rather than the WORLD CUP.
"I feel so sad that I am an Indian Football Fan."
Was Bob Houghton the best that India has seen?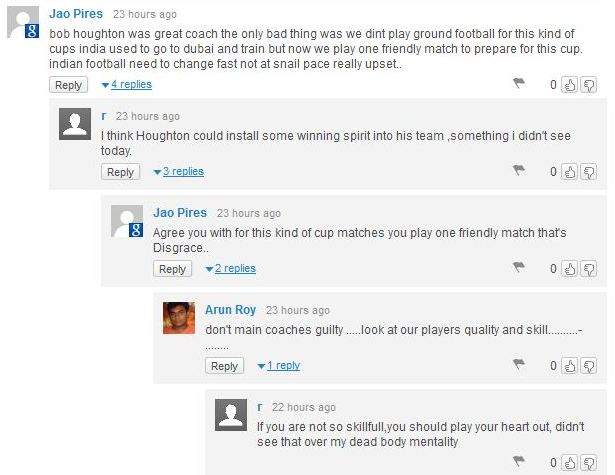 | | |
| --- | --- |
| | Sylvia Leitao blasts Koevermans' decision of not starting with Nabi against Myanmar. "Not playing the most versatile player that we have (NABI) in the first eleven and introducing him only in the 79th minute ... I can't understand the logic ...is it justified or is it plain stupidity?," she lamented. |
| | |
| --- | --- |
| Abhishek Sarkar opined, "Instead of wasting money & time behind these players, we should focus on the kiddos and start preparaing them from now so that after 10-20 years they can reach a height in terms of fitness, strength, skills, endurance & techniques. They are our future so its worthy to spent on them rather on these players who neither have the ability nor have the time to improve to play in tournaments like Asia Cup/ World Cup etc...We have to be realistic and if we start preparing the kiddos in right way from now, there is a high probability that they can do something after 10-20 years." | |
How do you stay up with football when on the move? With http://m.goal.com –your best source for mobile coverage of the beautiful game.