Nirmal Lifestyle Ltd., a Real Estate Company and Bhaichung Bhutia Football Schools (BBFS), the former India international's youth development initiative, announced the launch of University Football League (UFL), on Friday.
UFL is a first-of-its-kind league which will not only provide a platform to young talented footballers to showcase their skills, but also provide a career path to the best players. Through this platform possibilities will be explored of identifying talented individuals who can be given the opportunity to play professional football as well as explore professional careers in other spheres of the football industry, thus promoting human capital development in the sport.
As per current statistics, India ranks 167th as a football playing nation but ranks 10th largest in football fan-base, above the likes of France, UK and Argentina. Football is increasingly becoming the most popular sport with various international and domestic leagues providing momentum to its popularity in India.
UEFA and FIFA, have paved the way for increase in football advertising sales over the past few years. With corporate and celebrities investing in football leagues and clubs the advertising spends for this sport has increased by more than 300% since 2005 in India.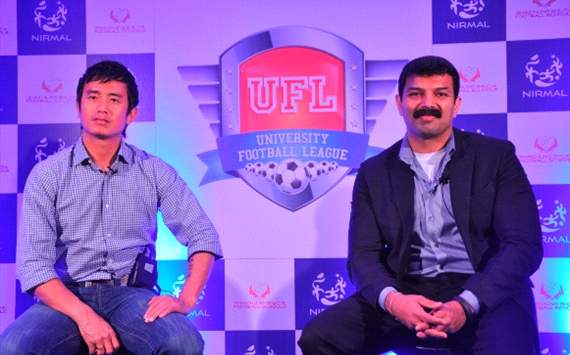 Bhaichung Bhutia partners with Nirmal for UFL
Managing Director of BBFS, Bhaichung Bhutia said, "We are truly excited to partner with Nirmal to launch UFL with International Standards in India. One of the major challenges that Indian football is facing today is lack of adequate human capital at all levels of the game. This scenario is seriously hampering the development of this beautiful game.
"However," Bhutia added, "With the intervention of various sports organizations as well as the public and private sector, there is a chance that this situation may change for the better, definitely in the long run, if not in the immediate future. With the launch of UFL, we look forward to encourage and motivate young talented footballers in India."
Speaking on the occasion, Chairman and MD of Nirmal, Mr. Dharmesh Jain said, "Brand Nirmal has always been associated with sports initiatives. In India, football is best enjoyed as a spectator's game, in stadiums or on television. The ever increasing fan following has inspired the country to become one of the frontline football playing nations in the world. Hence we are proud to introduce with University Football League (UFL) and Mr. Bhaichung Bhutia, to make football the next big sport in India."
UFL is India's first ever International Standard football league which will be played in 11-a-side format in full-size football fields under FIFA regulations which is believed to be modeled with the prevailing international university sports league like in USA, UK etc.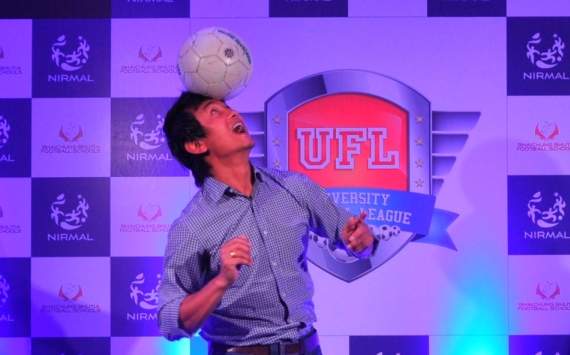 What the University Football League has to offer

The first edition will be restricted to five major cities namely Mumbai, Delhi, Kolkata, Bangalore & Kochi. In the subsequent years the editions will cover other regions and will be scaled up such that it is accessible to every interested college team in India. Well renowned Italian sports brand, Diadora, is UFL's third partner, and this will be the global brands first major activation in the Indian Market.
Through UFL, Nirmal & BBFS will work jointly towards providing players professional growth opportunities by way of scholarships, facilitating professional contracts and alternate professions within the football industry (coaches, sports management, administrators, etc. of the future). The initiative will also act as a natural extension and an integral part of "NDTV-NIRMAL MARKS FOR SPORTS CAMPAIGN" to provide opportunities to students excelling in sports who are committed to obtaining a college education.
UFL will go a long way in improving the current quality and availability of sports infrastructure that has a direct bearing on the quality of training and development of professional football teams and potential players, thus, helping the country to host both national as well as international events.
How do you stay up with football when on the move? With http://m.goal.com –your best source for mobile coverage of the beautiful game.