Ayush Srivastava




Analysis

|

India




Follow on
Over the past few years, India have come-up with several pathetic performances, which have left the Indian fans stunned.
However even the most pessimistic of the Blue Tigers faithful would not have imagined that the national team could capitulate against a second string Palestine, the way it did in the second half in the International friendly in Kochi.
Having lead 2-1 at half-time, India put up one of its most woeful displays in the second half, to end up losing 4-2, in a game where Ashraf Nu'man was made to look like Lionel Messi!
Delve a bit deeper though, and the humiliating defeat should not come as a surprise. As pointed out in an editorial in the build-up to the clash, most of Wim Koevermans' mainstays were out of form.
While he made a sensible decision in giving Sandip Nandy a start, the refusal to make similar changes in the backline proved to be his undoing.
Syed Rahim Nabi has played the entire season higher up the pitch, and it was no surprise to see him making more impact in attack than defense, with the defender culpable in all four goals scored by Al-Fursan.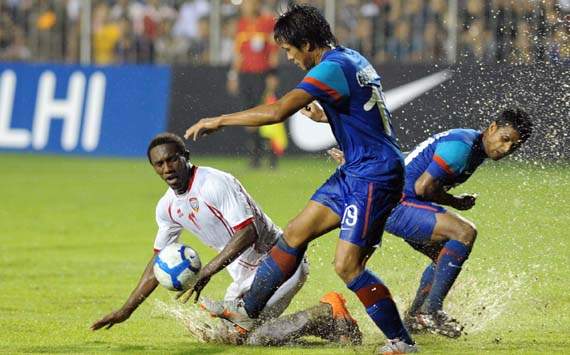 The defense fell-apart in the second half...
Gouramangi Moirangthem and Raju Gaikwad meanwhile were a bag of nerves, everytime an opponent ran at them. The duo alongwith Denzil Franco were all at sea against Nu'man, who must have never been treated with such respect and offered so much space by a defense, ever before.
Gouramangi Moirangthem and Raju Gaikwad meanwhile were a bag of nerves, everytime an opponent ran at them.
The decision to leave the East Bengal trio of centre-back Arnab Mondal, right-back Naoba Singh and the versatile Harmanjot Khabra looks an even worse one, after this performance. To say that they could not have done more to press their case would not be an over-statement.
Upfront, Sunil Chhetri started as a lone striker, supported by Alwyn George. While Koevermans made the decision to bench Subrata Paul based on his lack of playing time, why similar logic wasn't applied up-front, especially considering how strikers need goals and games more than custodians, is baffling.
Especially in a friendly, it would definitely have not done any harm to the team, if Joaquim Abranches had been given a chance to start. C.K Vineeth and Lalkamal Bhowmick must also feel frustrated at not being given a proper run, considering their form this season, and how they would have added far more to the midfield than any of Francis Fernandes, Lenny Rodrigues and Mehtab Hussain did.
While Mehtab and Lenny can be forgiven for having an off-day, with the duo already well settled in the team, why Izumi Arata and Bhowmick were not given a fair crack to demonstrate their abilities is baffling, especially when up against a second string Palestine squad.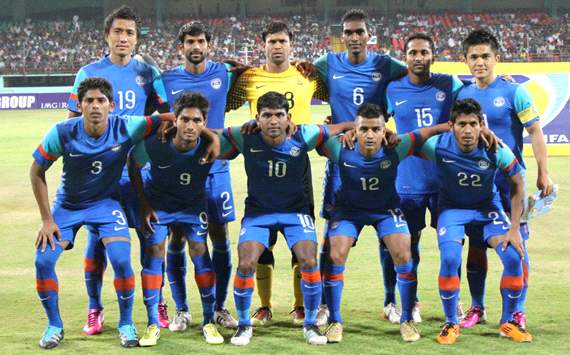 Are these really the Blue Tigers?...
Infact the Al-Fursan themselves had an ordinary game, and were only made to look good by the absolute abject display of the so-called 'Blue Tigers'.
Jamal Mahmoud though should get credit, as he was smart enough to see his plans were not working in the first half and promptly replaced Ma'aly Kawre with Mahmoud Salah, who helped exploit the gaps in Indian defense.
Al-Fursan were made to look good by the absolute abject display of the so-called 'Blue Tigers'
Wim Koevermans on the other hand, failed to make an impact on the game from the bench, as from the very moment India went behind, they never looked good enough to mount a come-back.
Which should also raise a question mark on whether this team has enough leaders in its midst, who can lead the team through tough times during a game. Players like Sunil Chhetri, Mehtab Hussain, Clifford Miranda, Gouramangi Moirangthem and Syed Rahim Nabi have all captained their club or country at some point of time besides being seniors in the squad. However none of them seemed interested in re-igniting the fire in the squad.
What is definitely proven is that instead of basking on the glory of winning a tournament like Nehru Cup where either the opposition is poor or send their second or third string squad, the Blue Tigers need to play more meaningful friendlies, where the true story of the team's progress can be seen.
The Dutch coach himself cannot hide behind excuses like being new to the job anymore or point to the Nehru Cup triumph, as when faced with semi-credible teams, his squad has crumbled.
Hence with the AFC Challenge Cup 2014 qualifiers in mind, it is imperative that Koevermans does away with the out-of-form 'regulars' and inducts fresh blood into the squad, if the team are to have any chances of making the 2014 Challenge Cup edition.
How do you stay up with football when on the move? With http://m.goal.com –your best source for mobile coverage of the beautiful game.