Ayush Srivastava




Feature

|

India




Follow on
India take on Palestine at the Jawaharlal Nehru International Stadium in Kochi, hoping to get the better of a higher ranked Al-Fursan, in a bid to impove their FIFA Ranking. Both the teams will also be using the game as a preparatory battle for their respective AFC Challenge Cup 2014 qualifiers.
Goal.com
provides you all the information you need about
the West Asian nation.
FIFA Ranking – Palestine are ranked 152nd in the FIFA rankings, 14 places ahead of their Indian counter-parts. They occupy the 23rd slot amongst Asian sides. Their highest ranking ever so far has been 126th, achieved in 2004.
Coach – 39 year old Jordanian Jamal Mahmoud has worked wonders with the Palestinian national team. Having plied his trade at Al Wahdat in Jordan League for 11 years, he learned his ropes as an assistant manager at the club. After a spell at Hilal Al-Quds, he took over as head coach of the Al-Fursan.
With a 36.84% win record under him, Mahmoud has been the second most successful head coach of the country, since it got affiliated to FIFA in 2008. With a semi-final appearance in the AFC Challenge Cup in Nepal and a first-ever win against an European nation in the form of a 2-0 win over Azerbaijan in an International friendly, the team seems to be on an upward surge under the Jordanian.
Palestine had one of the first organized football leagues in West Asia...

Initial Roots – While Palestine only earned FIFA recognition only in 1998, they had historically one of the first organized football leagues in West Asia. The Palestine/Eretz Israel FA was formed in 1928 and joined FIFA in 1929. At that time, the association was made up of Arab clubs, Jewish clubs and clubs representing British policemen and soldiers serving in the region during the British Mandate rule that spanned the period between World War One and the Independence of the state of Israel in 1948.
Problems arising due to regional conflicts – The Palestine-Israel conflicts have not spared the sporting fraternity either. Often Al-Fursan's players are unable to fulfill international commitments due to issues like not being given an exit visa by Israel and Hamas' domination of Gaza.
Games in the past have been cancelled due to such issues, with a 2010 World Cup qualifier second leg against Singapore being handed to the city-state by the scoreline of 3-0, due to the inability to get exit visas. Similarly, the team had to abstain from participating in the 2008 AFC Challenge Cup as the team was not permitted to leave the region.
Clubs representing the nation – Due to the above mentioned problems, Al-Fursan have to rely on their players overseas, and often on a particular club, to represent them internationally. Such a situation arose when in 2009 Palestine had to be withdrawn from the Nehru Cup, after it emerged that Jerusalem based club Al Quds had been selected to represent the nation, something that the All India Football Federation (AIFF) refused to consider.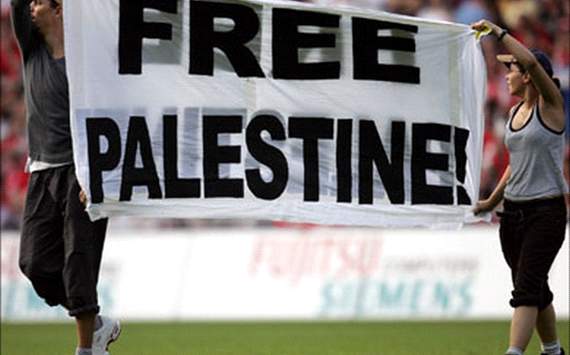 Several protests have been carried out, even by European stars, in-favour of Palestine...

Stars rising for Palestine's cause – The plight of the Al-Fursan national team and its players has generated attention across the world. Football stars like Federic Kanoute, Eden Hazard, Abou Diaby amongst others had in the past released a statement expressing solidarity with the nation. The former Sevilla striker had also worn a shirt in-support of Palestine.
Even greats like Diego Maradona and Eric Cantona have spoken over the issue, with the Argentine legend being captured on television with a Palestine scarf, chanting 'Viva Palestine', during his stint with Al-Wasl. Cantona meanwhile had expressed his disgust against Palestinian footballers being detained without trial by Israel during player Mahmoud Sarsak's 90-day hunger strike in protest at his three-year incarceration.
Never close to a World Cup appearance – The West Asian nation has never made an appearance in the global showpiece event. Having been recognized in 1998, they did not take part in a qualification process, until that of the 2002 World Cup.
In their 4 attempts so far, they have never managed to make it through to the final stages of the qualifiers, with the nadir coming in the 2010 Qualifiers, when they had to forfeit the clash against Singapore, as mentioned above.
Asian encounters – Palestine has also never qualified for an Asian Cup, and the closest they came was in the 2012 AFC Challenge Cup, where they went all the way to the semi-final, before succumbing to eventual winners, DPR Korea. Their best showing so far in a tournament of note was in the 1999 Pan Arab Games, where they finished third.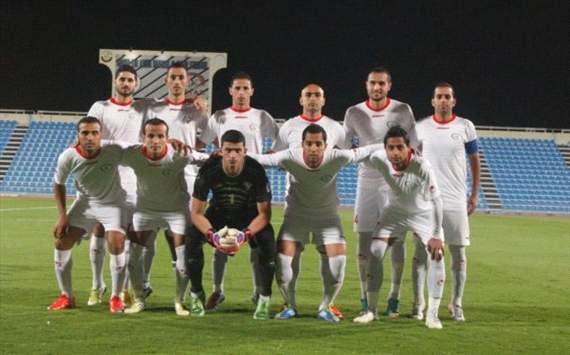 Key Players – With the likes of Europe-based Omar Jarun and Alexis Norambuena missing from the travelling party, eyes shall definitely be on Imad Zatara who plies his trade in Sweden. The winger, with 14 caps to his name, is known for his mazy runs down either wing, with an ability to cut inside, as well as beat a player out-wide and put in accurate crosses.
Abdelatif Bahadari, who holds the distinction of being the captain when Palestine held their first ever home World Cup qualifying match against Afghanistan in 2011, is expected to add experience and steel in defense. Currently playing in Saudi Arabia, Bahadari has built a reputation of being a no non-sense centre-back with good positional sense.
Recent form – While ranked 152nd in the world and facing several hardships, Palestine had a solid 2012, where apart from making the semi-final of the AFC Challenge Cup, they gave several bigger nations a run for their money.
Over the past year, they held nations like Qatar, Saudi Arabia to a draw, while getting the better of Syria, Yemen and Lebanon. Narrow 2-1 losses to Kuwait and Oman showed the progress Al-Fursan are making.
It will be interesting to see how India deal against their threat in Kochi, in what shall be the first time ever the two nations shall meet in an International friendly.
How do you stay up with football when on the move? With http://m.goal.com –your best source for mobile coverage of the beautiful game.