Sandip Nandy has been named in the 23-member
India
squad for the international friendly against Palestine on February 6 at Kochi
as he makes a comeback into the national fold after a gap of over three years.
"I have won my battle – the battle which one has with oneself. I admit I was a bit too casual in between and had become complacent. That cost me my place in the National squad. Furthermore, a spate of injuries never helped my cause. I felt bad as I wasn't getting any younger. The only way to get better was hard work," said Nandy.
"I worked upon my fitness and regained my spot as
Churchill
's first choice keeper. I didn't have any specific target in mind. I need to thank coach
Wim Koevermans
for giving me a chance. It's now my turn to pay him back. I just can't let him down," he added.
The 38 year-old was all praise for the Indian coach and his style of coaching the team.
"Wim Koevermans is a very strict disciplinarian as much he is a good human being and a superb tactician. But there are certain set of rules laid down for everyone off the field," he said.
When asked if there was any major difference in the team's atmosphere this time around, Nandy explained, "Unless you are disciplined off the field, it will never boil down to your performance. That wasn't the case earlier as all were left alone after practice. But now we have a coach who is like a friend, philosopher and a guide to all. He's talking to you, asking you about your needs, eating with you, travelling with you. All these will have its positive impact and that's what has happened."
"You see all moving around as a team as Koevermans stresses on 'teamwork' a lot. There aren't any complaints from the players. They are enjoying it and that's important," he continued.
In response to the question of the difficulty to adjusting with younger goalkeepers like
Subrata Paul
and
Subhashish Roychowdhury
in the squad, the Churchill shot-stopper said, "Not at all. It was not without reason that Subrata Pal was dubbed as the 'Spiderman.' After the 2006 Asian Games when I felt I had reached my peak, I became complacent. I wasn't staying serious during practice and started to compromise. Hence, I was punished. Subrata seized the opportunity by his hard work, discipline and performance. That's a lesson which I have learnt."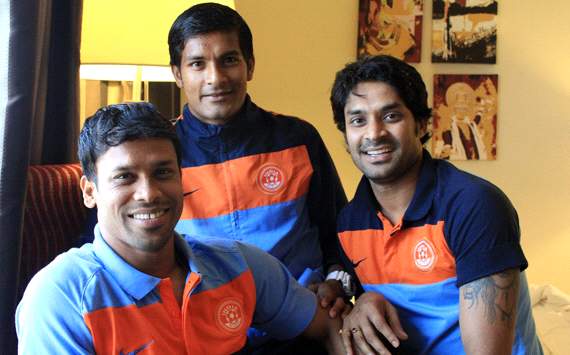 Subrata: "Sandip-da has always been my idol"

Sandip is one of the senior most member of the team and he feels that age is not something which would hinder a goalkeeper's performance.
"I don't think age is a problem for a keeper. At least, it hasn't been for me. The urge from within is still the same as it was ten years back. Age helps a goalkeeper to mature but has its constraints at the same time. I needed to take work on maintaining my reflexes," said the 38 year-old.
He added, "Even if you look around, you'll find Jens Lehmann, Oliver Kahn, Brad Friedel, Edwin van der Saar have donned the gloves around 40. What more, Dino Zoff even won the World Cup at 40 in 1982!"
Nandy believes that to stay fit at the his age, one needs to be disciplined from the very beginning of his career.
"I always tell the new generation to live a disciplined life. Once you have money and get all the adulation, that too at the age of 21, many a talent fades out. That's where a footballer needs to be smart. You can never be diverted by the attractions of life or should I say the vices of life. What irritates me is when someone doesn't take his practice sessions seriously. I tell them my story. From No. 1 in the country I was replaced in no time," he explained.
Nandy signed off by saying, "I have learnt a lot from Subrata and am still learning from him. You need to share your experience as well as gain it from others. As a goalkeeper I need to be flexible both physically and mentally. As long I'm able to do it, I'm happy and relieved"
Follow Dhvanil Gagvani on



How do you stay up to date with football when on the move? With http://m.goal.com – your best source for mobile coverage of the beautiful game.