The AIFF has shown common sense in it's latest verdict against Mohun Bagan, and the final decision is a balanced one. It should serve as a warning for other clubs...
Ayush Srivastava

Analysis | I-League

Follow on
The All India Football Federation (AIFF), in a dramatic climb-down from its earlier verdict, when it had banned Mohun Bagan for 2 seasons, decided to allow the Mariners to re-enter the league, though they were levied a fine of Rs 2 crore.
The Mariners will also have to play their remaining 16 games, with their point tally re-set to zero, though the results of the games they have played so far are held valid.
The decision has led to a mixed response from fans and officials alike, with some feeling that the AIFF has finally made a sensible decision, while others feel that the national football authority have completely bowed down to the pressure applied on them by Mohun Bagan officials, ex-players and politicians.
However what cannot be debated is that the AIFF had been way too harsh with its earlier decision, and they have shown a bit of common sense by having a second look at it.
The earlier verdict would have meant it would atleast be 4 years before the Mariners could return to the top division. Not only would it be damaging to the club, which though would have survived even such an expulsion, the effects of such a decision on the league and Indian football itself would have been massive.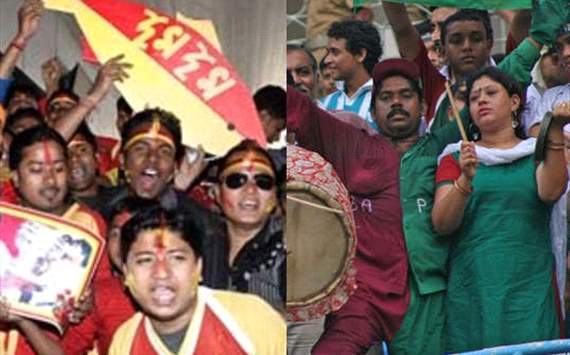 Shorn of mass fan following, the I-League needs the Kolkata derby...
Gone would be the fixture that pulls in more people for a game than some sides see in all their home games combined – the Kolkata derby between East Bengal and Mohun Bagan. The game is bigger than any other clash on the Indian itinerary, and with all the buzz killed, the game would have taken a real setback in the football crazy city of Kolkata.
Add to that the dicey condition of other clubs in the league, which are regularly shutting down, and at that moment to suspend one of the few clubs which are not facing similar issues would have been a self-defeating venture.
And if one has an overall look at the judgement given on Tuesday by the AIFF Executive Committee, and considering how Mohun Bagan is one of the premier football clubs in India with a huge fanbase, it is a balanced verdict. It is also a refreshing change from the usual stubborn stance that the AIFF are known to take, as they accepted that though their initial decision was by the guidelines, the rules themselves were harsh.
Goal.com's Debjit Lahiri, who had in an editorial earlier professed his views that the rule-book was in need of alterations, put it perfectly, as he commented, "Well, the root problem was in the I-League Regulation 22 itself, and in no circumstances can a banishment of a team for 2 years is acceptable for an offence such as this. Yes, a strong message had to be sent for Mohun Bagan's act of indiscipline but banning was never a solution - a big monetary penalty and a "possible" relegation or docking of points would have sufficed."

"A punishment must be ascertained fitting to the crime and that was certainly not the case here. The AIFF should have been more careful while chalking up the rules initially and at the same time the teams should have been more pro-active while agreeing to the same. I hope an amendment is made in the future, so as to avoid such embarrasement for Indian Football," he further added.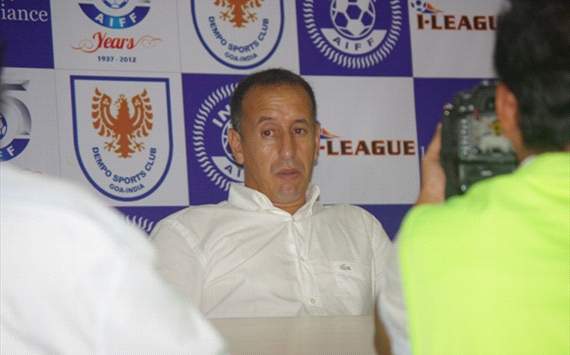 Bencherifa will be tasked with getting Mariners out of trouble...
While the monetary rap will only sting the palm of the Kolkata outfit, the club shall have to now pull up their socks and make enough points in the next 16 games to avoid relegation. Karim Bencherifa though, is a coach adept at this, and should be able to guide them past the post, considering the mediocre quality of some of the other sides.
They might though, have to make do without the services of Odafa Okolie for a few of those games, with the Nigerian set to get a longer suspension, for his actions during the derby. Also a fixture congestion might follow, and it remains to be seen as to how the club copes with it.
The AIFF's verdict should also act as a warning for other clubs, with the Indian FA making it clear that subsequent offenders, if any, will have to deal with stricter punishments. Mohun Bagan in particular are walking on thin ice, and a second offense would be unpardonable.
While there are many who feel this verdict gives a chance to other clubs to repeat the act in the future, Goal.com Correspondent Anselm Noronha sums it up nicely, as he opined, "I think that it is a welcome and a bold decision, in favour of Indian football, taken by the AIFF's Executive Committee to bring Mohun Bagan back to the I-League. It's a well-known fact that rules are rules, but if they damage the larger interest, they do defy common sense as rightly pointed out by one of my fellow colleagues (Debjit Lahiri)."
As Steve Maraboli, the famous philanthrophist, once said, "Sometimes problems don't require a solution to solve them; instead they require maturity to outgrow them."
By reviewing their initial verdict, the AIFF have definitely shown a new found maturity. Long may it continue!
How do you stay up with football when on the move? With http://m.goal.com –your best source for mobile coverage of the beautiful game.