If the All India Football Federation (AIFF) thought that the appointment of retired supreme court judge Asok Kumar Ganguly to give a verdict on Mohun Bagan's behaviour during the Kolkata Derby would be a load off their minds, they thought wrong. Eminent sports lawyer Rahul Mehra has filed a writ to the Delhi High Court stating that the federation's elections which are due to be held on December 20 is in direct violation of clauses specified by the Indian government's sport code.
The 38-year old Mehra has filed several such Public Interest Litigations (PIL) in the past as he attempted to force sporting federations in India to come clean with their daily affairs. This has seen him at loggerheads with organizations such as the Board of Control for Cricket in India (BCCI), Sports Authority of India (SAI), the Netaji Subhas National Institute of Sports (NSNIS), the Indian Olympic Association (IOA), the Amateur Athletics Federation of India (AAFI), the Badminton Association of India (BAI), the All India Chess Federation (AICF), the All India Football Federation (AIFF), Hockey India (HI), the National Rifle Association of India (NRA), the All India Tennis Association (AITA), the Indian Weightlifting Federation (IWLF) and the Indian Amateur Boxing Federation (IBF).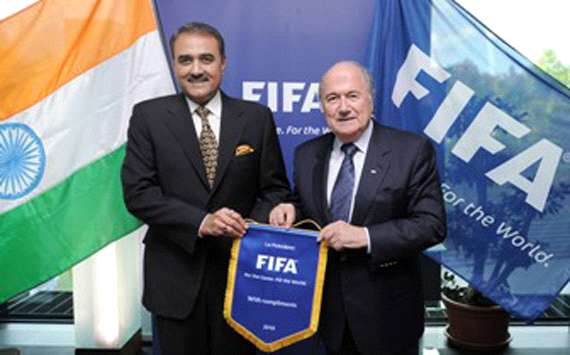 Incumbent AIFF president Praful Patel (left) looks set for another term
Mehra's claim this time round is that, in India in order for a person to submit his candidature for the post of president of a national sports federation, the candidate would need only one proposer and a seconder. However Mehra's writ, terming the AIFF elections as "dictatorial and restrictive, allegedly stated that the AIFF constitution makes it mandatory for a candidate to have atleast five proposers to contest for the top post.
AIFF general secretary Kushal Das was not concerned about these claims against the federation and stated to
The Telegraph
that the elections were held according to the government's sport code.
This is not the first time that Mehra has taken on the AIFF. "I cannot understand why India cannot have a world-beating football team, I cannot. It is such a big country. There are huge regions, like Goa, Manipur, Bengal, where football is a religion and foreign clubs like Manchester United are idolised. The only reason is we don't have the right people running the sport. I don't think it is difficult to run a sport. But everyone is busy protecting his fiefdom," the 38-year old was quoted saying in an exclusive interview to
Openthemagazine.com
back in 2010
.

Seen as someone who was fighting for transparency in the running of sporting bodies in India, Mehra had filed a PIL for the formation of an ad-hoc committee of eminent sportspersons and former Olympic medal winners to conduct the Indian Olympic Association's (IOA) day-to-day affairs. He wanted officials to be elected for specific durations and not long, random tenures that are the norm in India.
"It is a clear-cut objective. I'm sick and tired of seeing the way every sport is molested and raped by people administering it, and I say this with utmost responsibility," Mehra had said to Openthemagazine.com.
How do you stay up with football when on the move? With http://m.goal.com –your best source for mobile coverage of the beautiful game.