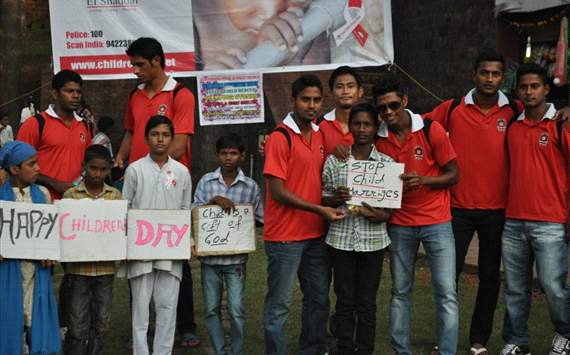 Churchill Brothers SC
celebrated Childrens' Day by taking part in a rally with
El Shaddai
- a Charity involved in offering a chance for a new life and better future for children living in severe poverty.
The Churchill Brothers players participated in the rally on Wednesday 14 November, in the city of Margao, walking hand in hand along with various children from the Charity.
Club captain Roberto Mendes da Silva (Beto) flagged off the event from Ana fond park, from where the rally went around the Margao Municipal Garden and returned back to the Park.
El Shaddai
has helped countless deprived children and poor families from various backgrounds, in and around Goa by setting up Children's Homes, Day Care and Night Shelters, Slum schools, Child Rights Advocacy and Community Centres.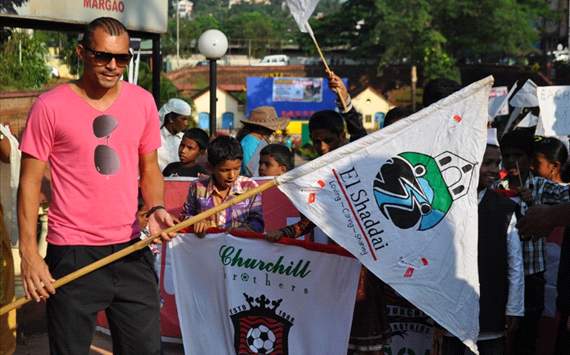 Flagged off | Churchill Brothers captain Beto leading the rally
The rally culminated with various awareness programs at the Ana fond park to mark the International Day for prevention of Child Abuse.
Beto praised
El Shaddai
for their efforts. "I'm glad to be part of the Prevention of Child Abuse campaign," said the Brazilian.
The Churchill captain continued: "Our team is happy to be associated with
El Shaddai
Charitable Trust and would surely visit their shelters and schools to interact with the children again. We wish the the NGO all the best in their aim to educate the underprivileged."
Churchill Brothers CEO Valanka Alemao, who donated an amount from the funds of the club, heaped praises for the efforts of
El Shaddai
while hinting of a friendly match for the children.
Father's footsteps | Valanka Alemao takes an active part
"We are glad to work with NGO's such as El Shaddai, who make a wonderful effort in providing education and a better life for so many under privileged children," said Valanka.
"We would be sending our players and coaches to interact with these children at the shelter's and organize maybe even a friendly game of football between these children, since we believe that children should play, have fun and also study and should not be exploited for work, etc," she added.
One of the past pupils at
El Shaddai
, Raju Venkatesh, who was once adopted by the Charity and now a teacher at the institution, did the honours of thanking the Goan club.
"We would like to thank the Churchill Brothers players for taking time out from their busy schedule and coming out here and supporting our cause," he said.
Churchill Brothers SC are expected to visit the
El Shaddai
shelters and schools again around the festive season of Christmas this year.
How do you stay up to date with football when on the move? With

http://m.goal.com

– your best source for mobile coverage of the beautiful game.