Ayush Srivastava




Analysis

|

I-League




Follow on
Five games into the I-League season, the dramatic sackings of Santosh Kashyap and Sanjoy Sen, alongwith the 10-1 thumping of United Sikkim FC have garnered most of the headlines.
With these issues dominating the debates amongst Indian football aficionados, the sorry state of the clubs from Mumbai have largely gone unnoticed.
While there was plenty of cheer amongst the city based football lovers when it was confirmed that 3 teams from the capital of Maharashtra will line-up in the I-League, 5 games into the season, the picture makes for a gloomy reading.
With just 2 wins between the three clubs, one of which came in a direct clash between ONGC and Air India, the triumvirate prop up the bottom of the table.
What has led to the trio being left in such a sorry state?
To start with, none of them are known for being a stable club. Almost every season they see a massive change in squad, with the best performers of the past season usually leaving for greener pastures, as evidenced by the departures of Manandeep Singh, Sandesh Gadkari, Royston D'souza and Cavin Lobo amongst others to relatively "bigger" clubs over the summer.
With many of the players signed on just a one year deal on minimal terms, any of these footballers who have a good season, move elsewhere. This means that the clubs have to yet again start from scratch, relying on unproven talent to take them through the season, a gambit which has largely failed this season.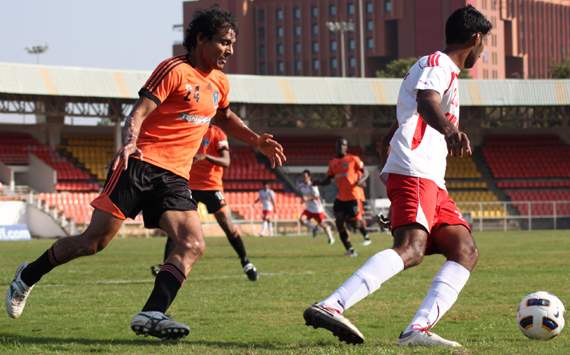 Top players generally leave Mumbai based clubs for greener pastures elsewhere...
And it is not just the players, as seen at Air India, the management also keeps changing. Santosh Kashyap moved on from Air India after guiding them to a respectable finish last season, while Godfrey Pereira, who took over this summer, is now embroiled in a contract dispute with the club.
With two of the three Mumbai-based clubs, ONGC and Air India being controlled by Public Sector Unit's, there is no real desire in the officials of these sides to improve, and they continue to function largely for the sake of it.
Mumbai FC on the other hand were launched amidst much fanfare, but the club has limped on, in the past couple of years.
While Khalid Jamil has worked wonders to keep the side in the top tier on an extremely tight budget, how long can he continue doing the same is questionable. The fact that many of their players have not yet been paid 2 months salary from last season can definitely not be good for the morale of the squad.
The owners themselves can only be blamed so much. With the teams forced to play their games in Pune, and in ONGC's case Delhi, due to the Cooperage stadium in Mumbai being under renovation, the sides effectively play their home games as away ties in stadiums which often have more journalists than spectators!
Air India and Mumbai FC in particular, train in Mumbai and a couple of days before their home games shift base to Pune, meaning the squad is almost always on the move.
With no real fanbase anymore, they make next to no money via gate receipts, and hence take a considerable hit on their pockets as well, which further de-motivates owners from spending on the team.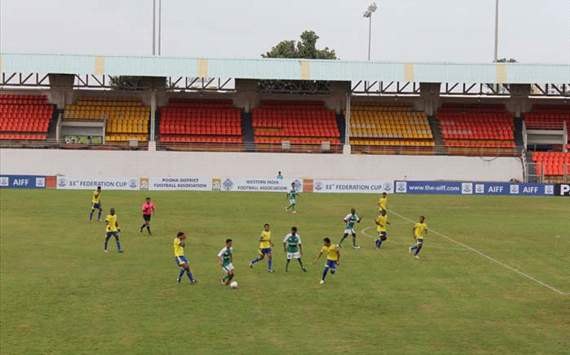 The "Home" Games Of These Clubs Are Generally Played Infront Of Empty Stands...
Also the fact that their matches grab next to no eyeballs means that sponsors and enthusiasm is hard to find.
Hence such economic crunch means the squads of all three sides are bereft of any "stars" in their roster, though players like Katsumi Yusa and Haroon Amiri have shone for them.
Left to string together a squad at the eleventh hour with either players past their best or new hopefuls who are looking to take their first steps in the professional circuit, these teams more often than not play defensively. Air India infact have not even completed their foreign quota yet, as Lamine Tamba has not yet returned to India, while an Asian slot remains vacant.
With their prime objective being to not get beaten, the ties involving these teams are generally a dull and one-sided affair, making it even more difficult for these sides to come away with any points against well organized oppositions.
And hence, with many teams splashing out on new recruits, the distance between those sides and the Mumbai-based trio has only widened, leaving the triumvirate isolated, rock bottom of the league.
While there is still plenty of football left to be played, meaning that the clubs could still mark a turnaround in their fortunes. However for that to happen, these teams will have to play out of their skin and hope they unearth a few rough diamonds to help them along on their way.
Or perhaps a return to the Cooperage sometime during the season and playing infront of their supporters might motivate the trio to move up a few gears.
Till then however, it could prove to be a very long and hard season for these three sides.
How do you stay up with football when on the move? With http://m.goal.com –your best source for mobile coverage of the beautiful game.