Portugal and Goa. The two words go almost hand in hand as the tiny Indian state is a mini-Portugal owing to its history. Former Barcelona, Real Madrid and Inter midfielder Luis Figo would have felt right at home when he arrived in Goa for the finale of the Youth Champions League (YCL).
The visit of some of the footballing greats to India has always yielded the golden question on how they felt football in India can be improved, despite very little of it being implemented. Figo was not spared of this and the former Portugal captain was only too happy to offer his view on the situation.
"To start with, Portugal is a small country compared to India in terms of population, but I think Portugal, in my generation, had work from the clubs, work from the federation in terms of grass-roots, the youngsters. That allows us to compete at a high level. I think it's the work of different institutions that makes it possible to have a future. I started playing at Sporting at the age of 10. The club allowed me to grow. When you are young you start to compete for a place in the national team. From the age of 11 till about 18, it's more about the hard work put in by the clubs in nurturing that talent".
"From what I've been told, in India most of the clubs have only an Under-18 team, which surprised me. Because at 18 years old, you have to be prepared to play in the first team itself. But you don't have the base and experience that is gained playing at U-14 and U-16 level against other teams and nations. Doing so gives you the experience that is crucial when you play in tougher tournaments later on," said the former Portugal captain.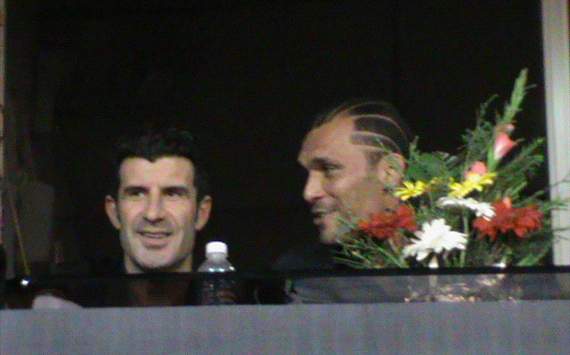 Figo stressed the importance of having U-14 and U-16 football experience
"There's a lot of work done leading up to the moment when you feel that you are ready to deal with tougher situations. So I think it's all a process that I think you have to build with the clubs, with the academies, with the projects like this one (YCL). Because if you start a project like what the YCL is trying to do here, then you have so many talents from this but you don't know where to put them, because the clubs don't have teams in those age groups. Then all this work is done for nothing, because if you start from 18 years old then it is very difficult to achieve something. It is possible but maybe a one in a million chance," Figo opined.
Figo highlighted the role that the media had in shaping the career of a young footballer. He felt that the media, through their various outlets, encourage youngsters that there is a career in football and thereby not slack off when the going gets tough.
Figo signed off with a piece of advice for all footballers who hoped to make it big through the game. "Nothing falls from the sky. You have to work for it. The ingredients are hard work, dedication, devotion, supreme effort and sacrifice. Never forget the motto - to play and achieve greatness. Follow your dream with passion."
How do you stay up with football when on the move? With http://m.goal.com –your best source for mobile coverage of the beautiful game.