Indian Football's technical director was very vocal about the current state of affairs of the game in the country and emphasized that a lot of hard work is needed...
India were on a high after winning the Nehru Cup on home soil. It was the first piece of silverware for new coach Wim Koevermans who is trying to implement his philosophy of possession-based football onto a team that had resorted to hoofing the ball up the pitch all these years. When India travelled to Singapore for a friendly which coincided on a FIFA Matchday, it was their first true test as Singapore were ranked only 6 places above them. Beating them would have been a shot in the arm for the Indian team whose FIFA points tally would have received a welcome boost.
Instead India surrendered and sank to a 2-0 defeat. The post match reactions from India Technical Director Rob Baan were a rude wake up call to those who felt that India's Nehru Cup success would guarantee them winning on a more regular note.
Addressing a panel discussion on Mission Rank 100: Myth or Reality, organized by Federation of Indian Chamber of Commerce and Industry (FICCI), Baan stressed the importance of grassroots and infrastructure development if India were to rise in the FIFA rankings.
"We should be ashamed of the low rankings. A country like Iceland, which has a population of around 60,000 is ranked 60 in the world and we are at 168. We have just 114 points and that is so less in number," said Baan.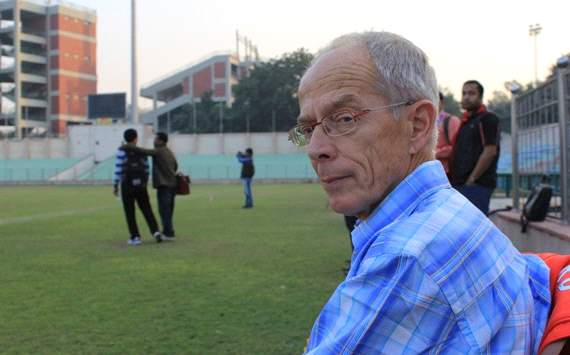 Baan minced no words when he highlighted the sorry state of Indian football
"We should not find excuses. We lost to Singapore 2-0 in the international friendly. We simply were not good enough and there were so many gaping holes," said the former Netherlands National Team assistant coach.
Baan also felt that FIFA rankings were a picture of the state of football in the country, unlike the popular view which thinks otherwise.
"Spain are number 1 in the world and rightfully so. The Netherlands were ranked second for a while. They lost a few games and they dropped down to sixth place," added Baan.
In addition he also opined that India would take time to break into the top 100 as opposed to goalkeeper Subrata Paul's statements that the Blue Tigers could make it there in 18 months time by playing international matches on FIFA dates.
"We can make it into the top 100 by 2018. But for that we have to focus on youth development, infrastructure, academies, coach education and a lot more," the 69-year old stressed. The Dutchman clarified that India needs to choose its opponents wisely for international friendlies as no point would be gained by losing to top notch opposition. "You gain points by winning games. You cannot play Spain and lose 10-0. We have to proceed step by step," Baan reasoned.
When quizzed about the new style of football that he and coach Koevermans are trying to impose onto the team, Baan responded by stating that the Indian players lack in technique.
"We saw too many long balls being played to short strikers. We have to play possession football. You can't play tactical football without technique. We lack in technique because you don't give kids the freedom play in organized football," said Baan.
For any country to progress, their domestic league has to be strong and in India's case, that isn't a reality as yet. Baan is of the opinion that the I-League is localized instead of being more national.
How do you stay up with football when on the move? With http://m.goal.com –your best source for mobile coverage of the beautiful game.