The AIFF organized course is aimed at enlightening its audience on the changing dynamics of the goalkeepers position...
The Art of German Goalkeeping course organized by the All India Football Federation (AIFF) kicked off at the Cooperage Ground in Mumbai on Monday. This is a first of its kind course put together along with the German Olympic Association.
Former German international goalkeeper and scout for Bundesliga side TSG 1899 Hoffenheim, Lutz Pfannesstiel walked the audience through theory and practical sessions, the various positions of a custodian and how the goalkeepers role has undergone refinement over the years. Twenty eight coaches, including those contracted with the AIFF, are part of the course.
Pfannenstiel differentiated between a normal coach and a goalkeeping one stating that a latter must also be a good footballer in addition to shot stopping skills. Bayern Munich's Manuel Neuer was quoted as an example of a modern day goalkeeper.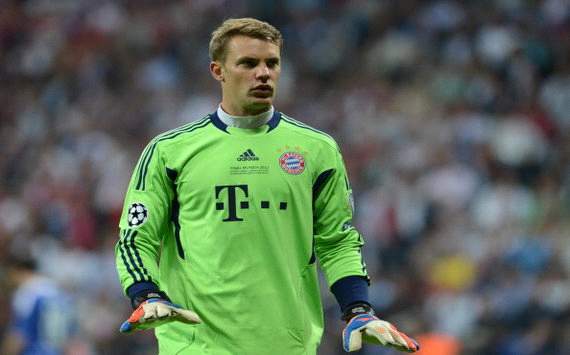 Pffanenstiel cited Manuel Neuer as a modern day goalkeeper
"Shot stopping skills alone are not enough anymore. A goalkeeper needs to distribute the ball well and on counterattacks, he plays a key role in building the first block of a move," said the German. Pfannenstiel explained that this was a reason why Jens Lehmann got the nod over Oliver Kahn for Germany in the 2006 World Cup. "Lehmann was more a modern day goalkeeper than Kahn, who of course was the best shot stopper," he quoted.
"A goalkeeper is a team player and a lone warrior. He trains differently as well and is the motivator of the side," Pfannenstiel added. The German highlighted the difference between normal coaches with those for goalkeeping by using the examples of renowned coaches like Jose Mourinho and Arsene Wenger who have never been famous during their playing days.
"A person who cannot kick a ball cannot be a goalkeeping coach. In training you need to shoot the ball perfectly and in chest height for your goalkeeper to get good practice," added the former German international.
Pfannenstiel, who has the unique distinction of playing in six continents, emphasized that the second and third-choice goalkeepers in the squad must also be made to feel wanted.
"You can have two world class strikers playing but not two great goalkeepers. It is very important for a coach to keep his second and third choice keepers happy and make them feel important. They should be fielded in friendlies and less important matches," said the German.
The 90 minute educative session was followed by a practical session where the twenty-eight participants were taught relevant drills.
The list of participating coaches stay as follows:
Tanumoy Basu, Mario Aguiar, Feroz Sheriff, Henry Picardo, Subrata Dasgupta, Abdul Siddique, Raghuvir Khanolkar, Pramod Brid, Abdul Quadeer, Premkanta Singh, William Koso, Md Yusuf Ansari
,
Utpal Mukherjee, T K Majumdar, Richard Sanchez, Sebastian Noronha, Chandrakant Naik, Ashok Panda, Nirvan Shah, Vivek Gupta, Gavin Araujo, Lokesh Kukrety, Nitesh Dimri, Hameed K., Fysal K. Bappu, Manoj Nair, Gumpe Rime, Abun Gobi Singh.
How do you stay up with football when on the move? With http://m.goal.com –your best source for mobile coverage of the beautiful game.