Arkaprabha Chakraborty




Comment

|

Federation Cup




Follow on
And it's another Federation Cup in the bag for East Bengal. Heartiest congratulations to the clear and deserved winners. Their eighth in total and their third in four years. What is it in the Red and Gold brigade that has given this extraordinary power, this love affair with the huge, squat trophy? Well, whatever it might be, it has worked and worked well for the historical club from Kolkata and now they are only five titles off knocking eternal rivals Mohun Bagan off their perch. And the Green and Maroon squad haven't seen much luck in the recent editions of the Federation Cup, not having made the finals since 2008 now.
East Bengal have brought in only one 'big name' and to brilliant effect, Chidi Edeh ending this tournament as the highest scorer. Their other gambit paid off spectacularly as well, with 19 year old Manandeep Singh, signed from Air India this summer finishing off as joint second highest scorer. And Lalrindika Ralte? Well, East Bengal wouldn't be in the finals had it not been for him. Every new man was crucial, and you don't usually see that for any team anywhere in the world. Full marks to Trevor Morgan's summer signings.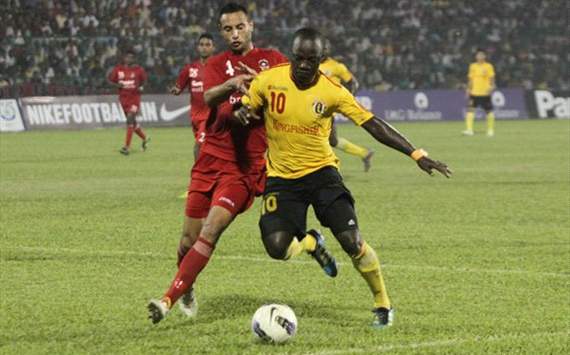 Goal machine |
Chidi Edeh has proved to be a stellar signing for East Bengal
Which brings us to the next thought, that of consistency. The rest of the team have been around since or before 2010 (mostly since) when Morgan did take over. The Englishman made a stamp on the team as his own with the players he wanted and kudos to him for not dismantling and reshuffling the team like most Indian clubs do every close-season, but instead managing to keep a core group together, familiar and able to play well with each other. And it has shown in East Bengal's trophy haul since 2010, dominating the Calcutta Football League and almost monopolizing the Federation Cup, with Morgan's extraordinary record of having lost in the Federation Cup only once in 15 games, to Salgacoar in the previous final.
However, the I-League needs to be next on the agenda of the Red and Gold brigade. And that brings us to the curious case of Dempo Sports Club in the Federation Cup. The traditional powerhouse has won the tournament only once, back in 2004. Quite shocking, to be prefectly honest. But then it is more likely to be a combination of factors than a single clear one. Dempo are definitely those in for the long haul, marathon runners and hence, consistent winners of the national league 2007 onward.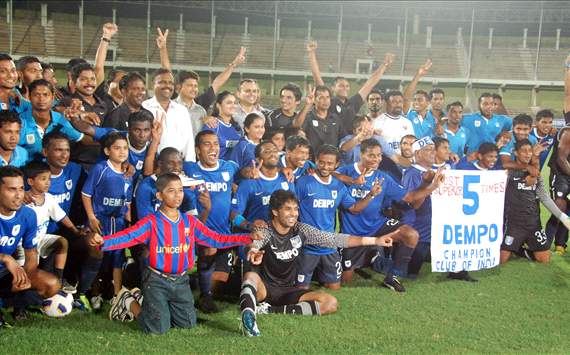 Marathon men |
But they'd like to show they can win in shorter formats too
It seems that they are slightly underprepared for the short shift, then. The 100 metre dash is not quite their forte. Contiguous round-robin to knockout tournaments require a temperament and regime of their own which Dempo may or may not be suited to. It requires extreme levels of fitness and recovery with matches played every other day and obviously, quality in squad depth. It is unlikely that Dempo lack any of these but one or the other factors may have been historically wobbly both during and before the Colaco era. It is good to see a team play to it's strengths, but when it's as big a name as Dempo SC, it leaves the heart a bit unsatisfied that they are apparently a one-trick pony.
But all that is now speculative ficton once again now that the battle has been lost and won. Congratulations once again to East Bengal and condolences to Dempo. It is inconceivable to think that the team from Goa will not stamp its authority in the top three of the upcoming I-League just as much as the team from Kolkata will, but for the next set of tournaments, it is likely that both teams would be glad to swap the trophies just to show that they can win them.
How do you stay up with football when on the move? With http://m.goal.com –your best source for mobile coverage of the beautiful game.