Ayush Srivastava




Feature

|

India




Follow on
In life sometimes, we do come up with ideas when we least expect them to pop up. And when these ideas to fructify, it does make one wonder as to how the whole project fell into place. Such is the case of the Ball Project, an initiative kick-started by Rohit Dsouza, 28 and Prajakt Patil, 31, two football crazy fans from Mumbai.
Rohit Dsouza had for several years, been involved with football coaching activities, largely tutoring budding footballers from more affluent backgrounds, when in July 2009, he first came across the dumping ground in Mulund (East), while he was searching for a training ground.
It was there that he saw a few kids playing around with a ball and he encouraged them by showing a few tricks, which aroused the curiosity of the kids, and eventually led to the idea of the "Ball Project" bearing fruition.
Highlighting the aim of his group, the Chemistry postgraduate said, "The intention is to promote sports amongst children and keep them away from trouble as well as keeping them grounded. Sports have given a lot to me, kept me out of problems so it is my turn to give back to the game."
Soon Rohit came in contact with Prajakt, who is a photographer who stays in the same locality. The 31 year old showed great enthusiasm, when Dsouza enquired if he would like to cover the project and Prajakt promptly came on board.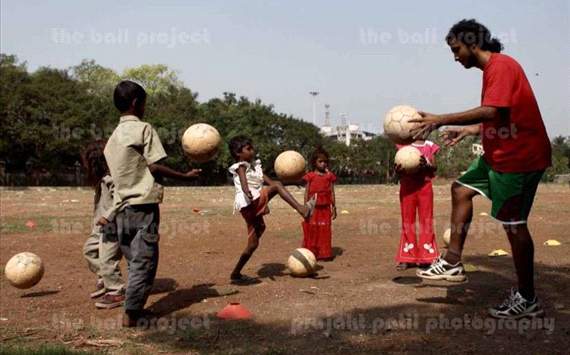 Teaching The Kids A New Trick....
And so was formed the core team of the Ball Project, which focused on encouraging kids from the slum area to take part in sport related activities.
Speaking more about the background of the kids from Mulund (East) slums, with whom he spends his weekends, the 28 year old told Goal.com, "These people make their money from selling scrap they collect from the garbage. I think they have an option to move out of this lifestyle, but I think they themselves don't want to. There is no light or running water in this area. But you cannot tell them how to live, as no one would appreciate us. Even you would not like someone coming and telling you how to live. But several NGO's do it, which is of no use."
Giving an insight about how they won over the kids, Rohit revealed, "We like to call our activities as play, which is something that one can enjoy in their leisure time. It is something which is not controlled or administered. We have helped organize their play like helping making boundaries and making grids."
"We started by encouraging them to play, as getting them into sports directly would be a problem, as they are not used to it. There would be a problem of making them connect to the sport as they have never ever taken part in a game," he added.
The Chemistry post-graduate, who also runs the Mumbai Strikers, a football club in the city, feels that his approach is more pragmatic than those of the Non-Governmental Organizations (NGO's), who encourage kids to give up, what Rohit feels are bare necessities to survive in such an environment.
He said, "Its easy to get kids to come and play. We try to mentor them but never preach."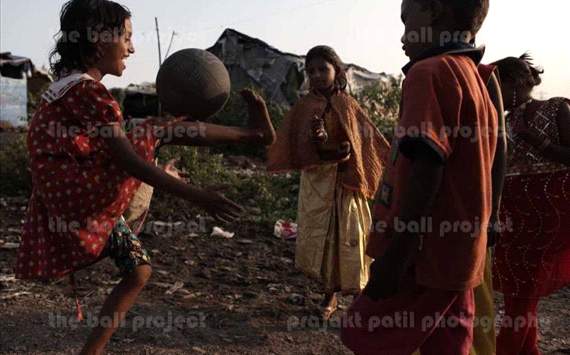 The Ball Project Has Led To Subtle Changes In The Habits Of These Kids...
The co-founder of the Ball Project though, feels that his methods have yielded good results, and he stresses, "People have learned things from us. Like they now wear shoes when they go to collect scrap from garbage so that they don't get hurt."
"We go play with them, not only football but rugby. We teach them rules and they learn to discipline themselves, as no one is allowed to abuse during the game. We started off with games like handball and slowly girls have also improved in such a way that many times they perform better than the boys," he continued.
While praise is always welcome, Rohit has not really allowed the Ball Project to become a community project, deciding to not entertain volunteers, as he does not have the same philosophy as several NGO's that work in these areas.
He stated, "As of now, it's a weekend project. Lots of volunteers wanted to join in, but we did not want too many. As of now it is 100% self funded. I did not ask for help from anybody as I have worked in several NGOs , but our concepts of poverty is very different from these organizations. I have worked in Dharavi for a few NGO's and I have realized people use poverty as an excuse to run their own shop."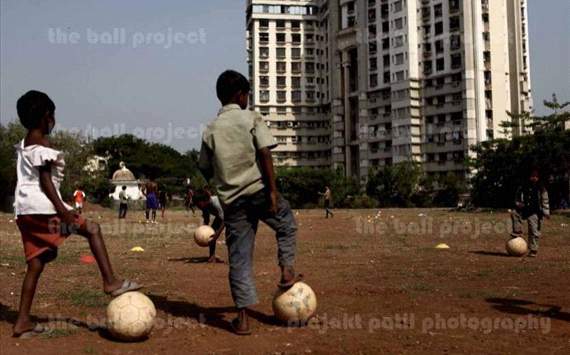 Planning A New Life For The Children...
"Our project is all about empowerment, we do not go around giving freebies, we just do play programs. We have also taught them some life skills. We are fine with their lifestyle, as they are comfortable with it," he added.
Rohit also gave more details about the schedule that Project Ball follow. He revealed, "Generally we do it on Sunday's involving almost 3 hours a session. Though we charge nothing, but for the kids its not a free activity, as they would have otherwise spent the time segregating garbage and making money, but now they reserve that time for us."
"I do hope some of these kids take up football in the long term," he concluded.
As can be seen from the details given by Rohit, the basic need for these kids is not food and better living conditions. Though that would definitely help, the children have grown up in that environment, and have adapted to it.
What is needed is a little bit of care and enforcing discipline and healthy competition through sport, to keep them away from activities that could ruin their future.
Steps like the Ball Project are just what is needed. It is a great initiative that will in the long term bear fruit, if not for football, then for society.
How do you stay up with football when on the move? With http://m.goal.com –your best source for mobile coverage of the beautiful game.