ANALYSIS
By Kaustav Bera
| | |
| --- | --- |
| Group A | |
SCHEDULE

LAST YEAR'S PERFORMANCE


| | | | |
| --- | --- | --- | --- |
| 19 Sep 12 | Dempo | v | Pailan |
| 19 Sep 12 | Mumbai FC | v | Shillong |
| 21 Sep 12 | Pailan | v | Mumbai FC |
| 21 Sep 12 | Shillong | v | Dempo |
| 23 Sep 12 | Pailan | v | Shillong |
| 23 Sep 12 | Mumbai FC | v | Dempo |

Dempo - Finished behind East Bengal and Pune FC in Group C

Pailan Arrows -Finished behind Salgaocar in Group B

Mumbai FC - Finished third in Group B

Shillong Lajong FC - Narrowly defeated by Salgaocar in Semi-Finals by 1-0, after topping Group A
Dark Horses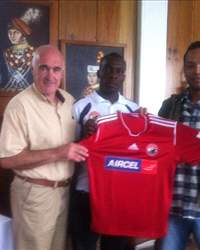 Shillong Lajong are certainly the dark horses from the group under
new coach Desmond Bulpin. With some smart signings in the guise of Ebi Sukore and Gbeneme Friday, you can also expect Bulpin to bring through the ranks, some top youth talent as he always had an eye to identify top youth prospects.
In a group comprising of I-League champions, Dempo you cannot certainly look beyond the dominant Goan club as favourites to progress and in all probability end up as eventual winners of the Federation Cup. However the loss of star man Ranti Martins and midfield general Densil Theobald might just make the Goan outfit appear weak on paper, especially with Rohan Ricketts who has not arrived in India yet. However, clubbed with relative minnows, the side which is largely unchanged should have no problems in progression.
Mumbai FC lost both their key strikers to fellow group rivals, Shillong Lajong and are noticeably weak especially since Yakubu will be missing from the Federation Cup campaign and their squad is largely dependent on home grown talent.
Meanwhile, Arthur Papas' Arrows need more time to gel together and Papas will probably use the Federation Cup to test out his squad, with progression from the group stages only a distant possibility.
| | |
| --- | --- |
| Group B | High Flyers - Mohun Bagan |
SCHEDULE

LAST YEAR'S PERFORMANCE


| | | | |
| --- | --- | --- | --- |
| 20 Sep 12 | Churchill | v | MB |
| 20 Sep 12 | Air India | v | Md. Sporting |
| 22 Sep 12 | MB | v | Churchill |
| 22 Sep 12 | Md. Sporting | v | Air India |
| 24 Sep 12 | MB | v | Air India |
| 24 Sep 12 | Air India | v | Churchill |

Mohun Bagan- Finished last in Group A

Churchill Bros - Finished third in Group A

Md. Sporting - Finished last in Group C

Air India - Finished third in Group D
Dark Horses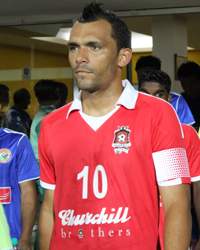 Churchill Brothers certainly have the ammunition to trouble any team on their day. However Churchill have lost a couple of their stars over the summer, with the likes of Ralte and Mundampara having left the club for greener pastures. Even though veteran tactician Subhash Bhowmick might work his magic, the club will be over reliant on influential playmaker Beto to lead the team on.
A heavyweight group with chances of an upset easily on the cards, yet Mohun Bagan will be overwhelming favourites to secure their passage to the semi-finals. Under the tutelage of Santosh Kashyap, who did great things with an average Air India squad, Mohun Bagan have a stellar forward line with Tolgay Ozbey joining Odafa Okolie. Unlike last year however, there is great balance in the Kolkata outfit, as Denson Devadas adds the necessary steel in midfield alongside the tireless Jewel Raja. With Syed Rahim Nabi in the form of his life, the defense too looks well marshalled with Khelemba Meetei joining the squad.
Air India were surprise winners of the Durand Cup, but are expected to find it tougher when up against a quality I-League opposition. They have also lost their coach and a clutch of talented Indian players to rival clubs and will find it difficult to replace them.
Although Mohammedan Sporting qualified in some style for the Federation Cup and are going all guns blazing in the Calcutta Football League, it is difficult to see them sneaking into the semi finals. However last year, Royal Wahingdoh had managed to finish above in the group comprising both Mohun Bagan and Churchill. Mohammedan will certainly look to emulate that achievement.
Group C


High Flyers -

East Bengal



SCHEDULE

LAST YEAR'S PERFORMANCE


| | | | |
| --- | --- | --- | --- |
| 21 Sep 12 | Sporting | v | EB |
| 21 Sep 12 | ONGC | v | Kalighta MS |
| 23 Sep 12 | EB | v | ONGC |
| 23 Sep 12 | Kalighat MS | v | Sporting |
| 25 Sep 12 | EB | v | Kalighat MS |
| 25 Sep 12 | ONGC | v | Sporting |

East Bengal - Losing finalists last year to Salgaocar

Sporting Goa - Finished behind Prayag in Group D

ONGC - Did not qualify for Finals.

Kalighat MS - Only turned professional in 2011
Dark Horses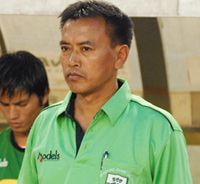 Sporting Clube de Goa are always the dark horses, no matter which tournament they participate in. The Flaming Oranje have a knack of scoring a lot of goals and conceding several as well. However just as they end up surprising their high flying opponents, they also get undone against minnows. The loss of phenomenal striker James Moga has been replaced on paper by Bertrand Bong, but only time will tell if the Cameroonian can replicate the goal scoring form of the South Sudan striker.

East Bengal are clear favourites to progress unscathed out of Group C in spite of losing star man Tolgay Ozbey. Trevor Morgan has managed to rope in young superstar Lalrindika Ralte from Churchill Brothers to bolster his already impressive midfield marshalled by Mehtab Hussain and Penn Orji. The defense too is solid as always with Arnab Mondal brought in from Prayag to partner the rock solid Uga Okpara. Under Morgan's reign, East Bengal were twice successive Federation Cup champions while going down to Salgaocar in the final last year.
Meanwhile, ONGC look really unprepared to mount a serious challenge, as the burden of being a government sponsored club meant that they could not get in the players they wanted and did not also enjoy a proper pre-season, with their coach alleging that his players were not fit enough for such a high profile tournament.
For Kalighat MS, who thrashed Royal Wahingdoh 6-0 to qualify for the final stages, this is just a journey to cherish for their supporters as it is a giant leap for a club who just turned professional last year. With the strikeforce of James Gbilee and Chizoba they also thrashed Vasco 4-1 and will take this tournament to show what they are made of.
| | |
| --- | --- |
| Group D | High Flyers - Prayag United |
SCHEDULE

LAST YEAR'S PERFORMANCE


| | | | |
| --- | --- | --- | --- |
| 20 Sep 12 | Prayag | v | Salgaocar |
| 20 Sep 12 | Pune FC | v | United Sikkim |
| 22 Sep 12 | Pune FC | v | Prayag |
| 22 Sep 12 | Salgaocar | v | United Sikkim |
| 24 Sep 12 | Prayag | v | Sikkim |
| 24 Sep 12 | Pune FC | v | Salgaocar |

Prayag United - Lost to East Bengal in semi-final

Pune FC - Finished second in Group C

Salgaocar - 2011 Federation Cup champions

United Sikkim - Did not qualify for the finals
Dark Horses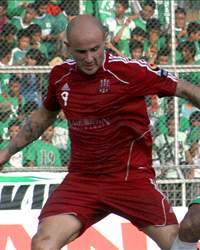 Salgaocar FC, last year's Federation Cup champions would surely be taken as group favourites. However big spending Prayag United's presence means that they might have to be happy with being second best. Having lost quite a few players in the summer, Salgaocar have brought in the pair of Angel Guirado and Sean Rooney as their forwards. However the new players will certainly need time to gel and this might come in the way of a semi final berth for the defending champions.
Group D can indeed be classified as the Group of death as anyone from Prayag United, Pune FC or Salgaocar might claim a semi-final berth. Even outsiders United Sikkim might as well turn a few heads as little is known about the side from the North East.
However, on virtue of having assembled a quality squad, big spending Prayag United certainly stake the claim of being the favourites to progress from the group. Carlos Hernandez, the Costa Rican striker who represented his country in the 2006 Fifa World Cup, will line up along with the I-League top scorer for 2 seasons running, Ranti Martins who joined the upstarts from Dempo SC. Their defense too is bolstered with India international, Gouramangi Moirangthem joining the side and ably shielded by India no. 1 Subrata Paul who switched from Pune FC. Add on top of that the impressive Pune FC midfielder Lester Fernandes and you have probably the best Indian team, atleast on paper.
Meanwhile, Mandjou Keita have left to join the Malaysian league and hence Pune FC will be bereft of their star striker this season. They have an able replacement in former Sporting goal machine, James Moga but he will need time to adjust to his new team. The South Sudan striker is yet to join his new side as yet. Upfront the mercurial Jeje Lalpekhkua has to get over his tempermental problems as he was overlooked by Wim Koevermans for the national side.
The Bhaichung Bhutia led United Sikkim FC might spring a few surprises but it is highly unlikely that they can sneak past three I-League sides, even if they manage to pull off a surprise victory or two.
How do you stay up with football when on the move? With http://m.goal.com –your best source for mobile coverage of the beautiful game.