Goal.com starts a new series, where the head coach of the respective team tells you all that you need to know about their team before the Federation Cup...

Trevor Morgan has been with East Bengal for the past two seasons, and in his very first assignment with the club, he had won the Federation Cup.
Since then, an IFA Shield and Super Cup have followed, but in the league, the Kolkatan outfit have fallen at the final hurdle in both the campaigns under the Englishman. They finished second to Salgaocar and Dempo in the 2010-11 and 2011-12 seasons respectively.
He also guided them to two successive Calcutta Football League (CFL) triumphs.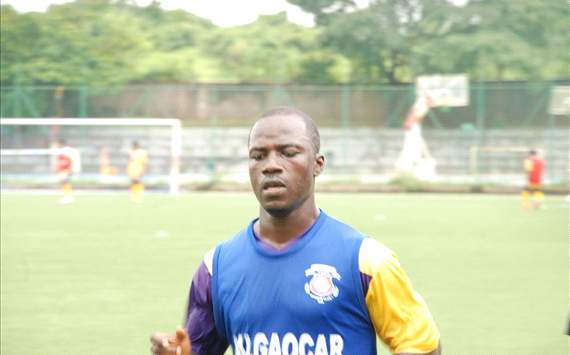 Can Chidi Edeh Replace Ozbey Upfront?...
The East Bengal coach had resigned at the end of last season's Calcutta Football League season due to differences with the club officials over how the team shall progress. However the issues were ironed out as Morgan pledged his future to the club.
On being asked about the squad at his disposal this season, Morgan mentioned his desire to sign one more attacking player, however he highlighted that this was by far the best squad he has assembled during his tenure at East Bengal.
"Is any Coach ever happy with the squad they have? However our bench is probably the strongest it has been since my arrival. I think we should always be on the lookout for players that can improve us, it is the only way forward (as we) try to be successful."
"We have no plans to bring in anyone as the window has now closed. I would have liked to have got a 4th foreigner in, an attacking player, but was unable to, due to the finances not being available at this time."
As stated by Morgan, the club has great depth and good quality in almost all areas, but it remains to be seen whether Chidi Edeh has the tools to replace Tolgay Ozbey upfront. The Nigerian had a poor season with Salgaocar last year, and it is surprising that a club as big as East Bengal did not get a better like for like replacement for Ozbey.
They have lost Nirmal Chettri this summer, but have added Arnab Mondal to their ranks. Jaspal Parmar and Abhishek Das, who is fit again, should provide good competition at right-back and make up for Chettri's departure.
The other big names to join the club are Indian International striker Manandeep Singh and midfielder Lalrindika Ralte. Cavin Lobo is another smart squad signing made by East Bengal.
Speaking about his club's preparations for the season ahead, Morgan revealed, "We began training on July 11th, with our first Calcutta League game on 17th August. Our first couple of weeks involved some physical sessions, but the majority of our training involved ball work."
"Tactically we work with the team that will be playing, in the 2 or 3 days ahead of the games. The majority of the players have been with me now for over 2 years and are well versed in what their jobs are within the team structure."
"It is important any new arrivals are worked with and made aware of their responsibilities in the team as although their playing position may remain the same, they have to be made aware of how we play tactically and what is required from them," the Englishman further added.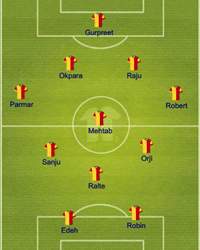 Giving a detailed explanation about the system he likes to employ, the East Bengal coach stressed, "We play a system that suits the players we have. I think that formations are easily transformed. If your two wide men drop back 10-15m in a 4-3-3 system, that then becomes 4-5-1, a 4-4-2 becomes 4-4-1-1 if the striker drops back into the space between the opposition midfield and back four. I suppose our system is more of a 4-3-1-2 and we work hard at getting our defensive shape back quickly when possession is lost."
Goal.com View - As stated by Trevor Morgan, his team does not adhere to a strict formation as such, as they play in a fluid and flexible style. However in general, they do usually line-up in a 4-3-1-2 formation.
While Chidi Edeh might struggle to replace Ozbey, East Bengal have overall added a lot of flair to their squad, with creative players like Lalrindika Ralte and Cavin Lobo joining the side, which already boasts of the services of Penn Orji, Sanju Pradhan and Reisangmei Vashum, meaning that on paper atleast, they should be one of the best sides to watch in the I-League.
Indian strikers Manandeep Singh and Robin Singh shall also face keen competition from Edeh and Baljit Sahni for a place in the starting line-up, while Ishfaq Ahmed and Seminlen Doungel add variety and depth.
Uga Okpara and Indian International defender Raju Gaikwad, Gurwinder Singh and Arnab Mondal will add stability at the back.
Penn Orji Shall Continue To Be A Key Player For The Kolkatan Outfit...
The Kolkata outfit's faithful will be hoping that Edeh can prove himself to be a worthy replacement for Ozbey, as otherwise the inability to add another foreign striker might come back to haunt the Red and Gold. Manandeep and Robin Singh too will be looking forward to the season, as a good campaign here will help them further cement their places with the national team.
Penn Orji shall continue to be East Bengal's midfield orchestrator, and his trickery and vision in the middle of the park will be vital to Morgan's side. Adding another creative young talent like Lalrindika Ralte shall also definitely do no harm to the Kolkatan side's hopes of clinching some silverware this season.
At the back, Uga Okpara remains one of the most reliable centre-backs in Indian football, with his consistently top class performances, adding solidity to the defense. Morgan is spoiled for choice, when it comes to who shall he pair the Nigerian with, as Raju, Gurwinder and Arnab Mondal, all are amongst the best crop of Indian defenders of the present generation.
FEDERATION CUP HOPES AND GROUP RIVALS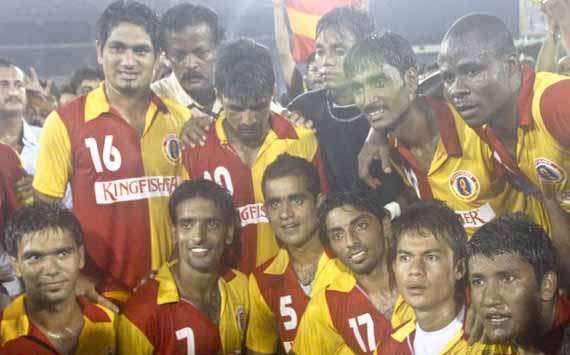 Morgan was bullish about his side's hopes of winning the Federation Cup and stated, "My only thought on our group is that we have to get out of it. Our first game versus Sporting Clube de Goa will be vital, a loss is hard to get back from, with only four teams per group so it is important that we get off to a good start."
"We respect every opposition team we play against but we fear no one," he continued.
"East Bengal have reached the final of the Fed Cup for the past three seasons, which is a tremendous achievement, losing one game out of fifteen in the process."
"We had an off day in last year's final, Salgoacar played better than us and thoroughly deserved to win. We have to use last year's defeat as a spur to drive us on to try and make it one defeat in twenty games," he concluded.
Goal.com View – The East Bengal coach has every reason to be confident about his team's chances to progress to the semi-final of the tournament at the very least. Apart from the fact that ONGC, Sporting Clube de Goa and whichever team qualifies for the main draw, are no match for the Red and Gold's team resources, Morgan's side have also had a very good pre-season and have already played a few Calcutta Football League (CFL) games which have ensured that they have a good match fitness going into the competition.
How do you stay up with football when on the move? With http://m.goal.com –your best source for mobile coverage of the beautiful game.