Well, there's a relief for the All India Football Federation (AIFF). A nice Nehru Cup hat-trick to perfectly paper over all the 75 year old cracks that have been growing ever wider especially in the 21st century. The pitiful condition of Indian football has been very happily masked over.
How many are going to remember the state of the pitch played on when there's a trophy won on it? Who's going to think of the hurdles an individual player had to face when he's won a medal for it? Who is going to remember the problems of the AIFF in its 75th year when they can point to the Nehru Cup win as the landmark? These are still big questions without answers.
And sadly enough, this is the most likely route for the AIFF to take. For every challenge on their inadequacies, they will most likely point to this crowning glory. That we won our 'home tournament'.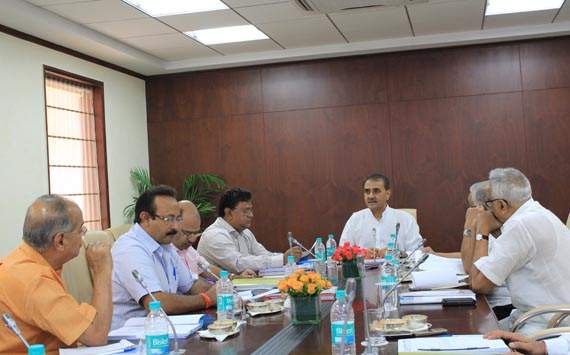 75 years on|
We'd like less talk and more concrete action please
But then why is it that this kind of escapism is what the AIFF is becoming known for? What they could, would and should do now that they have these 75 years of experience behind them, is use successes to create more success.
And why should it be such a difficult thing? Isn't it the logical thing to do? And it's not even like it is not a sound business principle. Success is profitable. It has to be! So why doesn't there the desire to be successful and improve the country's football as a very happy side effect? We aren't even requesting them to think of football primarily. Just not to stifle its growth.
Because even though the team may not have enough world-class facilities in the country itself, whatever the Centre of Excellence plans are in Goa, even though the pitch was in a shameful condition with apparently as much maintainence as fallow land, even without some sort of sustainable system, we can win and we have won.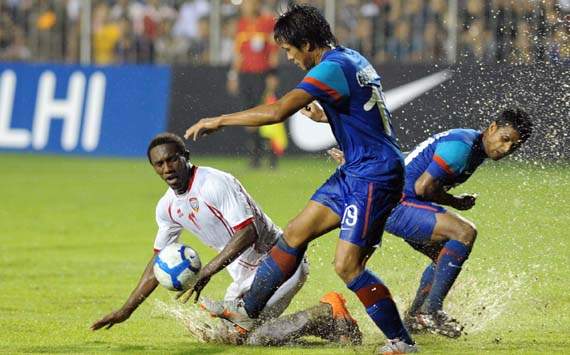 Splash|
Is not a sound we would like to associate with Indian pitches anymore
Like we've said before, it is the AIFF's best chance to get a platform to build success on. We're not asking for something absolutely world-class YET. But at least we'd like to see that basic facilities to be in place.
The spot-kick is yours to take, Mr. Patel and Co. Maybe to do something in time to improve our chances of a decent U-17 World Cup bid? And if we get it regardless, not to embarrass ourselves in front of the world with our usual inertia? Completely your decision now.
Follow Arkaprabha Chakraborty on

How do you stay up with football when on the move? With http://m.goal.com –your best source for mobile coverage of the beautiful game.