Milan Singh was an integral part of the Indian Colts side that performed admirably in the AFC U-22 Championship qualifiers.
Having made the 27 players list of Wim Koeverman's senior national squad, the Pailan Arrows player hopes to get a chance to build on his performance in Oman, during the Nehru Cup.
Speaking exclusively to Goal.com, Milan spoke of his excitement at being part of the probable squad and looks forward to making the final cut.
"It is my first time with the national team and it has been a very good experience for me. I have learnt a lot from the seniors in the squad."
"I am trying to make it to the final squad, this is of course my first try but we have a good experience from playing the same type of football with the U-22 side. My confidence is high, so I am hopeful of a place in the final squad," he added.
The midfielder also feels that India U-22 coach Arthur Papas and senior squad coach Wim Koevermans are quite similar, tactically. He said, "I think both of them are very similar. Of course personality wise there is a difference but they both like to play football in the same way."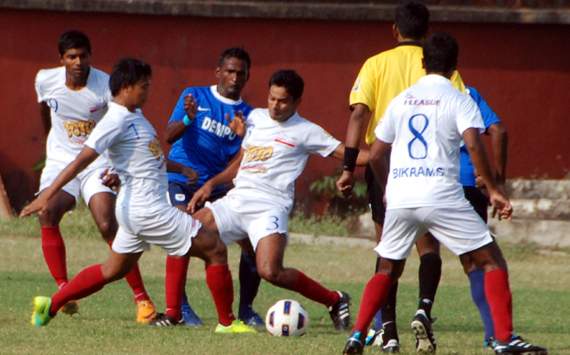 Milan Singh Feels Confident Enough To Be A Part Of India's Midfield...
The Pailan Arrows player is highly regarded for his passing and movement in midfield, and many feel that he is an able replacement for Climax Lawrence. Milan is unfazed by whose shoes he has to fill in the side.
"Everyone has their own style of playing, Climax had his own and I have my own. But I am sure if given a call I will do well for the team. This is just the beginning, I feel I have a long way to go."
The midfielder is also very bullish about India's chances in the Nehru Cup, and feels as long as the team concentrates on doing well, who the opposition is won't matter.
"Ever since we have joined in for the camp, we are just focusing on getting used to the tactics and yes, we want to win."
"It does not matter whether it is Cameroon or any other team. I think we are confident enough that if we play according to the coach's style, we can take on anybody," he continued.
"Everyone saw how with the U-22's how we played, so we hope to play with that same level of confidence with the senior team too, which will be good for me as well as the squad," the midfielder further added.
The youngster also gave a sneak peek about the changing dynamics of the dressing room.
"It is not like the old times. Now there is no gap between the seniors and juniors. They treat us very well and keep telling us what to do and share their experiences. It helps build good team spirit."
Milan is also full of praise for his club Pailan Arrows, who he says have played a big part in his development.
"What we have learnt essentially with the Arrows is to live with discipline. We eat together, share everything and learned to play as a team."
But the player is fully focused on the national team and shall only think about the coming league campaign after the Nehru Cup.
"Hopefully I will have a good season with Pailan Arrows but right now we are focused on Nehru Cup, It does not matter whether I get selected here or not, this is my first time and I hope to learn as much as possible and then go to Pailan and do well," he concluded.
How do you stay up with football when on the move? With http://m.goal.com –your best source for mobile coverage of the beautiful game.