Philippe De Ridder led United Sikkim FC to a first place finish in their second division campaign last term to seal his side's place in the I-League 2012-13. He feels that a lot of work needs to be done before his side is ready to step up to the challenge that I-League brings forth.
"It's a new team so we're shaping up slowly at the moment. Lot of trials, lot of work, there are a lot of young players too. So slowly but surely we will be ready for the new season," he told
Goal.com
.
De Ridder also intends to complete the club's quota alloted to securing four foreigners including one Asian, having already signed South Korean goalkeeper Tae Yoon and Nigerian midfielder Salao Naruddin.
The coach further spoke of how the break between the previous and the new season is far too long in Indian football as compared to professional leagues in Europe and other developed footballing nations across the world.
"There's something very interesting in Indian football in comparison to Europe or the other countries," pointed out the Belgian. "There's a break of two months in general and there are not a lot of players who are training [during this time].
"When they come back, it takes another two-to-three weeks for these players to come back in shape. So we can talk about this (being ready) a little bit more seriously then. Though we do say that we are shaping up now," he reiterated.
What to expect from United Sikkim this season? "On paper, there is not much, but we'll try our best," assured De Ridder and added that the main objective would be to remain in the I-League.
"Our aim of this season to just stay in the I-League because we don't have a big budget and we're thinking of the best possible objective to work with. You cannot compare a young team like us to Mohun Bagan or East Bengal or Churchill who have played two-to-three seasons together or Dempo...even more."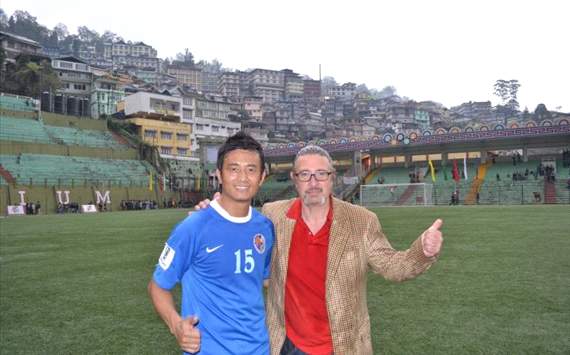 "Looking in the same direction gives you better chances to succeed. No guarantees but just...better chances..."
–

United Sikkim FC head coach,

Philippe De Ridder

On being asked to compare the pressure he felt while at East Bengal to being the coach at United Sikkim, he said, "The pressure is different. It's like each time you take up a team you expect yourself to be champions of something, may it be East Bengal or now United Sikkim."
"The pressure is there for you personally also. Football is all about achievements. So this year if we (United Sikkim) can achieve our main goal of staying in the I-League, that will be an achievement by itself," he added.
De Ridder said that it is "normal" in football that players are targeted by bigger clubs but also addressed that a certain ground reality is kept in mind.
"Some players are paid too much for their real value in the football market and international market. It's the proportion between salary and quality.
"You can see sometimes players are paid one crore here (in India) when in Europe the teams will not even give 40,000 [Indian] rupees monthly [for the same player]. So it's the player's quality that should define his salary," he explained.
He believes that Indian football is suffering from a lack of quality players as the pool of players is way too small for clubs to choose from.
"One of the difficulties in the Indian football market at the moment is the lack of quality. Paying a decent amount of money for a quality player is fine but for a player who lacks the quality - it is not proportionate.
"When I came to India, it (huge wages for average players) was not there, but it's part of football and it's coming in Indian football this year. I see this as the future problem that we need to solve."
Follow Anselm Noronha on

How do you stay up with football when on the move? With http://m.goal.com –your best source for mobile coverage of the beautiful game.