The British coach has set his sights on guiding the north east club to a mid-table finish this season…
Desmond Bulpin is back in India after his earlier stint with the Pailan Arrows, back then known as the Indian Arrows. The job entrusted to him this time around is to pilot Shillong Lajong squad to help them realize their true potential in the seasons to come.
Known popularly as the mentor of former Liverpool and Tottenham striker Peter Crouch, Bulpin is looking forward to the new challenge assigned to him an explains the reasons as to why he was up for it.
"I came back because I think (Larsing) Ming, the owner, is a young man who has a vision to build the club from the bottom up. He wants to do it properly through young players.
"I think that there are a lot of good players in the north east," Bulpin told Goal.com.
Lajong didn't enjoy the best of the seasons last year as scoring goals was one of their major concern despite creating several openings. They had the third worst goal scoring record in the I-League having scored a paltry 24 goals.
"We conceded far too many goals last season and we are working on our defending. We did not score enough goals and we need to work on our finishing too. Our passing too, so to say, everything really needs to be worked on. It's an obvious fact," said Bulpin.
The former Philippines national coach has outlined the targets for his club the next season as he believes in developing the team gradually over a period of time instead of instant success which is 'bought'.
"The aim is to make sure this season we are somewhere around the mid-table. I am working with the coaches here so that over the next three seasons, we build slowly. Something like what we did with the Indian Arrows as 11 players from the team were picked in the national team, while four played regularly. That proves what coaching is about," he highlighted.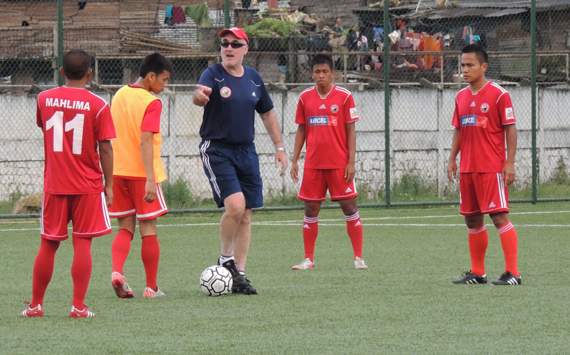 A time to play long and a time to play short passes
However it wasn't all rosy for Bulpin as he was asked to leave after a one year stint with the Arrows as there was criticism from certain sections on the long ball strategy, his team were reportedly said to be playing.
"My brief was to get players into the national team. That is what I was told, when I was given the job. No team in the country, neither Dempo nor Mohun Bagan nor East Bengal has 11 players in the national team at the end of the day.
"When Mourinho won in England, he played more long balls than anyone else did," Bulpin mentioned.
"I don't play long ball and people say that because I'm from England. There is a time to play long and a time to play short ball. We will play the right ball, which is what I want my team to focus on. The trouble is people do not understand football
"Even Barcelona scores their goals by pressurizing and keeping the ball. I like to pressurize," he signed off.

How do you stay up with football when on the move? With http://m.goal.com –your best source for mobile coverage of the beautiful game.