After profiling the experience of two time Olympian and India Goalkeeper S.S Narayan, Goal.com next spoke to the Indian 1956 Melbourne Olympics football team captain and lethal striker of his era, Samar "Badru" Banerjee.
The former Mohun Bagan player remembers the events of 1956 as if they happened yesterday, as he recalled vividly, "It was very much exciting, getting a chance to play in the Olympics. It is a great sports arena, best athletes from across the world and superstars were present there. It is a feeling which one just cannot express. It is a dream of sportsmen, a pilgrimage for most."
"We remember everything. Melbourne kicked off the modern Olympic era. The Velodrome and Swimming Pools were a treat to watch. The Olympic village was like a comfortable cottage with 4 people staying together. There were several grounds for practice, which was amazing. Compared to that, Olympic villages are concrete jungles now."
"When we reached there, it was severely cold, which was unnatural for that point of time. Our coach Syed Abdul Rahim got sick and had to be admitted to the hospital," he added.
Speaking about the clash against Australia, where India defeated the host nation to cement a place in the semi-finals, the former striker revealed, "Everyone was absolutely shocked, because Australia had beaten us in a bad way before, so no one expected us to win. But Neville D'Souza was in amazing form, he was getting the ball from colleagues and just slotting it away in the net very calmly without hurrying. He kept scoring and got a hat-trick, which was a great achievement. He was absolute class. We really enjoyed the game against Australia."
The former Indian captain rued the earlier practice of training for 70 minutes, something which came back to haunt them in the 90 minute game against Yugoslavia. The Mohun Bagan legend stated, "We played against Yugoslavia and took the lead. But our practice games only lasted for 70 minutes and so a 90 minute game was an overload for us. We conceded goals towards the end and were defeated."
"The FIFA president (Arthur Dewry) came down after the Yugoslavia game to congratulate us, as he was so pleased about how much we had improved. The 1956 performance was great and everyone was absolutely surprised, there were some 70,000 people inside."
"Bulgaria were also great opponents. They were well organized. All these sides are great oppositions. They had great structure, fitness and we could not manage to beat them," he continued.
The veteran felt the great performances delivered by the side were due to several factors. He said, "We had a great team spirit. All the players were in peak form. Mr. Rahim was a great little master and before the Olympics he took us to training camps in Calcutta (Kolkata) and Bombay (Mumbai)."
Clearly in awe of his former coach, the Mohun Bagan legend added, "Rahim's motto was to work hard and then work harder still. Critics said he was a slave driver as he held training daily in morning as well as evening, but the hardwork was worth it, as we got good results out of it. First you give to the country and then country gives you back, that was our motto then."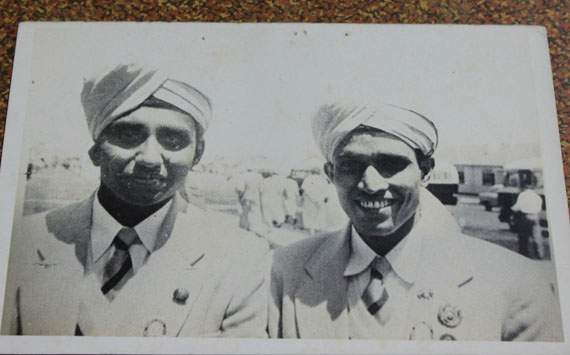 The Olympic experience though didn't end for the team after being knocked out by Bulgaria, as the contingent took full advantage to have a look at the top athletes on show during the games. Banerjee recalled, "Even in the Olympics, we went to places, Hockey, we won the gold beating Pakistan. The whole team used to go together as a bunch, not individually, to events across the camp as there was always a discipline maintained by the team."
"We were there till the closing ceremony as we had reached the semi-final, so naturally we had to stay there until the end. 15 to 17 days we enjoyed nicely. We met the Australian Prime Minister (Menzies Robert Gordon), who invited us for a party," he added.
Badru Da, as he is fondly called by his admirers, rues that the country could not build on the platform they provided for football to flourish in India.
"In 1950's and 60's we were a great side of Asia but we have not maintained it. No one cared and now we do not get chances like before to play in big games, which is a pity."
"There is no infrastructure, the mentality is also not right. You need to sacrifice to build something great but now this is not case. Loads of corruption is there, the real talented players are not getting opportunities. We have no professional attitude or infrastructure," he lamented.
The former captain of the national team also spoke of how he has fought for the rights of his former colleagues since retiring. He said, "I did everything for players to go and receive honour from Mr. M.S Gill (former Sports Minister of India) in 2009 for our achievements of 1956. I did a lot of hard work to get everyone there, I arranged for all the details and in the end we managed to get 8 or 9, of whom two could not come due to personal issues."
"After that we went to the federation who told us that they would stand by the ex-players. Afterwards we were told that ex-players should ask for support if they want it. I protested that how can we at this age come and beg for assistance? Why not give us pension like BCCI (Board of Control for Cricket in India) gives to its players, based on seniority and our Olympian status. They said they would consider my advice, even sent me a letter of appreciation but nothing has been done."
"Now everyone is interested in themselves. I ask why am I not considered for the Padmashree after all that I, as the Captain of the Olympic football team, did for the side? Every one of similar stature has been given the Padmashree but for us footballers, nobody cares," he concluded.


How do you stay up with football when on the move? With http://m.goal.com –your best source for mobile coverage of the beautiful game.