Mumbai FC's Khalid Jamil believes that the club have got the ammunition to finish in the top six, come the end of the season..
Khalid Jamil has assured Mumbai FC fans that in the upcoming I-League, they shall put up a decent performance unlike last season wherein they had to wait until the second last matchday in order to avoid going down to the division two.
"Last year was a lesson learnt. I focussed on a large squad which had around 36 players. This made the job a lot difficult. Moreover, last year we rotated the squad a lot than required. Last year we avoided relegation in the second last match and this will not happen this season," Khalid told Goal.com.
On being asked the difference between the coaching model he had adopted as a young inexperienced manager and the one he would use this time around, he said, "I took a lot of risks last season and as mentioned rotated the players a lot. Experienced managers would maybe not have done that. As I said that last year's performance was a learning curve for me as well as the team".
Khalid informed that the club are still in the process of signing players to strengthen their squad and so they haven't yet arranged friendly matches in the pre-season.
"We are still accumulating players and they are getting to know each other presently. We have not planned to play any friendlies so far and if we get an opportunity in the next month we will surely play some matches."
Mumbai FC have already confirmed their foreign players for the coming season and the star attraction would surely be Yusif Yakubu.
"We have added ND Opara and Evans Quao to our squad. Opara's dribbling and finishing ability had attracted me towards him and Evans' versatility would be of great use."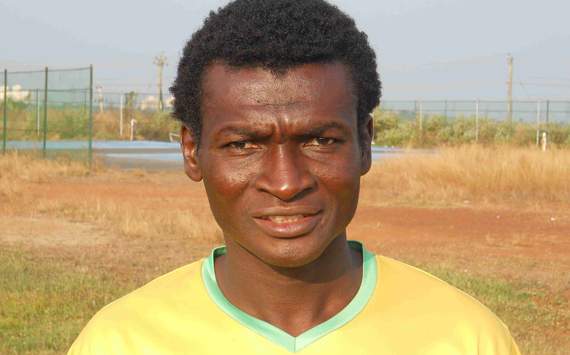 Yusif Yakubu to don Mumbai FC's colours
"We can also announce that we have added Yusif Yakubu to our squad too. We have released Friday and bought Yakubu as his replacement. We also have Haroon from Afghanistan to fill in our Asian player's slot. We have also added Jayesh and Bobby, our two youth products. Fans can look forward to them."
On being asked about the challenges ahead, Khalid hoped that the Cooperage Stadium would soon be ready to use so that they can play their matches at the said venue instead of having to travel to Pune for the same.
"Last season we did not have a ground in Mumbai to play in and hence even the home matches felt like away. That's one of the reasons why we came 11th. If we can get Cooperage then it will be brilliant as playing at home is a different ball game."
"Also, unlike last year, we have restricted the strength of our squad to 23. This means that we can focus on the development of a selected lot and if needed, add later on. Every player will get ample of chances to prove himself but the formula will be simple - Perform or perish."
He appealed to fans to turn up in numbers to support Mumbai FC if the games are held at the Cooperage Stadium.
"Mumbai F.C has been very dear to me. I would request fans to come and support us if the matches are held in Mumbai. This season, if we get to play at Cooperage, we would definitely be in the top 6. That is our aim."
"Being an integral part of the team since its inception, I would like to dedicate the upcoming season to the club, the fans and to Mr. Atul Pande (CEO of sporting business, Ten Sports) who has supported me throughout."
How do you stay up to date with football when on the move? With http://m.goal.com – your best source for mobile coverage of the beautiful game.