It has been a little over 48 hours since Sunil Chhetri's move to Sporting Clube de Portugal's "B" side was made official, and forums have been abuzz with opinions of self appointed pundits, who moan about the absence of Indian footballers in Europe, and hope that this move opens the gates for other Indians to join clubs across Europe.
But is it feasible and possible for an Indian to jump straight from a poor I-League to professional set-ups of England, Spain, Italy, Germany and other top European leagues?
This is akin to expecting a student in Class 1, and that too an average one, being asked to jump straight to 4th standard!
Would such a student, with his basics nowhere close to being good enough for such a level, survive in that standard? Quite frankly stating, he would not stand a chance!
Similarly what chance does an Indian footballer, with dubious technical skills, poor fitness records, no dietary plans and lacking in physical as well as mental qualities needed to survive the rigours of a top league, stand, if he were to be moved, like in Chhetri's case, straight to a top European team.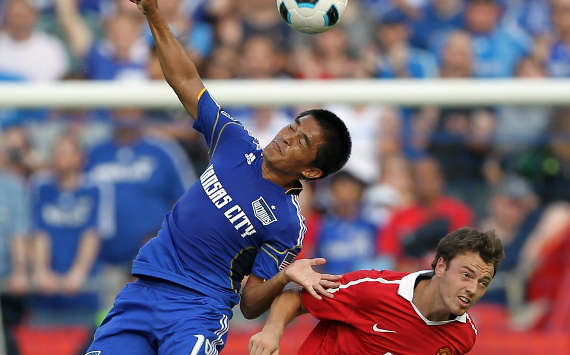 Too Big A Leap?...
The former Mohun Bagan striker has been there before, failing to make a mark in his short stint at Sporting Kansas City, as he failed to come to terms with the training methods and physical demands of Major League Soccer (MLS), which itself to be honest, is nowhere close to the level of top leagues in Europe.
And the idea here is not to stop Indian players from going abroad. Infact a move to foreign shores can always help Indian players improve. This editorial deals with the huge leap that Indian players try to make, when they hope to move directly to Europe.
Would it not be more ideal for these players to step up one level at a time and first try their luck in more competitive Asian leagues like those of Malaysia and Thailand? Then perhaps move up to a J-League or an A-League side, and only after they have developed their skills to a considerable competitive level, should they look to move a level further, after proving themselves to be good enough for it, for a move to Europe.
This is the path taken by players from other Asian countries as well, with players of the caliber of Hidetoshi Nakata, Park Ji-Sung and Keisuke Honda to name a few, rising gradually to the top, after serving their time at lower levels.
Of course one can point at others like Shinji Kagawa, who enjoyed a meteoric rise at Borussia Dortmund, but apart from the fact that the Japanese is one of the true world class young players to have come out of Asia in recent times, the jump from the J-League to the Bundesliga is nowhere close to being as big a leap as it would be from the I-League to even a lower division top European league.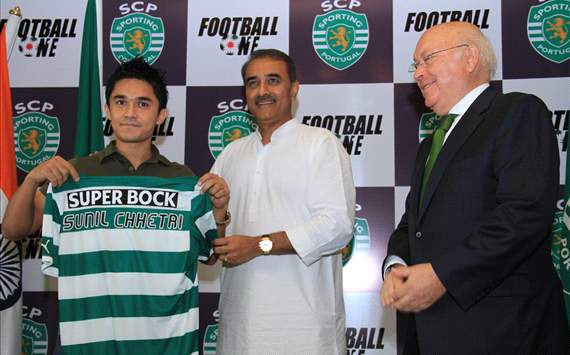 Will The Player Benefit From Such A Move?...
This is the path that Indian players should also look to follow, if their aim is to improve their own game and learn more about the game.
As seen from Dong Fangzhou's move to Manchester United in 2004, the only side that profits from a transfer of an ill-equipped player to a top league is the club itself, which gets to sell a few million extra shirts and other merchandises by the player's name, while the player himself ends up going in a downward spiral, having failed to match up to the expectations of a big club.
Something that might now be seen after Chhetri's move to Portugal. Considering that Sporting CP have no scouting network in India, the fact that the club took him on without a trial, and the content of their press release seems to indicate that the deal is more commercially motivated than a chance to give a talented player his due.
And if it does succeed, be assured that other clubs shall make a beeline to pick up another decent Indian player for their reserve sides, in order to cash in on the publicity that shall follow.
That leaves the impetus firmly on the Indian players, who have to decide whether they are ready to be played as a pawn in such commercial gimmicks, or look for professional improvement and move to clubs where they have a realistic chance of playing a part and at the same time learning something and furthering their careers.
How do you stay up to date with football when on the move? With

http://m.goal.com

– your best source for mobile coverage of the beautiful game.