Goal.com looks at AIFF's first regional academy set up in Navi Mumbai and the vision behind it...
India's first Regional Academy has commenced at Father Agnel School in Navi Mumbai from the first of May this year. FIFA and the AFC guided the All India Football Federation (AIFF) to set up academies as youth development is a necessity with the country needing a strong foundation in order to develop as a footballing nation.
The AIFF has signed a two-year agreement with Orange Sports Forum (OSF) for the supply of Dutch football know-how to build football in India. This saw Robert Baan's appointment to Technical Director of the AIFF o has been assigned the task of creating the blueprint for the success of Indian football.
An OSF representative showed that there are 83 million viewers of football in India, and only 15 million viewers in Netherlands who are ranked second by FIFA, showing the potential of football in the world's second most populous nation.
Dutch Minister of Sport, Health and Welfare, Edith Schippers was present at the launch of the academy and said that it was Rob Baan's initiative to set up 8 regional academies and one elite academy over the next two years.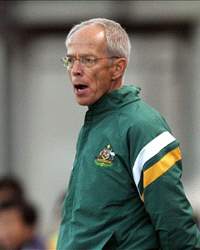 Robert Baan, Technical Director of the AIFF
Baan went on the explain, "The concept of the academy is to give the talented players between 12 and 16 (years old) a pathway. After 2 years, the very best players will progress into an Elite academy and those players will also be part of the national team."
The academy in Navi Mumbai is the first of 4 academies to be set up this year. The academy at Father Agnel School has an artificial turf and host to 30 boys that live on campus. The players will be given all-round development under Managing Director, Father Saturnino Almeida who is confident, "with the academy being set up within the school premises, and there is no doubt Academics and Sports would go together."
"The basic idea in the academies would be to develop technically gifted players who would be comfortable with the ball, so everyone wants the ball and everyone wants to play," said Scott O'Donell, Technical Director of Regional and Elite academies.
He went on to say, "Living together, good food, having a physio looking after the welfare of the players is a perfect recipe to try and develop the players."
On being asked on how the academy would select the boys, Robert Baan explained how the infrastructure will be put in place, "a chief scout, a technical director and a development director will be appointed for each state."