As Dempo are crowned I-League champions after their goal-less draw against East Bengal at Goa, Goal.com looks back at how Armando Colaco's men followed in Salgaocar's footsteps to keep the I-League crown safe in Goa, easily snuffing out the title challenge presented by the Kolkata hopefuls.



October 22, 2011
Salgaocar SC
0 - 1
Dempo Sports Club
Ranti Martins struck the decisive winner in the 2nd half in the only goal of the match as Dempo down the title-holders to start their campaign in style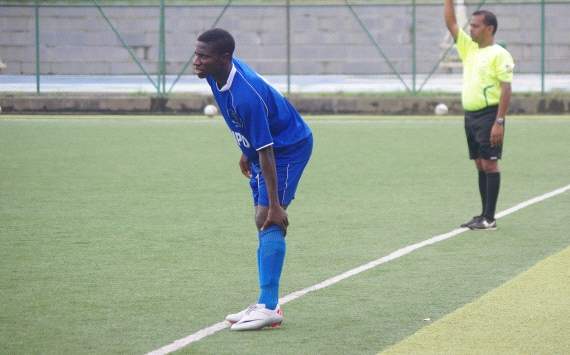 October 27, 2011


Dempo Sports Club
4 - 0
Mumbai FC
Ranti Martins continues his tremendous form as Dempo thrash the Mumbai outfit by four goals with the Nigerian scoring a brace. Clifford Miranda and Anthony Perreira too chip in with their goals on either side of Ranti's two strikes.
November 02, 2011
Dempo Sports Club
5 - 0
Mohun Bagan
Dempo have clearly announced that they are here to win the I-League with the sound thrashing of Mohun Bagan as they bring about Subrata Bhattacharya's first loss in-charge of the Mariners. A five star performance which saw Ranti Martins and Joaquim Abranches netting a brace each and full back Samir Naik too coming up with a goal, as they comfortably outplayed the Kolkata giants.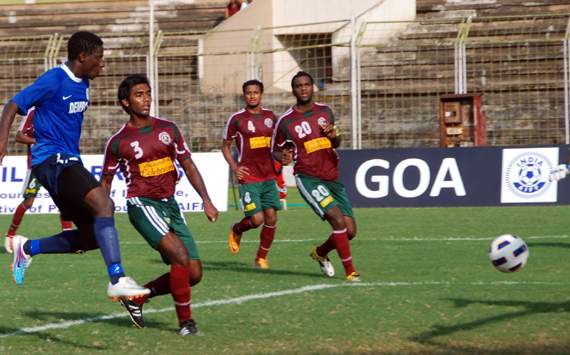 November 06, 2011
Dempo Sports Club
3 - 0
Pailan Arrows
Dempo continue their winning run against a hapless Pailan Arrows who had no clue what hit them in the second half inspite of resolutely defending in the first half. Koko Sakibo, Godwin Franco score and as usual Ranti Martins too finds his name on the scoresheet.
November 10, 2011


It is the usual culprit Ranti Martins again who comes up with an all important brace to give Dempo their first win away from Goa. Meanwhile C Vineeth's goal was also the first goal they had conceded in the campaign. Their winning streak stretches to five.
November 19, 2011
Pune FC
1 - 3
Dempo Sports Club
Ranti Martins scores in his sixth consecutive match from the penalty spot as Dempo continue this unbelievable winning run. Although Jeje scores for Pune, Dempo score three with Clifford Miranda and Anthony Perreira being the other goalscorers.
Dempo Sports Club
5 - 0
Shillong Lajong FC
Dempo have four different goalscorers in another five star performance as they thrash the Shillong side by five goals in Goa. Anthony Perreira scores a brace, with Koko Sakibo, Clifford Miranda scoring too. And guess what Ranti Martins scored again! It seems no one can stop the Goan juggernaut.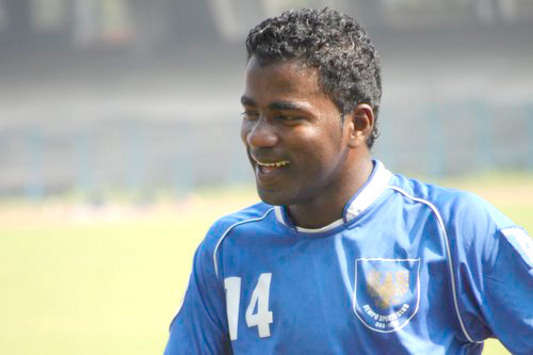 December 04, 2011
Dempo Sports Club
1 - 2
Churchill Brothers SC
Dempo's seven match winning streak is brought to a halt under controversial circumstances by the Red Machines as a controversial Antun Kovacic goal and a Henry Antchouet strike hands the league leaders their first loss of the campaign. This was also when a majority of their players were on national duty for the SAFF Championship.
December 15, 2011
East Bengal
2 - 1
Dempo Sports Club
Dempo's woes continued as they slumped to their second defeat in a row even though they had taken an early lead through a Clifford Miranda effort. Penn Orji's equalizer and Tolgay Ozbey's winner handed Dempo's rivals a chance to catch up with them.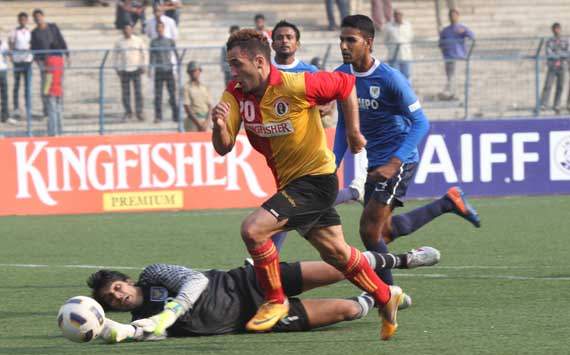 December 18, 2011

Dempo Sports Club
0 - 2
Air India
Goals from Manandeep Singh and Collin Abranches in the second half meant that Dempo slumped to their third consecutive defeat and their second at home this season.
Dempo Sports Club
3 - 2
Sporting Clube de Goa
Dempo finally get back to winning ways with Joy Ferrao, Koko Sakibo and of course the ever present Ranti Martins on the scoresheet.
HAL Bangalore
0 - 3
Dempo Sports Club
Dempo break down HAL rather easily with a Ranti Martins brace and also followed by a late strike from captain Climax Lawrence.
Dempo Sports Club
1 - 2
Prayag United
The New Year sees Dempo lose again at home, this time to Prayag United of Kolkata. Although Ranti Martins cancels out Joshimar da Silva's early striker, Gouranga Biswas scores late to give the away side a victory.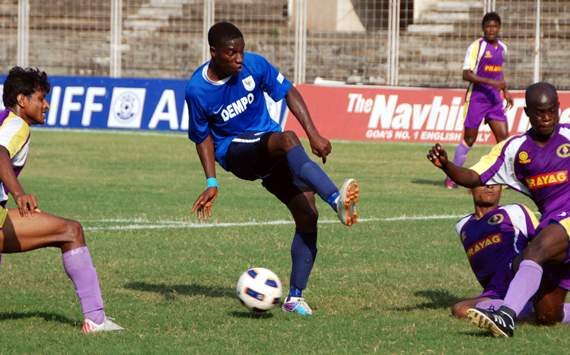 Janurary 14, 2012

Dempo Sports Club
2 - 1
Chirag United Club Kerala
Early strikes from Clifford Miranda and the top scorer Ranti Martins sees Dempo return to winning ways immediately and they see of the match against minnows Chirag Kerala with C Vineeth scores a consolation goal.
Air India
1 - 3
Dempo Sports Club
Dempo manage to exact their revenge on the Airmen with Ranti Martins scoring a brace and Koko Sakibo adding to the tally, as they continue their winning run. This was also when Densil Theobald made his debut for the club.
Shillong Lajong FC
1 - 2
Dempo Sports Club
There was controversies galore in Shillong as Dempo won the tie after being thoroughly outplayed for almost the entire match. Ranti Martins equalised late after Seikhohao Tuboi had given the home team the lead and it was a contentious penalty in the dying minutes which Ranti converted easily to give Dempo their third win on the trot.
Dempo Sports Club
0 - 0
Salgaocar SC
A goal less draw was played out between the two Goan giants as both sets of strikers were guilty of wasting opportunities galore.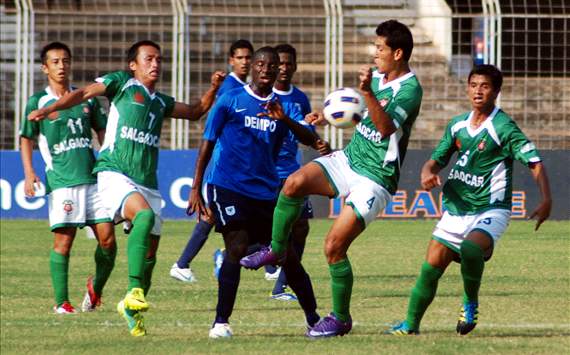 Mumbai FC
0 - 2
Dempo Sports Club
It was a Ranti Martins brace again that allowed Dempo to complete their double against a hapless Mumbai side who were thoroughly on the backfoot for almost the entire duration of the match.
Dempo slumped to their fourth home defeat of the campaign as an Arata Izumi strike gave Pune FC a surprising away win over the league leaders as Derrick Perreira out thought his Goan compatriot.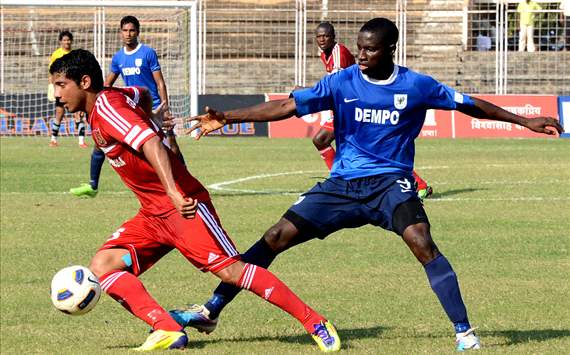 February 12, 2012Pailan Arrows
0 - 2
Dempo Sports Club
It was tournament top scorer Ranti Martins again who broke down the hosts' resilient defense in the first half with a brace after the break to recover from the home defeat against Pune FC.
Dempo Sports Club
3 - 0
HAL Bangalore
Dempo swept aside relegation candidates HAL as Ranti Martins grabbed his 24th and 25th goals of the season and new recruit Yusuke Kato too joined in the party by scoring his debut goal for Dempo.
Mohun Bagan
2 - 2
Dempo Sports Club
Profligacy in front of goal from the home team meant Dempo were able to snatch a valuable away point after Koko Sakibo equalized late in the game. This also effectively ended Mohun Bagan's dim hopes of challenging for the title while bringing Dempo all the more closer to their 5th National title.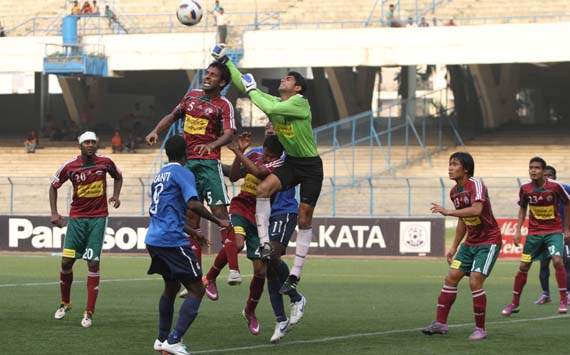 Churchill Brothers SC
2 - 4
Dempo Sports Club
Dempo were victors in the fiercely contested Goan derby, obviously helped by Churchill's Beto getting sent off. This also effectively ended Churchill's hopes of an I-League crown.
Sporting Clube de Goa
1 - 4
Dempo Sports Club
It was fireworks from the runaway league top scorer Ranti Martins as he scored an incredible four goals to almost give his team the I-League crown.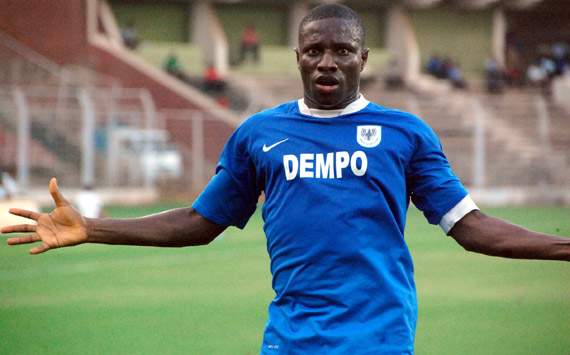 Dempo Sports Club
0 - 0
East Bengal
Dempo just needed a point to claim the I-League crown and although East Bengal were the better team in the encounter, they held on and thus won the league with one game to spare.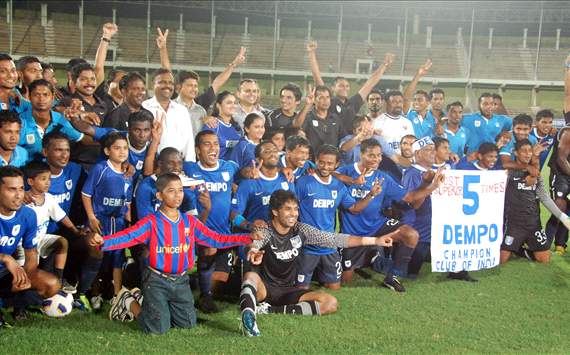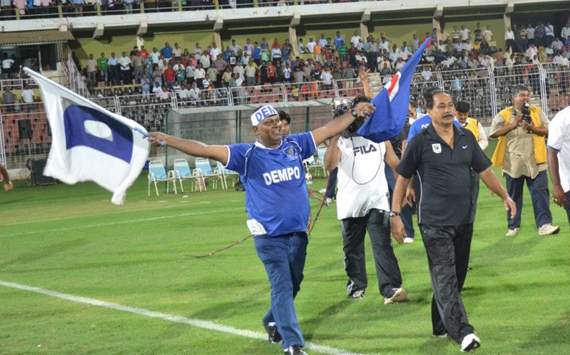 Follow Kaustav Bera on

How do you stay up to date with football when on the move? With http://m.goal.com – your best source for mobile coverage of the beautiful game.