COMMENT
By
Atishay Agarwal
The word going around for a number of years now is that India is an emerging market for football. However, endless repetition of it without any concrete action taken to invest money in the sport has turned it into a hollow cliché, and nothing else.
We've had several European clubs come down to India over the past few years, promising coaching camps, continuous scouting, and selling the dream of seeing an Indian play in the big leagues of Europe, but we've probably reached a point now that we don't believe what they say, they don't believe what they say, and they know we don't believe what they say. And yet they say it, and we continue to dream.
Of course, any sort of initiative by a foreign club in India is to be appreciated. Whether it's Liverpool setting up an academy, or coaches from Barcelona, Man United, or Blackburn coming down for a few days to impart whatever knowledge they can in that span of time.
But how much it helps Indian football is still a mystery to most of us, as it still hasn't produced any tangible or concrete results. The scepticism only increases when clubs and officials from abroad talk about India as a 'market'. That's what India is to them, and that's fair enough.
This is what we may probably feel...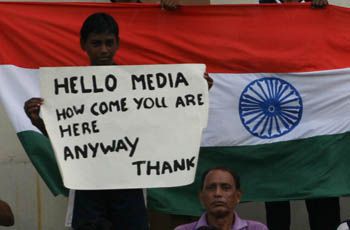 ...when it comes to Indian football
And while these evangelists of Indian football aren't directly talking to the media in India, they decide to get together and chatter amongst themselves, resulting in the various forums on football we've witnessed in the last few years.
Forums, on the face of it, are constructive, or at least are meant to be so. International Football Arena is one name that springs to mind. The organization focuses on the business of football, and regularly organizes forums with distinguished speakers and businessmen around the world, who speak about the various issues concerning football.
In 2010/11, it even organized a roundtable conference in New Delhi, where members of the AIFF, various clubs, and even Bob Houghton were present, and the problems faced by Indian football were discussed and understood. Here we are two years later, and those problems have only been exacerbated, if anything.
And as recently as last month, we had the much-spoken about Soccerex Forum held in Manchester, which had a workshop specially focusing on India as an 'emerging market'. It made quite a lot of noise everywhere, but here are some of the highlights from the event:
IMG's Jeff Slack said, "IMG-Reliance are excited about India. This is the reason why we signed a 15 year deal with the AIFF, while we also have a 30 year deal with the Basketball Federation of India. Indians love football! India can play football," and added, "IMG-Reliance has made investments for the future."
Kushal Das said, "There are challenges. The biggest one is infrastructure. But if India gets to host the 2017 Under-17 World Cup, then hopefully the government reacts to put the necessary infrastructure in place."
In addition to the above, the panel discussed the I-League's problems, and the difficulties it is facing to survive. Also, the Premier League Soccer (PLS) was spoken about, and how whether the tournament is held later this year or next year, remains to be seen. The point is, what of the above is not known to the average Indian football fan? Did we learn anything essentially new from it all?
The tragedy of it all is that forums are eventually what they are – forums. They don't offer a practical or implementable plan that offers solutions to the problems in various sports, and in this case, football in the country. What we eventually see is a group of erudite individuals getting together and discussing the current state, problems, and potential of Indian football. Their speeches can be entertaining and breezy, but most of them don't offer us anything substantial that can take Indian football forward. Maybe that's a consequence of our country's football administrators and not the forums (After all, it's the former that must act on these discussions), but in hindsight, the events resemble mere discussion over tea and snacks.
Take a break...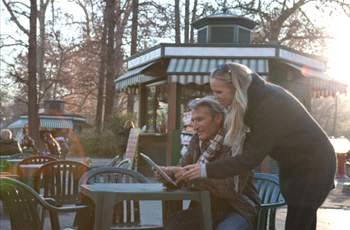 ...let's talk football
It's always nice to sit and listen to some of these men talk about sport, and forums should be organized by whoever wishes to, but the perception that these forums create in the minds of fans – that of helping football progress in India – is what rankles, and is inaccurate.
These events are marketed extensively in a manner that makes us hope, but the actual sport is never marketed the same way. You'll see a number of big names getting associated with forums as sponsors, but they go into hiding when it comes to actually helping Indian football. It's an age-old trend, and despite the efforts of these forums, it hasn't been bucked as yet.
One can never say whether these are a waste of time, but can definitely say with conviction that these resources – money and knowledge - could have been put to much better use, in something that would directly benefit Indian football.
Forums, in theory, are earnest attempts at opening minds and discussing new developments, but in the case of Indian football, they offer very little in terms of solid planning, and a pathway for the future. Unless that happens, all scepticism will remain, and rightly so.
Atishay Agarwal is the Editor of 90 Minutes, a pan-India monthly football magazine...
How do you stay up to date with football when on the move? With

http://m.goal.com

– your best source for mobile coverage of the beautiful game.