It is indeed exciting times for Indian sports. While, the nation steadily gears up for the Olympics in a matter of few months now, the two of India's biggest sports, cricket and football, would be reaching their ultimate climax during this 'build up' phase.
Incidentally, India did not qualify for the Olympics in football where as cricket is not even a part of the curriculum! So, it is sort of very fitting that these two disciplines earn their due just before the mega-sporting extravaganza.
The national football league is coming to an end next month, with both the title race and the relegation scramble reaching its climax. On the other hand, the action in cricket further intensifies, with the 5th edition of cash rich Indian Premier League (IPL) gathering pace. So, you shouldn't really be complaining of boredom if you're a true sports buff!
However, having said that, somewhere down the line we do sense a mismatch. The I-League and the IPL! One symbolizing empty stands and lack of sponsors while the other literally epitomizes the glitz and the glamour in sports. Yes, you may argue that football has always played second fiddle to cricket in terms of popularity and hence the inevitable. But take for example a place like West Bengal, where football enjoys almost the same popularity as cricket, if not more. Yet, a Mohun Bagan versus Prayag United match would not even see half the people in the stadium than that when Kolkata Knight Riders would be taking the field in Eden.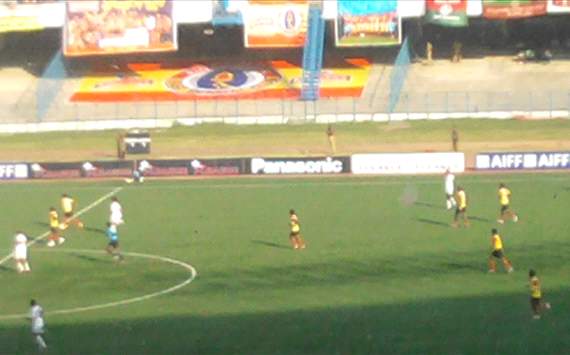 I-League Has Been Symbolized By Empty Stands
It is even more fascinating because Mohun Bagan or East Bengal has possibly more fans in Kolkata than the cricket franchise of KKR. Futher, one is having to pay considerably more for a ticket and there is every chance of that money going down the drain, in case of a wash-out. So, why is it that people are reluctant to go for an I-League match of their favourite team; and are rather spending more money and time to witness an IPL fixture?
One can actually figure out this psychology by a simple analogy. A local dhaba might provide you with tasty foods at cheaper rates; yet you would be inclined to pay more bucks and eat probably the same quality of food at a McDonald's or some other retail outlets. The reason? Well, it is the everything that goes beside the food - the ambience, the affluent atmosphere around you and your feeling of self-esteem on merely being a part of it. It is the way all the external factors have been packaged into one that makes an appeal to you.
The IPL has succeeded in exactly that. The Board of Control For Cricket In India(BCCI), despite a lot of drawbacks, deserve a credit as they managed to design a model of a complete 'entertainment package' that attracted the fans' attention like never before. Something that the All India Football Federation (AIFF) has failed to do with football.
From fancy jerseys to celebrity owners to music DJs in the stadiums to even the cheerleaders, they all have played a part; where as football in the country still remains way out of this league of 'external glamour'. It is the way the game was projected to the audience that managed to turn their eye-balls towards the tournament; not necessarily an ideal way of doing it but certainly an effective one!
In fact, it is rather disturbing how the modern social psychology gives so much importance to this so-called outer shine, but the bottomline is that it certainly does; and cricket unlike football has quite brutally exploited it.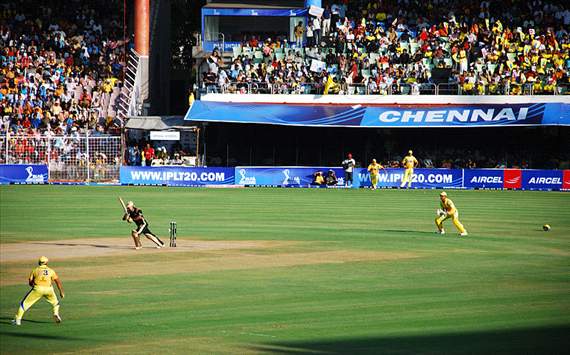 The IPL Brought Forward A Complete Entertainment Package
Goal.com
spoke to few of the fans in Kolkata, who follow both cricket and football, and it was quite evident how they preferred an IPL match over a I-League encounter.
Abhishek Shah
, is a second year BTech student residing in Hindmotor, an industrial town near Kolkata. Apart from being an ardent East Bengal fan, he follows KKR regularly. He says- "The atmosphere in a I-League match is just not right. I would rather follow it on television. But going to the stadium for an IPL match is an all-together different experience."
A similar sentiment was shared by
Saikat Nandy
, 19 year old student from Ultadanga. Although he loves Mohun Bagan dearly, he finds going to the stadium "boring". However, he believes the "whole electrifying atmosphere" in a IPL match is something worth going through.
There is an old saying that 'Nothing is bigger than the game'. Well, it is indeed true but in this modern world these external factors are the ones that may well go on to decide a fate of a sport.
Yes, it is still not bigger than the game itself but it's like a mere 'catalyst' that can trigger the popularity of a game and take it to the next level. It is an aspect that must be ingrained in football, but at the same time keeping in the mind that the true essence of the game is not buried beneath. A 'controlled application' is what the game requires!
Follow Debjit Lahiri on

How do you stay up with football when on the move? With http://m.goal.com –your best source for mobile coverage of the beautiful game.