Goal.com's Sarthak Dubey gives a detailed analysis on the repercussions for state and sport if India officially wins the bid for the 2017 FIFA Under-17 World Cup...
FIFA president Sepp Blatter is on his way to the ancient land of India and he is bringing the 2017 FIFA Under-17 World Cup with him, we hope. A meeting with the Prime Minister of India to discuss tax exemptions, economics of the tournament and a disguised plea for government support is certainly on Blatter's agenda. Other countries vying for FIFA's mega event are Jamaica and Guatemala, and with the Swiss football administrator catching a plane to India rather than the Caribbean, we can be all but certain that India's bid to host the tournament is genuine and that FIFA's support is almost guaranteed.
Five years from now, I am 100% sure we will be ready to host the event. It will be a big fillip for Indian football




- AIFF vice-president AR Khaleel
If India's official bid is approved in April this year, the subcontinent will be preparing to host THE biggest (let alone footballing) sporting event ever held in this part of the world. Another positive that Indian football fans can relish from this tournament is that their team, India's very own under-17 side, can take part in the World Cup as FIFA's rules allow the host nation to automatically become eligible to contest!
Don't be surprised if you see European scouts, the world media, match officials, FIFA administrators and of course Qatari business tycoons (looking to invest in future propositions for their PSGs and Manchester Citys) lingering about the place discovering talent!
With the Commonwealth Games debacle well behind us, the question is - Can India host a world sporting event of this magnitude? Do we have the infrastucture, stadiums and will power to organize the event? Can our under-17 youth make a realistic push to win the title? Will the World Cup be a failed attempt at promoting the beautiful game in our glorious country? Will the Sports Ministry realise the seriousness of this game and divert enough (and more) resources to capitalize on FIFA's FDI-of-sorts? Lets analyse, criticise and optimise the implications of this event:
India Calling! But are we ready?
Just like the balance sheets of many of our 'trustworthy' politicians, we have enough and more funds to invest in renovating and building world-class stadiums and infrastructure to host the event. And FIFA stepping in with financial and administrative help to organise the event, a few bottlenecks for the government can surely be eradicated. Unlike the senior FIFA World Cup which needs the host nation to provide atleast 10 top-class football stadiums, the FIFA Under-17 World Cup requires 7 to 8. Kolkata, Mumbai, Bangalore, Goa, Delhi, Guwahati and Kochin are speculated to provide these.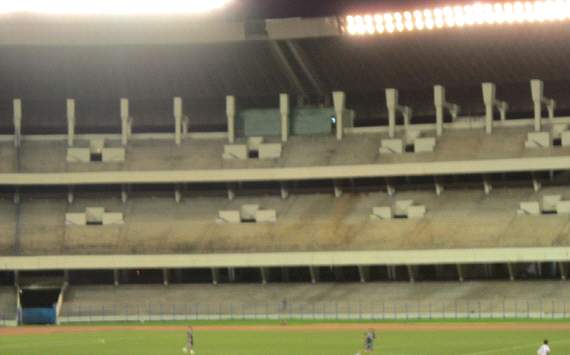 Will we see empty stands in the Under-17 World Cup also?
Huge amounts of manpower, labour, investment and time will be required to recreate the available resources into possible multi-purpose stadiums, with inch perfect pitches, sturdy stands, comfortable training facilities, hotels and security. The fans must enjoy watching and the players must bask in the glory of the game. The current state of ammenities in our country (football related) are probably good enough to host an all-India inter college football tournament, let alone a FIFA World Cup. The grass is pathetic, the stands are dirty and and lack easy access, the game is not respected enough in major parts of the country, medical facilities are inappropriate, media boxes are as good as the normal stands and press conferences are nowhere near 'professional'.
Blatter's visit shows how much importance FIFA is giving to India. The world body's support in building the right kind of infrastructure in the country has been beyond our expectations




- Subrata Dutta, AIFF Executive Committee

If we call everything stated above as a flip side to things, there are many advantages that can be produced due to the World Cup. After the event, I-League clubs can stake their authority on those respective grounds and enjoy similiar world-class facilities. As a result of increased football popularity and better infrastructure, famous players will be tempted to join the league and to see them play fans will flood stadiums. Right now, four FIFA supported academies are coming up at Kolkata, Mumbai, Bangalore and Delhi. If all the 7-8 venues are approved by FIFA, coaching academies can be setup in each city to produce and fine-tune India's finest footballers.
Ready to compete ON the pitch?
The last edition of the FIFA Under-17 World Cup was held in Mexico in 2011, won triumphantly by the hosts themselves. In the preliminary qualifying stages for the tournament, India's under-17 youth side took part in the proceedings too. Representing the AFC Confederation (Asia), India were placed in Group D in the qualifying stage alongside UAE, Jordan, Oman, Kyrgyzstan and Turkmenistan. After playing 5 matches each, the table looked something like this:
Group D - Pre Qualifying Round For Mexico '11
| | | | | | | | | |
| --- | --- | --- | --- | --- | --- | --- | --- | --- |
| # | Nation | MP | W | D | L | GS | GA | Pts |
| 1 | UAE | 5 | 4 | 1 | 0 | 19 | 4 | 13 |
| 2 | Jordan | 5 | 3 | 2 | 0 | 12 | 5 | 11 |
| 3 | Oman | 5 | 3 | 1 | 1 | 8 | 3 | 10 |
| 4 | Kyrgyzstan | 5 | 1 | 1 | 3 | 4 | 8 | 4 |
| 5 | INDIA | 5 | 1 | 1 | 3 | 6 | 15 | 4 |
| 6 | Turkmenistan | 5 | 0 | 0 | 5 | 4 | 18 | 0 |
While footballers aged between 16-17 years from Mexicio were lifting the prestigious World Cup after scoring 17 goals from 7 matches against highly competetive and intensely trained European, African and South American sides, India's under-17 youth were already well beaten by average Asian sides in the pre-qualifying rounds, conceding a horrendous 15 goals and primitively scoring just 6 goals in 5 matches.
How can children within the same age bracket have such drastic contrasts in football values, abilities, skills and strength across various continents? The answer lies in the WAY that nation's government, sporting authority and people encourage and develop the game.
In Mexico, Chivas runs one of the world's finest football academies producing great talents like Arsenal's on-loan striker Carlos Vela and Manchester United's Javier 'Chicharito' Hernandez and can be compared to Barcelona's world famous youth setup. While in India, football coaching is hardly given importance in many major cities with private companies like TATA having to come in to forcefully promote the game by setting up academies like TATA Football Academy (TFA). For the I-League clubs, there is no incentive whatsoever to invest in the youth academies given that there are no major platforms provided by the AIFF for them to showcase their talent.
Work/Disaster in progress?
The willingness of people and government will only come when intensive promotion and advertisement of the game will become upscale in our country. An event like the Under-17 World Cup can really aid this cause. People will come out to support their young stars who will be benefitted with an automatic entry into the main event. Youngsters within the age bracket of 10-to-12 years must start honing their skills from now itself as they may be India's representation at the mega event to be staged in 2017. Along with the policies being made by the government to save their faces from infamous scandals, developmental policies directed towards shaping a competetive team for the World Cup would also be rEquired.
Better coaches, hopefully AFC 'A' Licence holding coaches and managers, who can develop the skills of youngsters, sharpen their basics and make them better technically would build a strong side that can be put to test against Europeans who have learnt the game from their mother's womb! So Is the hope for a title push by the home side a realistic aim in 2017? Yes, it is. If 16 or 17 year olds from Mexico, Nigeria, Brazil, etc can do it, why can't 16 or 17 year olds from India do it? We need a refreshed tactic to approach the game, and it needs to be in place as soon as the bid is officially confirmed by FIFA.
The Mexican edition of the FIFA Under-17 World Cup saw Mexicans supporting their young and blazing stars by coming out in large, extremely large, numbers for a youth tournament!
The Azteca Arena, Mexico City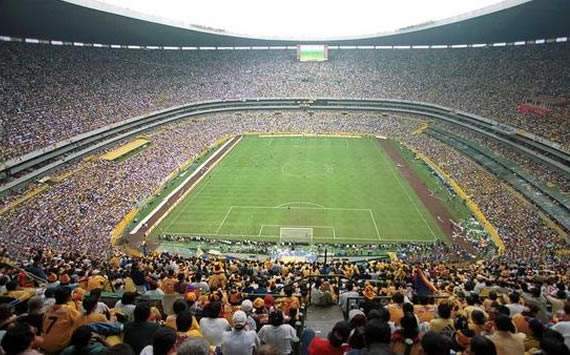 Attendance for the FIFA Under-17 World Cup Final: 98,943

The Azteca Arena in Mexico City saw 98,943 people attending the final to support their nation's Under-17 youth side. Whereas, in a recent international match held between India and Malaysia at the Salt Lake stadium, the attendance was 1,500 people for the national team. If our national 'heroes' generate 1,500 people at India's footballing cathedral, can the youth side even expect a crowd at a match they play? What would their confidence level be? What if 90,000 odd people can come in to support our youth side? The noise and buzz alone would rush the adrenaline up any player's spine!

So if you are reading this, and know anybody around you - your friend, relative, son, nephew, etc that happen to be good footballers within 10 to 12 years of age, encourage them to play the game! Put them in the best football coaching centre around the city. Support them, watch them and motivate them to keep the 2017 FIFA Under-17 World Cup as their final target. They might just blossom into the young stars that will represent our country on the international stage.
They have done it before
!
LA Galaxy and Everton's on-loan man Landon Donovan won the Golden Ball (Most Valuable Player Award) at the 1999 FIFA Under-17 World Cup held in New Zealand. In his two years playing for the U-17 team, he scored 35 goals in 41 games!
Former Arsenal captain and current Barcelona playmaker Cesc Fàbregas astonishingly won the Golden Ball and Golden Boot Awards for his tight performances in midfield and 5 goals at the 2003 FIFA Under-17 World Cup in Finland. Shortly after, Arsenal came running for his signature, and the rest we know - is history!
Ivorian Souleymane Coulibaly scored 9 goals at the Mexico edition in 2011 to win the Golden Boot award and was instantly signed by Tottenham as a future prospect and is currently in playing in their youth setup.
Manchester United's Brazilian midfielder Anderson was awarded the Golden Ball at the 2005 FIFA Under-17 World Cup in Peru.
Arsenal's Carlos Vela currently on loan at Real Sociedad won the Golden Boot Award in the 2005 edition of the Under-17 World Cup held in Peru after scoring 5 goals. Just like Fabregas, he too was spotted as an emerging talent by the Gunners.
Follow Sarthak Dubey on

How do you stay up to date with football when on the move? With http://m.goal.com – your best source for mobile coverage of the beautiful game.