Bayern Munich's players speak about how excited they are to be visiting India for an exhibition tie against the Indian National Team....
India is fast becoming a destination for international football clubs and their leading stars are equally excited about playing in front of a billion and more people.

Thomas Mueller, the winner of the 'Golden Boot' at the 2010 FIFA Wold Cup, is thrilled to be leading a bevy of stars from FC Bayern Munich to play against the Indian National Team at the Audi Football Summit, to be held in New Delhi on January 10, 2012. This will be Muller's second trip to India, and he's "happy that more and more kids are playing the game in India".

Talking about his forthcoming trip, the German star said, "I am happy to come back after the visit to Kolkata and Siliguri in January 2009." Mueller, also the 'Best Young Player' at the previous World Cup, sought to motivate young Indian footballers by saying, "Football is the best team sport in the world."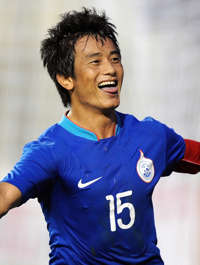 Indian Icon Bhaichung Bhutia Bids His Farewell


Mario Gomez said that the entire team was looking forward to the tie against the Indian team. The striker said, "The trip to India will be a big experience for us, as most of us have not been to India."

German great Karl-Heinz Rummenigge, who was honoured twice as 'European Footballer of the Year', said the club was happy was send their full first team for the exhibition tie.

"I have heard about the great experiences from our players and coaches when they traveled for Oliver Kahn's farewell match. We are now delighted to bring the full first team to India. Many of us are excited about the country, the city of Delhi, the people and their enthusiasm for football," said Rummenigge, who is currently the CEO of FC Bayern Munich AG.

Josef Jupp Heynckes, the coach of FC Bayern Munich, said, he would like to utilize the opportunity to the hilt at the Audi Football Summit.

"We are coming to India after a week long training camp in Qatar. We will want to show quality football and want to present ourselves in the best possible manner. Naturally, I would like to utilize the opportunity to learn more about Indian football. I really look forward to it," said Heynckes, who belonged to the German national squad that won the World Cup and European Championship in the early 1970s.
Download the Goal.com Mobile app, and the world of football will be at your fingertips and in your pocket!